Here's how the world's first nuclear-powered aircraft carrier lives on in other US Navy flattops
May 06, 2019 at 10:19 AM
Military Tech
The world's first nuclear-powered aircraft carrier — the USS Enterprise — is being harvested for parts for other U.S. Navy flattops.
---
The Enterprise waged war from Vietnam to Afghanistan during its 51 years of service. Decommissioned a little over two years ago, the "Big E" rests at the James River shipyard at Newport News in Virginia, where it waits on the Navy to figure out what to do with the enormous and one-of-a-kind ship.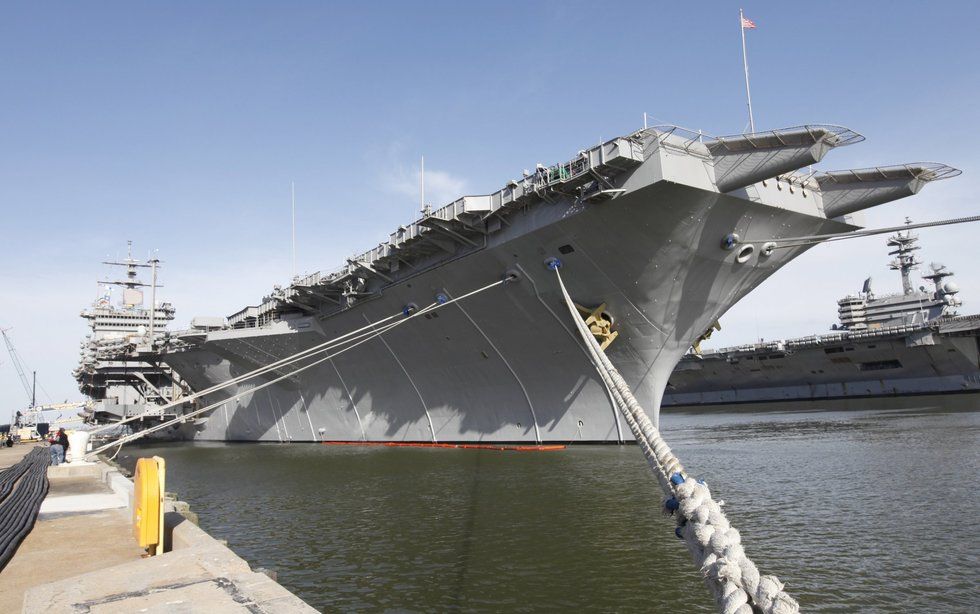 But while CVN 65 is no longer taking the fight to the enemy on the high seas, it will nonetheless live on in its successors.
"We are harvesting as many parts as we can from the Enterprise," Chris Miner, Vice President of In-Service Carriers at Newport News, told Defense One's Marcus Weisgerber and Brad Peniston during a visit to Huntington Ingalls Industries' Newport News Shipbuilding. "She's still giving back even today."
Parts from the Enterprise are being incorporated into existing Nimitz-class aircraft carriers. Pieces of the retired Navy vessel will also be added to future Ford-class carriers, including one that bears the same name.
The USS Abraham Lincoln was a recipient of one of the Enterprise's anchors.
The USS Abraham Lincoln(U.S. Navy/Chief Mass Communication Specialist Eric S. Powell)
The anchor for a Nimitz-class carrier weighs 60,000 pounds. The chains add another 20,500 pounds.

Workers from Northrop Grumman Newport News shipyard prepare the port side anchor to be installed on the Nimitz-class aircraft carrier USS Carl Vinson.(U.S. Navy/Mass Communication Specialist 3rd Class Refugio Carrillo)
The USS George Washington, along with the Lincoln, received components of the Enterprise's aircraft launching catapults.

The Military Sealift Command fleet-replenishment oiler USNS Yukon, top, alongside the USS George Washington(U.S. Navy/Mass Communication Specialist 2nd Class Benjamin K. Kittleson)
U.S. Navy aircraft carriers rely on steam or electromagnetic catapults to launch aircraft. The launch system is more effective and efficient than the ski jumps seen on Russian and Chinese carriers.

The USS Carl Vinson(U.S. Navy/Mass Communication Specialist 3rd Class Sean Castellano)
The Navy has taken possession of the Enterprise's four 32-ton propellers. It is unclear at this time what the Navy intends to do with them.
Propellers of the USS Enterprise.(U.S. Navy(
Part of the decommissioned USS Enterprise's steel hull has been taken out and melted to become part of the keel, a structural backbone for the ship, for the future USS Enterprise (CVN 80), one of the Navy's elite new Ford-class supercarriers
Artist rendering of USS Enterprise (CVN 80)(DoD photo)
There is also the possibility that parts of the nuclear-reactor plant can be used on other carriers, despite the plant being quite different from more modern carriers, having eight small reactors rather than the two larger ones seen on Nimitz and Ford-class carriers

Read more from Business Insider:
WATCH NEXT: The Enterprise Carrier Strike Group In Formation
The nuclear-powered aircraft carrier USS Enterprise. (U.S. Navy/Mass Communication Specialist Seaman Harry Andrew D. Gordon)
June 20, 2019 at 09:01 AM
news
(U.S. Air Force via Air Force amn/nco/snco)
At least one Air Force base is on the lookout for a sinister new threat: angry men who can't get laid.
Personnel at Joint Base Andrews in Maryland were recently treated to a threat brief regarding an "increase in nationwide activity" by self-described "incels," members of an online subculture of "involuntary celibacy" who adopt an ideology of misogyny, mistrust of women, and violence in response to their failed attempts at romantic relationships.
The brief was first made public via a screenshot posted to the popular Air Force amn/nco/snco Facebook page on Tuesday. An Air Force spokesman confirmed the authenticity of the screenshot to Task & Purpose.
"The screenshot was taken from a Joint Base Andrews Intel brief created following basic threat analysis on an increase in nationwide activity by the group," 11th Wing spokesman Aletha Frost told Task & Purpose in an email.
(U.S. Air Force/MSgt. Brian Kimball)
From Long Beach to Huntington Beach, residents were greeted Saturday, June 15, at precisely 8 a.m. with "The Star-Spangled Banner." Then 12 hours later, the "Retreat" bugle call bellowed throughout Seal Beach and beyond.
At first, people wondered if the booming sound paid tribute to Flag Day, June 14. Seal Beach neighbors bordering Los Alamitos assumed the music was coming from the nearby Joint Forces Training Base.
But then it happened again Sunday. And Monday. Folks took to the Nextdoor social media app seeking an answer to the mystery.
(Courtesy photo)
NAVAL BASE SAN DIEGO — The main thing to remember about Navy SEAL Chief Craig Miller's testimony on Wednesday is that he didn't seem to remember a lot.
Miller, considered a key witness in the trial of Chief Eddie Gallagher, testified that he saw his former platoon chief stab the wounded ISIS fighter but was unable to recall a number of details surrounding that event. Gallagher is accused of murdering the wounded fighter and separately firing on innocent civilians during a deployment to Mosul, Iraq in 2017. He has pleaded not guilty.
June 20, 2019 at 12:53 AM
news
NAVAL BASE SAN DIEGO — An enlisted Navy SEAL sniper testified on Wednesday that Chief Eddie Gallagher told his platoon prior to their deployment that if they ever captured a wounded fighter, their medics knew "what to do to nurse them to death."
In early morning testimony, former Special Operator 1st Class Dylan Dille told a packed courtroom that he had heard the phrase during unit training before the men of SEAL Team 7 Alpha Platoon deployed to Mosul, Iraq in 2017.
June 19, 2019 at 11:20 AM
news
(U.S. Army photo)
A Navy SEAL sentenced to one year in prison for the death of Army Special Forces Staff Sgt. Logan Melgar is under investigation for allegedly flirting with Melgar's widow while using a false name and trying to persuade her that he and another SEAL accused of killing her husband were "really good guys," according to the Washington Post.