Here's how the world's first nuclear-powered aircraft carrier lives on in other US Navy flattops
May 06, 2019 at 10:19 AM
Military Tech
The nuclear-powered aircraft carrier USS Enterprise. (U.S. Navy/Mass Communication Specialist Seaman Harry Andrew D. Gordon)
The world's first nuclear-powered aircraft carrier — the USS Enterprise — is being harvested for parts for other U.S. Navy flattops.
---
The Enterprise waged war from Vietnam to Afghanistan during its 51 years of service. Decommissioned a little over two years ago, the "Big E" rests at the James River shipyard at Newport News in Virginia, where it waits on the Navy to figure out what to do with the enormous and one-of-a-kind ship.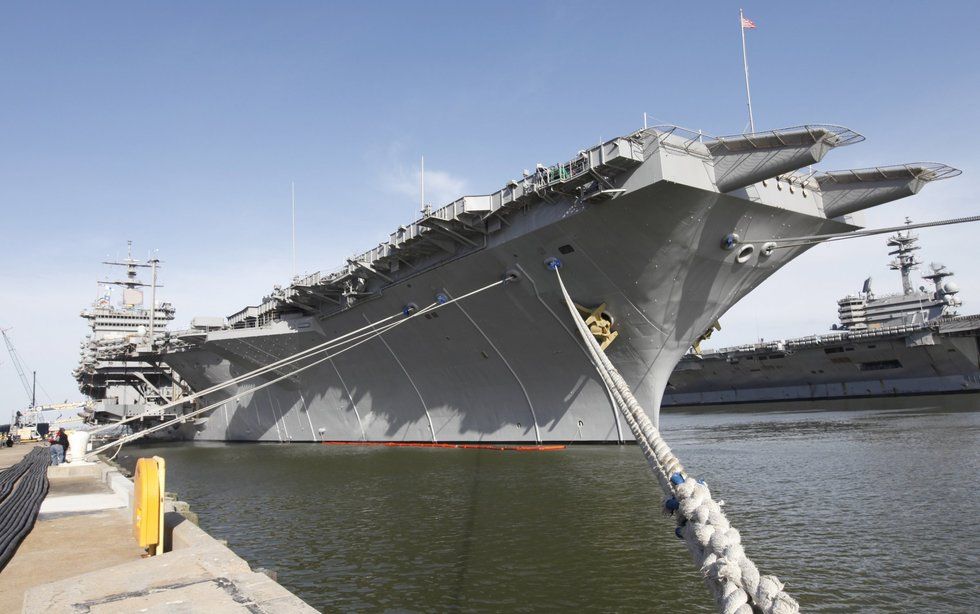 But while CVN 65 is no longer taking the fight to the enemy on the high seas, it will nonetheless live on in its successors.
"We are harvesting as many parts as we can from the Enterprise," Chris Miner, Vice President of In-Service Carriers at Newport News, told Defense One's Marcus Weisgerber and Brad Peniston during a visit to Huntington Ingalls Industries' Newport News Shipbuilding. "She's still giving back even today."
Parts from the Enterprise are being incorporated into existing Nimitz-class aircraft carriers. Pieces of the retired Navy vessel will also be added to future Ford-class carriers, including one that bears the same name.
The USS Abraham Lincoln was a recipient of one of the Enterprise's anchors.
The USS Abraham Lincoln(U.S. Navy/Chief Mass Communication Specialist Eric S. Powell)
The anchor for a Nimitz-class carrier weighs 60,000 pounds. The chains add another 20,500 pounds.

Workers from Northrop Grumman Newport News shipyard prepare the port side anchor to be installed on the Nimitz-class aircraft carrier USS Carl Vinson.(U.S. Navy/Mass Communication Specialist 3rd Class Refugio Carrillo)
The USS George Washington, along with the Lincoln, received components of the Enterprise's aircraft launching catapults.

The Military Sealift Command fleet-replenishment oiler USNS Yukon, top, alongside the USS George Washington(U.S. Navy/Mass Communication Specialist 2nd Class Benjamin K. Kittleson)
U.S. Navy aircraft carriers rely on steam or electromagnetic catapults to launch aircraft. The launch system is more effective and efficient than the ski jumps seen on Russian and Chinese carriers.

The USS Carl Vinson(U.S. Navy/Mass Communication Specialist 3rd Class Sean Castellano)
The Navy has taken possession of the Enterprise's four 32-ton propellers. It is unclear at this time what the Navy intends to do with them.
Propellers of the USS Enterprise.(U.S. Navy(
Part of the decommissioned USS Enterprise's steel hull has been taken out and melted to become part of the keel, a structural backbone for the ship, for the future USS Enterprise (CVN 80), one of the Navy's elite new Ford-class supercarriers
Artist rendering of USS Enterprise (CVN 80)(DoD photo)
There is also the possibility that parts of the nuclear-reactor plant can be used on other carriers, despite the plant being quite different from more modern carriers, having eight small reactors rather than the two larger ones seen on Nimitz and Ford-class carriers

Read more from Business Insider:
WATCH NEXT: The Enterprise Carrier Strike Group In Formation
USCGC Bramble (Public domain)
A 76- year-old former U.S. Coast Guard ship that was one of the first vessels to pass through the indomitable Northwest Passage and circumnavigate the entire North American continent, will be auctioned off on the steps of the U.S. District Courthouse in Mobile at Noon on Dec. 4.
Care packages put together by First Lady Melania Trump and Second Lady Karen Pence on Wednesday could soon end up at a military base near you.
November 20, 2019 at 03:33 PM
news
A Coast Guard seaman accused of murder was released from a San Diego brig Monday as the admiral overseeing his prosecution ordered a new hearing in the case.
Seaman Ethan W. Tucker, 21, was arrested August 28 after a seven-month Coast Guard investigation into the January death of Seaman Ethan Kelch, 19, who served on the same ship as Tucker— the Douglas Munro, a high endurance cutter based in Kodiak, Alaska.
Tucker is charged with murder, involuntary manslaughter, aggravated assault, making false official statements, obstruction of justice and failure to obey orders. He has not entered a plea and won't do so unless his case is referred to a court-martial.
November 20, 2019 at 02:52 PM
Humor
Oops (Twitter)
There's something very, very wrong with a recent tweet from the official Twitter account of the Defense Department. Can you spot it?
Let's zoom in, just in case.