The crew of this Navy warship has gone months without a port call thanks to a viral mumps outbreak
May 02, 2019 at 01:43 PM
news
A viral mumps outbreak that left a deployed U.S. Navy warship quarantined at sea for five months is finally under control.

---
U.S. military personnel aboard the USS Fort McHenry, a Whidbey Island-class dock landing ship carrying Marines with the 22nd Marine Expeditionary Unit, began falling ill and were diagnosed with viral parotitis shortly after the ship departed Mayport Naval Station in Florida in mid-December. The Navy later clarified that affected personnel appeared to be suffering from a probable case of the mumps.
By early April, the number of affected service members had risen to 28, roughly 4% of the 703 people on board.
Outbreaks of influenza and other common illnesses occur every year aboard Navy vessels, but this situation was a bit different as U.S. troops are vaccinated against the mumps.
"It is not common for us to see outbreaks of vaccine-preventable viral infections," the Navy's Bureau of Medicine and Surgery previously told BI, adding that while "vaccines are effective at reducing the incidence and severity of vaccine-preventable diseases," the mumps portion of the measles, mumps, and rubella (MMR) vaccine is only 88% effective, suggesting that a vaccinated person could still be infected.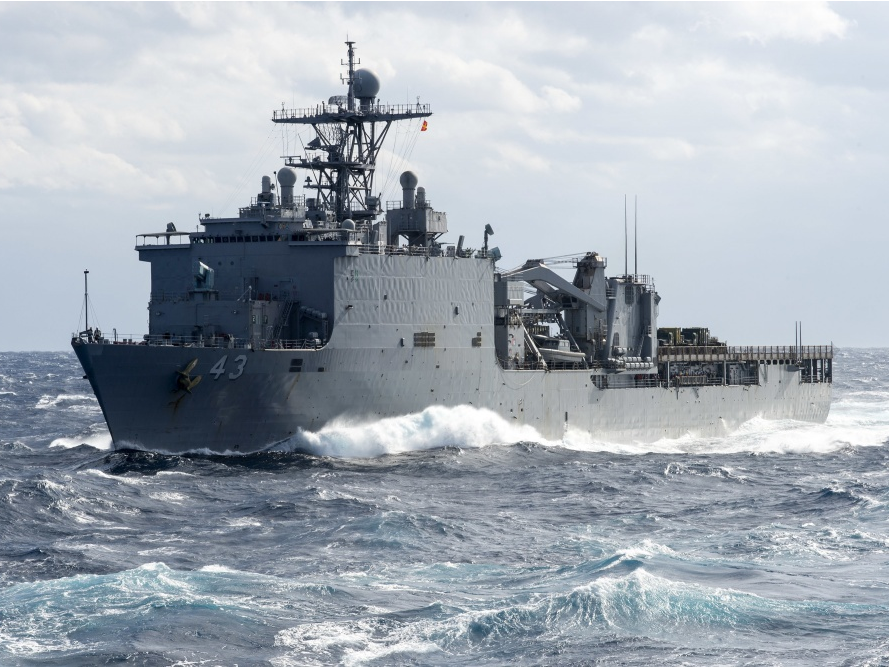 Whidbey Island-class dock landing ship USS Fort McHenry prepares for an underway replenishment-at-sea with USNS Kanawha and USS New York in January 2015. (U.S. Navy//Mass Communication Specialist 3rd Class Jonathan B. Trejo)
The USS Fort McHenry was quarantined during viral outbreak. It has gone 112 days without a port call, which is exceptionally rare as port visits typically occur every month or so. The record was set by the Nimitz-class aircraft carrier USS Theodore Roosevelt in 2002 when it spent 160 days at sea due to war-time operations.
The USS Fort McHenry's last port visit was to Constanta, Romania, where it stayed for four days before departing on January 10.
The situation aboard the ship has improved, and the quarantine is over. "All have made a full recovery and returned to duty." U.S. Fifth Fleet told Business Insider. "The ship has resumed movement of personnel on and off the ship."
The ship has not yet made a port call, though.
When the virus first began to spread, sick service members were quarantined aboard the vessel and treated in the onboard medical facilities while their living areas were cleaned and disinfected.
The Navy also sent medical professionals out to the ship to provide additional support, and to be on the safe side, the personnel aboard the ship were given a MMR booster for added protection.
While the quarantine has ended, Fifth Fleet continues to exercise caution. Military "personnel departing the ship must pass a rigorous pre-transfer medical screening process established to mitigate/prevent spreading the illness," a spokesperson for the fleet told BI.
The last active mumps case was April 2. The incubation period for the mumps is 25 days. A situation like this cannot be considered fully resolved until two full incubation periods have passed without incident. "This ensures that the virus is no longer spreading, as infected individuals sometimes show no symptoms of illness," BUMED previously explained.
Read more from Business Insider:
WATCH NEXT: That Time U.S. Troops Drank All The Beer In Iceland's Capital
Hospitalman Jessica Ferguson, left, immunizes Logistics Specialist 1st Class Willson Villavilencio aboard the Arleigh Burke-class guided-missile destroyer USS Donald Cook (DDG 75). (U.S. Navy/Mass Communication Specialist 1st Class Theron J. Godbold)
July 15, 2019 at 03:55 PM
news
Jeff Schogol
Navy Secretary Richard Spencer took the reins at the Pentagon on Monday, becoming the third acting defense secretary since January.
Spencer is expected to temporarily lead the Pentagon while the Senate considers Army Secretary Mark Esper's nomination to succeed James Mattis as defense secretary. The Senate officially received Esper's nomination on Monday.
U.S. Special Operations Command may be on the verge of making the dream of flying infantry soldiers a reality, but the French may very well beat them to it.
On Sunday, French President Emmanuel Macron shared an unusual video showing a man on a flying platform — widely characterized as a "hoverboard" — maneuvering through the skies above the Bastille Day celebrations in Paris armed with what appears to be a dummy firearm.
The video was accompanied with a simple message of "Fier de notre armée, moderne et innovante," which translates to "proud of our army, modern and innovative," suggesting that the French Armed Forces may be eyeing the unusual vehicle for potential military applications.
July 15, 2019 at 04:40 PM
news
(New Jersey National Guard photo by Mark C. Olsen)
If you've ever wondered if the Pentagon has ever exposed the American public to ticks infected with biological weapons, you're not alone.
Rep. Christopher Smith (R-N.J.) authored an amendment to the House version of the Fiscal 2020 National Defense Authorization Act would require the Defense Department Inspector General's Office to find out if the U.S. military experimented with using ticks and other insects as biological weapons between 1950 and 1975.
If such experiments took place, the amendment would require the inspector general's office to tell lawmakers if any of the ticks or other bugs "were released outside of any laboratory by accident or experiment design."
There's no one path to military service. For some, it's a lifelong goal, for others, it's a choice made in an instant.
For 27-year-old Marine Pvt. Atiqullah Assadi, who graduated from Marine Corps bootcamp on July 12, the decision to enlist was the culmination of a journey that began when he and his family were forced to flee their home in Afghanistan.
July 15, 2019 at 10:34 AM
news
(Facebook photo)
The Air Force has administratively separated the Nellis Air Force Base sergeant who was investigated for making racist comments about her subordinates in a video that went viral last year, Task & Purpose has learned.