Wreckage of aircraft carrier at the heart of the Doolittle Raid found in South Pacific
February 13, 2019 at 04:45 AM
History
The wreckage of the World War II-era USS Hornet that launched long-range bombers against Japan during the Doolittle Raid was found late last month in the South Pacific, researchers announced Tuesday.
---
The aircraft carrier was discovered near the Solomon Islands more than 17,000 feet beneath the surface by researchers for an organization founded by billionaire philanthropist Paul Allen, who co-founded Microsoft and died last year. The carrier was sunk during the Battle of Santa Cruz in 1942, where 140 Hornet crew members died in a coordinated attack by Japanese aircraft and destroyers that proved to be a critical part of the war.
"With the loss of Hornet and serious damage to Enterprise, the Battle of Santa Cruz was a Japanese victory, but at an extremely high cost," retired Rear Admiral Samuel Cox, director of Naval History and Heritage Command, said in a statement. "About half the Japanese aircraft engaged were shot down by greatly improved U.S. Navy anti-aircraft defenses. As a result, the Japanese carriers did not engage again in battle for almost another two years."
The sinking ended a brief but momentous naval career for the carrier that included action during the Battle of Midway as well as the first attack on Japanese home islands made famous by its leader, Army Lt. Col. James H. Doolittle.
"We had the Hornet on our list of WWII warships that we wanted to locate because of its place in history as a capitol carrier that saw many pivotal moments in naval battles," said Robert Kraft, director of subsea operations for the Vulcan organization. "Paul Allen was particularly interested in aircraft carriers so this was a discovery that honors his memory."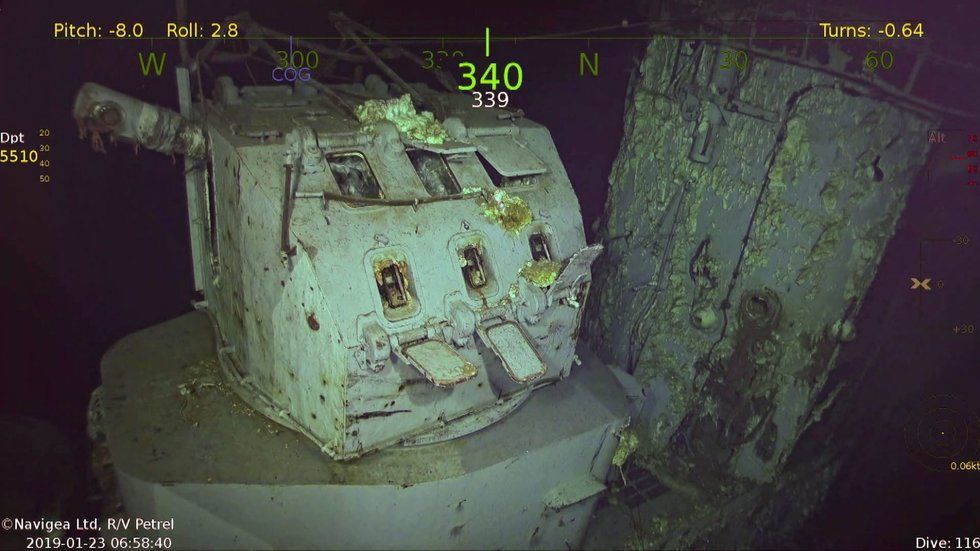 A 5-inch gun director on the USS Hornet's deck. (Navigea Ltd, R/V Petrel/Paul G. Allen's Vulcan Inc)
The Hornet was built in Newport News and briefly stationed in Norfolk, where it was commissioned in 1941.

Following the Japanese attack on Pearl Harbor, the Navy tested out the possibility of launching bombers from the Hornet off the coast of Virginia, according to the Naval History and Heritage Command. The Navy found that bombers could take off — but not easily land — at sea.
The researchers said in a statement that they were able to find the Hornet by using data from national and naval archives that included deck logs and action reports from other ships that were there during the Battle of Santa Cruz.
The Vulcan organization used an autonomous underwater vehicle launched from the research vessel Petrel to discover the Hornet, which was confirmed with video taken by the vehicle.
———
©2019 The Virginian-Pilot (Norfolk, Va.). Distributed by Tribune Content Agency, LLC.
WATCH NEXT: Discovering The USS Lexington
October 14, 2019 at 06:23 PM
popular
Photo: Twitter
For an organization that is constantly shining a light on things that would rather be kept out of the public eye, the moderators of U.S. Army WTF! Moments have done a remarkably impressive job at staying anonymous.
That is, until Monday.
For U.S. service members who have fought alongside the Kurds, President Donald Trump's decision to approve repositioning U.S. forces in Syria ahead of Turkey's invasion is a naked betrayal of valued allies.
"I am ashamed for the first time in my career," one unnamed special operator told Fox News Jennifer Griffin.
In a Twitter thread that went viral, Griffin wrote the soldier told her the Kurds were continuing to support the United States by guarding tens of thousands of ISIS prisoners even though Turkey had nullified an arrangement under which U.S. and Turkish troops were conducting joint patrols in northeastern Syria to allow the Kurdish People's Protection Units, or YPG, to withdraw.
"The Kurds are sticking by us," the soldier told Griffin. "No other partner I have ever dealt with would stand by us."
October 14, 2019 at 05:47 PM
news
Defense Secretary Mark Esper has confirmed that a nightmare scenario has come to pass: Captured ISIS fighters are escaping as a result of Turkey's invasion of Kurdish-held northeast Syria.
Turkey's incursion has led to "the release of many dangerous ISIS detainees," Esper said in a statement on Monday.
October 14, 2019 at 03:06 PM
news
ABC News anchor Tom Llamas just before his network airs grossly inaccurate footage
Video footage of a purported "bombing of Kurd civilians" by Turkish military forces shown on ABC News appeared to be a nighttime firing of tracer rounds at a Kentucky gun range.
October 14, 2019 at 02:58 PM
news
The U.S. military's seemingly never-ending mission supporting civil authorities along the southwestern border will last at least another year.
On Sept. 3, Defense Secretary Mark Esper approved a request from the Department of Homeland Security to provide a total of up to 5,500 troops along the border until Sept. 30, 2020, Lt. Gen. Laura Richardson, commander of U.S. Army North, said on Monday.