Wreckage of aircraft carrier at the heart of the Doolittle Raid found in South Pacific
February 13, 2019 at 04:45 AM
History
The wreckage of the World War II-era USS Hornet that launched long-range bombers against Japan during the Doolittle Raid was found late last month in the South Pacific, researchers announced Tuesday.
---
The aircraft carrier was discovered near the Solomon Islands more than 17,000 feet beneath the surface by researchers for an organization founded by billionaire philanthropist Paul Allen, who co-founded Microsoft and died last year. The carrier was sunk during the Battle of Santa Cruz in 1942, where 140 Hornet crew members died in a coordinated attack by Japanese aircraft and destroyers that proved to be a critical part of the war.
"With the loss of Hornet and serious damage to Enterprise, the Battle of Santa Cruz was a Japanese victory, but at an extremely high cost," retired Rear Admiral Samuel Cox, director of Naval History and Heritage Command, said in a statement. "About half the Japanese aircraft engaged were shot down by greatly improved U.S. Navy anti-aircraft defenses. As a result, the Japanese carriers did not engage again in battle for almost another two years."
The sinking ended a brief but momentous naval career for the carrier that included action during the Battle of Midway as well as the first attack on Japanese home islands made famous by its leader, Army Lt. Col. James H. Doolittle.
"We had the Hornet on our list of WWII warships that we wanted to locate because of its place in history as a capitol carrier that saw many pivotal moments in naval battles," said Robert Kraft, director of subsea operations for the Vulcan organization. "Paul Allen was particularly interested in aircraft carriers so this was a discovery that honors his memory."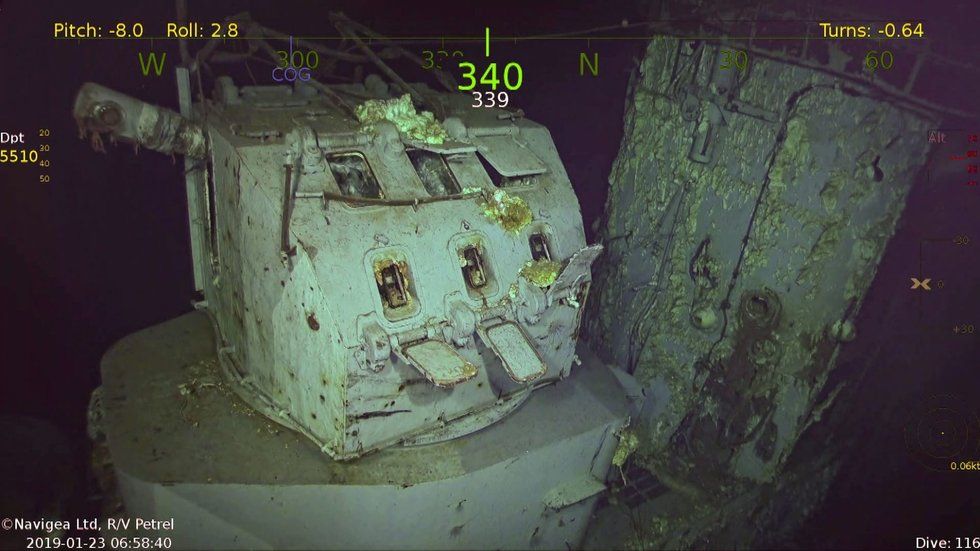 A 5-inch gun director on the USS Hornet's deck. (Navigea Ltd, R/V Petrel/Paul G. Allen's Vulcan Inc)
The Hornet was built in Newport News and briefly stationed in Norfolk, where it was commissioned in 1941.

Following the Japanese attack on Pearl Harbor, the Navy tested out the possibility of launching bombers from the Hornet off the coast of Virginia, according to the Naval History and Heritage Command. The Navy found that bombers could take off — but not easily land — at sea.
The researchers said in a statement that they were able to find the Hornet by using data from national and naval archives that included deck logs and action reports from other ships that were there during the Battle of Santa Cruz.
The Vulcan organization used an autonomous underwater vehicle launched from the research vessel Petrel to discover the Hornet, which was confirmed with video taken by the vehicle.
———
©2019 The Virginian-Pilot (Norfolk, Va.). Distributed by Tribune Content Agency, LLC.
WATCH NEXT: Discovering The USS Lexington
February 18, 2020 at 03:11 PM
news
A Syrian commando-in-training applies the safety on his rifle during basic rifle marksmanship training in Syria, July 20, 2019. (U.S. Army/Spc. Alec Dionne)
The U.S. government failed to effectively account for nearly $715.8 million in weapons and equipment allocated to Syrian partners as part of the multinational counter-ISIS fight, according to a new report from the Defense Department inspector general.
February 18, 2020 at 06:20 PM
news
On Feb. 19, 1945, more than 70,000 U.S. Marines conducted an amphibious assault to take the Island of Iwo Jima from fortified Japanese forces. Over the next 36 days nearly 7,000 Marines would be killed during the battle, which is regarded as one of the bloodiest of World War II, as they faced hidden enemy artillery, machine guns, vast bunker systems and underground tunnels. Of the 82 Marines who earned the Medal of Honor during all of World War II, 22 medals were earned for actions on Iwo Jima.

Now, 75 years later, 28 Marines and Sailors who fought on Iwo Jima gathered to remember the battle at the 75th and final commemoration sunset ceremony Feb. 15, 2020, at the Pacific Views Event Center on Camp Pendleton, California.
February 18, 2020 at 11:46 AM
news
REUTERS/Scott Audette/File Photo
Rep. Tulsi Gabbard (D-Hawaii), has long been seen as an apologist for Syrian dictator Bashar al-Assad, whom she met during a secret trip to Damascus in January 2017.
Most recently, a video was posted on Twitter shows Gabbard evading a question about whether Assad is a war criminal.

Since Gabbard is the only actively serving member of the military who is running for president — she is a major in the Hawaii Army National Guard — Task & Purpose sought to clarify whether she believes Assad has used chlorine gas and chemical weapons to kill his own people.
Barrett's bolt-action Multi-Role Adaptive Design (MRAD) system (Courtesy photo)
The Army is almost doubling its purchase of new bolt-action Precision Sniper Rifles as its primary anti-personnel sniper system of choice, according to budget documents.
The GAU-5A Aircrew Self Defense Weapon (U.S. Air Force photo)
Editor's Note: This article by Matthew Cox originally appeared on Military.com, a leading source of news for the military and veteran community.
Air Force gunsmiths recently completed delivery of a new M4-style carbine designed to break down small enough to fit under most pilot ejection seats.