Watch 2 F-35s flex in 'beast mode' in support of US troops in Afghanistan
May 24, 2019 at 04:15 PM
Military Tech
Two F-35A Lightning II Joint Strike Fighters recently flew a mission in the Middle East in "beast mode," meaning they were loaded up with as much firepower as they could carry.
The F-35s with the 4th Expeditionary Fighter Squadron took off from Al Dhafra Air Base, United Arab Emirates to execute a mission in support of U.S. forces in Afghanistan, Air Forces Central Command revealed. The fifth-generation fighters sacrificed their high-end stealth to fly with a full loadout of weaponry on their wings.
---
An F-35A Lightning II with a full external loadout at Al Dhafra Air Base, United Arab Emirates, in May 2019.(U.S. Air Force/ Staff Sgt. Chris Thornbury)
"Beast mode," the carrying of weapons internally and externally to boost the overall firepower of the aircraft, is also known as the "Third Day of War" configuration. At the start of a fight, the F-35 would store all of its weapons internally to maintain low observability, as the external weapons would likely increase the surfaces that an enemy radar could detect.

The fighters carried 6 GBU-49 Paveway laser-guided precision bombs and 2 AIM-9X Sidewinder infrared-tracking short-range air-to-air missiles externally. AFCENT released a video Friday of 380th Expeditionary Maintenance Group teams loading the weapons onto the jets.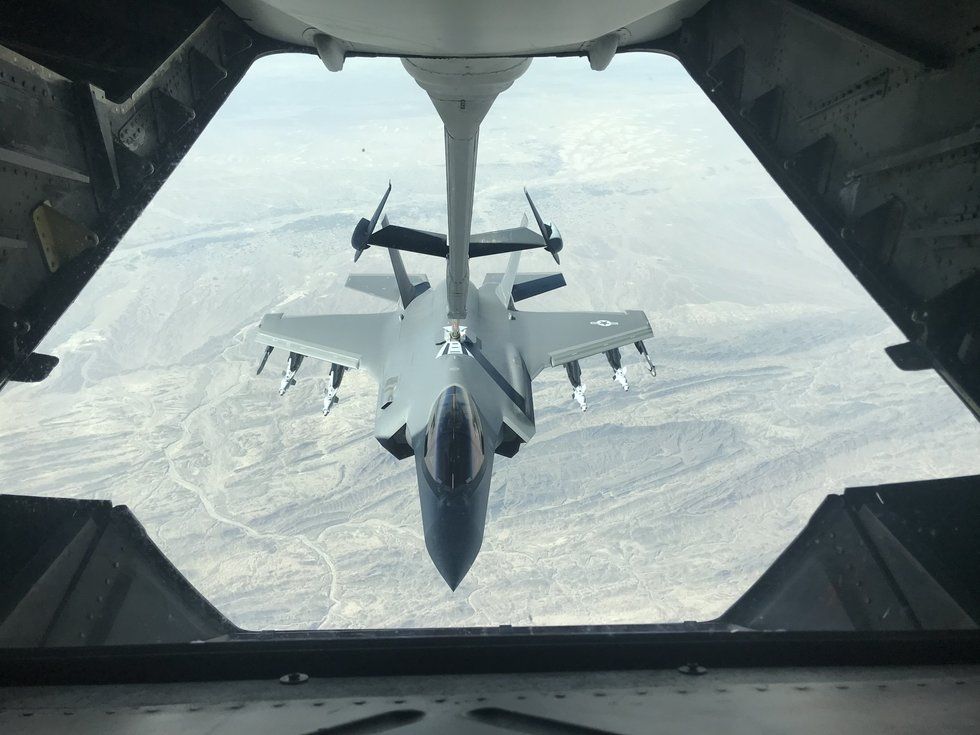 An F-35A Lightning II in "beast mode" during an operation in support of US forces in Afghanistan in May 2019(U.S. Air Force)
U.S. Air Forces deployed the F-35A to the Middle East, the U.S. Central Command area of responsibility, for the first time in April. The aircraft flew their first sortie on April 26.

Four days later, the F-35s, which were pulled from the active-duty 388th Fighter Wing and Reserve 419th Fighter Wing, conducted an strike in Wadi Ashai, Iraq. The mission, carried out in support of Combined Joint Task Force - Operation Inherent Resolve marked the F-35A's first combat mission, according to the U.S. Air Force.
Read more from Business Insider:
WATCH NEXT: An F-35 Fires Five Missile At The Same Time
December 14, 2019 at 03:24 PM
news
A Marine wanted for killing his mother's boyfriend reportedly escaped police by hiding inside an RV they'd spent hours searching before towing it to a parking lot, where he escaped under the cover of darkness.
It wasn't until more than two weeks later authorities finally caught up to Michael Brown at his mom's home, which was the scene of the crime.
Brown stuffed himself into a tight spot in his camper during an hours-long search of the vehicle on Nov. 10, according to NBC affiliate WSLS in Virginia. A day earlier, cops said Brown fatally shot his mother's boyfriend, Rodney Brown. The AWOL Marine remained on the lam until Nov. 27, where he was finally apprehended without incident.
December 14, 2019 at 01:24 PM
news
No motive is yet known for last week's Pearl Harbor Naval Shipyard shooting tragedy, which appears to have been a random act of violence in which the sailor who fatally shot two civilian workers and himself did not know them and did not plan his actions ahead of time, shipyard commander Capt. Greg Burton said in an "All Hands" message sent out Friday.
Machinist's Mate Auxiliary Fireman Gabriel Antonio Romero of San Antonio, an armed watch-stander on the attack submarine USS Columbia, shot three civilian workers Dec. 4 and then turned a gun on himself while the sub rested in dry dock 2 for a major overhaul, the Navy said.
"The investigation continues, but there is currently no known motive and no information to indicate the sailor knew any of the victims," Burton said.
December 14, 2019 at 12:56 PM
news
A projectile is fired during North Korea's missile tests in this undated picture released by North Korea's Central News Agency (KCNA) on November 28, 2019. (KCNA via Reuters)
SEOUL (Reuters) - North Korea said it had successfully conducted another test at a satellite launch site, the latest in a string of developments aimed at "restraining and overpowering the nuclear threat of the U.S.", state news agency KCNA reported on Saturday.
The test was conducted on Friday at the Sohae satellite launch site, KCNA said, citing a spokesman for North Korea's Academy of Defence Science, without specifying what sort of testing occurred.
Since the Washington Post first published the "Afghanistan papers," I have been reminded of a scene from "Apocalypse Now Redux" in which Army Col. Walter Kurtz reads to the soldier assigned to kill him two Time magazine articles showing how the American people had been lied to about Vietnam by both the Lyndon Johnson and Richard Nixon administrations.
In one of the articles, a British counterinsurgency expert tells Nixon that "things felt much better and smelled much better" during his visit to Vietnam.
"How do they smell to you, soldier?" Kurtz asks.
December 14, 2019 at 12:06 PM
news
Erik Prince arrives for the New York Young Republican Club Gala at The Yale Club of New York City in Manhattan in New York City, New York, U.S., November 7, 2019. (REUTERS/Jeenah Moon)
WASHINGTON (Reuters) - Erik Prince, the controversial private security executive and prominent supporter of U.S. President Donald Trump, made a secret visit to Venezuela last month and met Vice President Delcy Rodriguez, one of socialist leader Nicolas Maduro's closest and most outspoken allies, according to five sources familiar with the matter.