Watch 2 F-35s flex in 'beast mode' in support of US troops in Afghanistan
May 24, 2019 at 04:15 PM
Military Tech
Two F-35A Lightning II Joint Strike Fighters recently flew a mission in the Middle East in "beast mode," meaning they were loaded up with as much firepower as they could carry.
The F-35s with the 4th Expeditionary Fighter Squadron took off from Al Dhafra Air Base, United Arab Emirates to execute a mission in support of U.S. forces in Afghanistan, Air Forces Central Command revealed. The fifth-generation fighters sacrificed their high-end stealth to fly with a full loadout of weaponry on their wings.
---
An F-35A Lightning II with a full external loadout at Al Dhafra Air Base, United Arab Emirates, in May 2019.(U.S. Air Force/ Staff Sgt. Chris Thornbury)
"Beast mode," the carrying of weapons internally and externally to boost the overall firepower of the aircraft, is also known as the "Third Day of War" configuration. At the start of a fight, the F-35 would store all of its weapons internally to maintain low observability, as the external weapons would likely increase the surfaces that an enemy radar could detect.

The fighters carried 6 GBU-49 Paveway laser-guided precision bombs and 2 AIM-9X Sidewinder infrared-tracking short-range air-to-air missiles externally. AFCENT released a video Friday of 380th Expeditionary Maintenance Group teams loading the weapons onto the jets.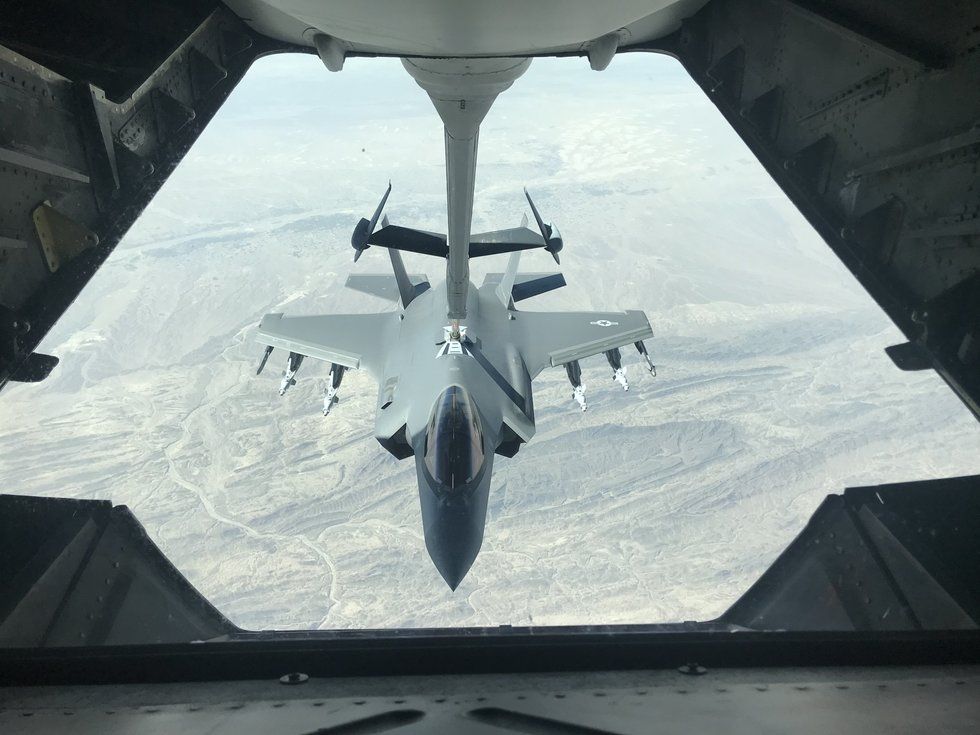 An F-35A Lightning II in "beast mode" during an operation in support of US forces in Afghanistan in May 2019(U.S. Air Force)
U.S. Air Forces deployed the F-35A to the Middle East, the U.S. Central Command area of responsibility, for the first time in April. The aircraft flew their first sortie on April 26.

Four days later, the F-35s, which were pulled from the active-duty 388th Fighter Wing and Reserve 419th Fighter Wing, conducted an strike in Wadi Ashai, Iraq. The mission, carried out in support of Combined Joint Task Force - Operation Inherent Resolve marked the F-35A's first combat mission, according to the U.S. Air Force.
Read more from Business Insider:
WATCH NEXT: An F-35 Fires Five Missile At The Same Time
October 13, 2019 at 03:54 PM
Seven of the twelve Soldiers participating in the Army National Guard Military Funeral Honors Level 2 course at Fort Indiantown Gap practice folding the flag April 25. (U.S. Army National Guard photo by Staff Sgt. Zane Craig)
Retired Army Master Sgt. Mark Allen has died 10 years after he was shot in the head while searching for deserter Pvt. Bowe Bergdahl in Afghanistan.
Allen died on Saturday at the age of 46, according to funeral information posted online.
For U.S. service members who have fought alongside the Kurds, President Donald Trump's decision to approve repositioning U.S. forces in Syria ahead of Turkey's invasion is a naked betrayal of valued allies.
"I am ashamed for the first time in my career," one unnamed special operator told Fox News Jennifer Griffin.
In a Twitter thread that went viral, Griffin wrote the soldier told her the Kurds were continuing to support the United States by guarding tens of thousands of ISIS prisoners even though Turkey had nullified an arrangement under which U.S. and Turkish troops were conducting joint patrols in northeastern Syria to allow the Kurdish People's Protection Units, or YPG, to withdraw.
"The Kurds are sticking by us," the soldier told Griffin. "No other partner I have ever dealt with would stand by us."
October 13, 2019 at 09:47 AM
news
Most of the U.S. troops in Syria are being moved out of the country as Turkish forces and their Arab allies push further into Kurdish territory than originally expected, Task & Purpose has learned.
"I spoke with the president last night after discussions with the rest of the national security team and he directed that we begin a deliberate withdrawal of forces from northern Syria," Defense Secretary Mark Esper said on Sunday's edition of CBS News' "Face the Nation."'
October 13, 2019 at 09:03 AM
news
BEIRUT/ISTANBUL (Reuters) - Women affiliated with Islamic State and their children fled en masse from a camp where they were being held in northern Syria on Sunday after shelling by Turkish forces in a five-day-old offensive, the region's Kurdish-led administration said.
Turkey's cross-border attack in northern Syria against Kurdish forces widened to target the town of Suluk which was hit by Ankara's Syrian rebel allies. There were conflicting accounts on the outcome of the fighting.
Turkey is facing threats of possible sanctions from the United States unless it calls off the incursion. Two of its NATO allies, Germany and France, have said they are halting weapons exports to Turkey. The Arab League has denounced the operation.
October 12, 2019 at 04:25 PM
news
Former Defense Secretary Jim Mattis is warning that it's "absolutely a given" that ISIS will come back if the U.S. doesn't keep up pressure on the group, just one week after President Trump announced the withdrawal of U.S. military forces from northern Syria.
"It's in a situation of disarray right now. Obviously the Kurds are adapting to the Turkish attacks, and we'll have to see if they're able to maintain the fight against ISIS," Mattis said in an interview on NBC's "Meet The Press," set to air on Sunday. "It's going to have an impact. The question is how much?"