Watch 2 F-35s flex in 'beast mode' in support of US troops in Afghanistan
May 24, 2019 at 04:15 PM
Military Tech
Two F-35A Lightning II Joint Strike Fighters recently flew a mission in the Middle East in "beast mode," meaning they were loaded up with as much firepower as they could carry.
The F-35s with the 4th Expeditionary Fighter Squadron took off from Al Dhafra Air Base, United Arab Emirates to execute a mission in support of U.S. forces in Afghanistan, Air Forces Central Command revealed. The fifth-generation fighters sacrificed their high-end stealth to fly with a full loadout of weaponry on their wings.
---
An F-35A Lightning II with a full external loadout at Al Dhafra Air Base, United Arab Emirates, in May 2019.(U.S. Air Force/ Staff Sgt. Chris Thornbury)
"Beast mode," the carrying of weapons internally and externally to boost the overall firepower of the aircraft, is also known as the "Third Day of War" configuration. At the start of a fight, the F-35 would store all of its weapons internally to maintain low observability, as the external weapons would likely increase the surfaces that an enemy radar could detect.

The fighters carried 6 GBU-49 Paveway laser-guided precision bombs and 2 AIM-9X Sidewinder infrared-tracking short-range air-to-air missiles externally. AFCENT released a video Friday of 380th Expeditionary Maintenance Group teams loading the weapons onto the jets.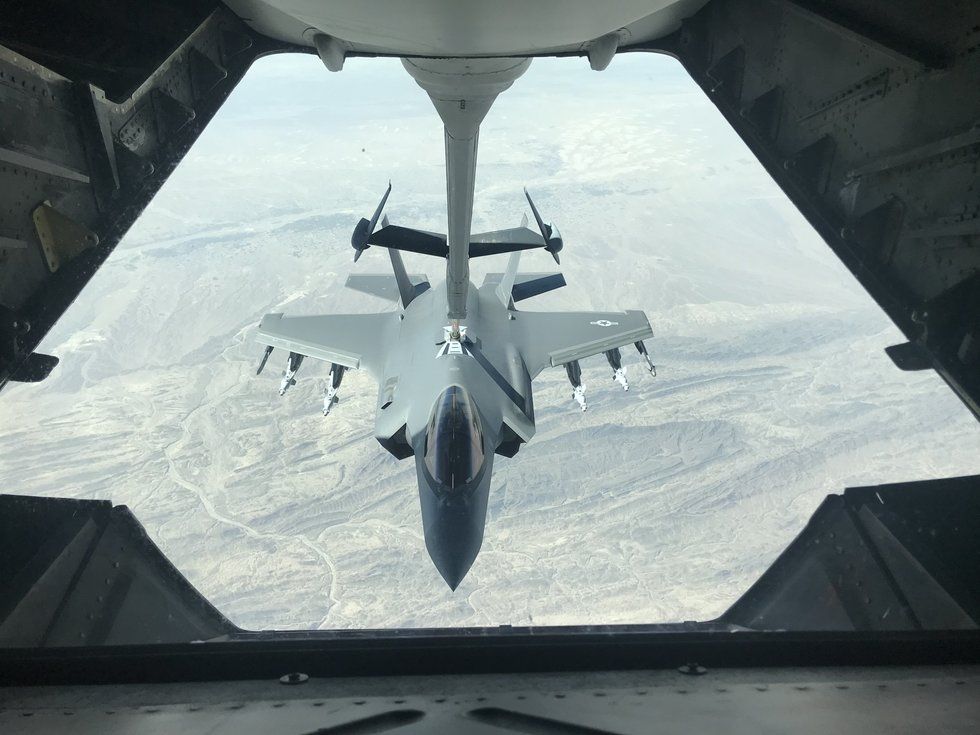 An F-35A Lightning II in "beast mode" during an operation in support of US forces in Afghanistan in May 2019(U.S. Air Force)
U.S. Air Forces deployed the F-35A to the Middle East, the U.S. Central Command area of responsibility, for the first time in April. The aircraft flew their first sortie on April 26.

Four days later, the F-35s, which were pulled from the active-duty 388th Fighter Wing and Reserve 419th Fighter Wing, conducted an strike in Wadi Ashai, Iraq. The mission, carried out in support of Combined Joint Task Force - Operation Inherent Resolve marked the F-35A's first combat mission, according to the U.S. Air Force.
Read more from Business Insider:
WATCH NEXT: An F-35 Fires Five Missile At The Same Time
August 22, 2019 at 05:26 PM
news
Capt. Tranay Lashawn Tanner. (U.S. Air Force photo)
Editor's Note: This article by Oriana Pawlyk originally appeared on Military.com, a leading source of news for the military and veteran community.
Physical fitness tests were briefly suspended earlier this week and outdoor cardio testing will be curtailed for the remainder of the summer at Eglin Air Force Base, Florida, after an airman died Saturday. She had completed her PT test on Friday.
August 22, 2019 at 04:03 PM
news
(DoD photo)
Navy Secretary Richard Spencer has expanded a review of the Judge Advocate General Corps to include the Marine Corps, a Navy spokesman said on Thursday.
"There is value in applying this review and its subsequent recommendations across the Department of the Navy," Cmdr. Jereal Dorsey told Task & Purpose. "The review's purpose is to confirm the uniformed legal community is structurally and organizationally sound and best supporting the good order and discipline our integrated naval force."
Marine veteran, professional mumbler, temper-tantrum prone Sith Lord, and A-list actor, Adam Driver, is taking on the CIA in a new teaser trailer for the feature-length political thriller The Report.
Navy Senior Chief Cryptologic Technician (Interpretive) Shannon M. Kent. (U.S. Navy)
Senior Chief Petty Officer Shannon Kent may be gone, but she won't be forgotten.
On Wednesday, the Navy detachment at the Presidio of Monterey dedicated a stage and several buildings at the service's Information Warfare Training Command in honor of the 35-year-old cryptologic technician was killed while deployed to Syria in January.
The clutch of buildings will now be known as Kent Navy Yard.
August 22, 2019 at 12:12 PM
news
AP Photo/Michael Sohn
An investigation is underway after an Army recruiting company commander in Houston, Texas, issued a memo that included a phrase used by Nazis and displayed in death camps during World War II, "Arbeit Macht Frei," which roughly translates to "work sets you free."