Watch 2 F-35s flex in 'beast mode' in support of US troops in Afghanistan
May 24, 2019 at 04:15 PM
Military Tech
Two F-35A Lightning II Joint Strike Fighters recently flew a mission in the Middle East in "beast mode," meaning they were loaded up with as much firepower as they could carry.
The F-35s with the 4th Expeditionary Fighter Squadron took off from Al Dhafra Air Base, United Arab Emirates to execute a mission in support of U.S. forces in Afghanistan, Air Forces Central Command revealed. The fifth-generation fighters sacrificed their high-end stealth to fly with a full loadout of weaponry on their wings.
---
An F-35A Lightning II with a full external loadout at Al Dhafra Air Base, United Arab Emirates, in May 2019.(U.S. Air Force/ Staff Sgt. Chris Thornbury)
"Beast mode," the carrying of weapons internally and externally to boost the overall firepower of the aircraft, is also known as the "Third Day of War" configuration. At the start of a fight, the F-35 would store all of its weapons internally to maintain low observability, as the external weapons would likely increase the surfaces that an enemy radar could detect.

The fighters carried 6 GBU-49 Paveway laser-guided precision bombs and 2 AIM-9X Sidewinder infrared-tracking short-range air-to-air missiles externally. AFCENT released a video Friday of 380th Expeditionary Maintenance Group teams loading the weapons onto the jets.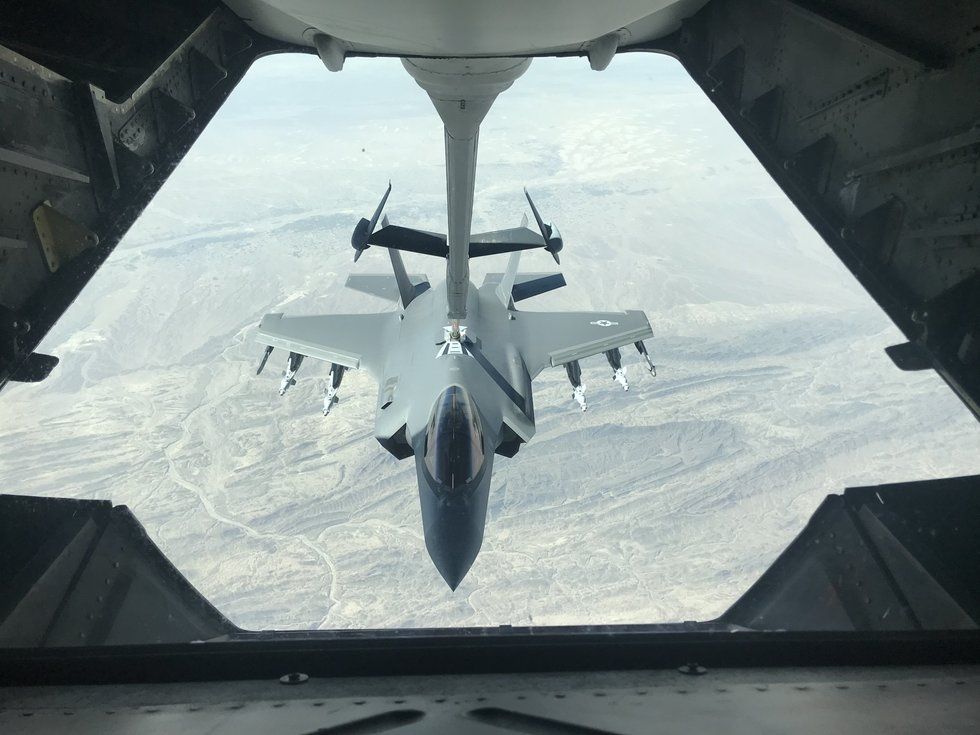 An F-35A Lightning II in "beast mode" during an operation in support of US forces in Afghanistan in May 2019(U.S. Air Force)
U.S. Air Forces deployed the F-35A to the Middle East, the U.S. Central Command area of responsibility, for the first time in April. The aircraft flew their first sortie on April 26.

Four days later, the F-35s, which were pulled from the active-duty 388th Fighter Wing and Reserve 419th Fighter Wing, conducted an strike in Wadi Ashai, Iraq. The mission, carried out in support of Combined Joint Task Force - Operation Inherent Resolve marked the F-35A's first combat mission, according to the U.S. Air Force.
Read more from Business Insider:
WATCH NEXT: An F-35 Fires Five Missile At The Same Time
Editor's Note: This article by Oriana Pawlyk originally appeared on Military.com, a leading source of news for the military and veteran community.
On April 14, 2018, two B-1B Lancer bombers fired off payloads of Joint Air-to-Surface Standoff Missiles against weapons storage plants in western Syria, part of a shock-and-awe response to Syrian President Bashar al-Assad's use of chemical weapons against his citizens that also included strikes from Navy destroyers and submarines.
In all, the two bombers fired 19 JASSMs, successfully eliminating their targets. But the moment would ultimately be one of the last — and certainly most publicized — strategic strikes for the aircraft before operations began to wind down for the entire fleet.
A few months after the Syria strike, Air Force Global Strike Command commander Gen. Tim Ray called the bombers back home. Ray had crunched the data, and determined the non-nuclear B-1 was pushing its capabilities limit. Between 2006 and 2016, the B-1 was the sole bomber tasked continuously in the Middle East. The assignment was spread over three Lancer squadrons that spent one year at home, then six month deployed — back and forth for a decade.
The constant deployments broke the B-1 fleet. It's no longer a question of if, but when the Air Force and Congress will send the aircraft to the Boneyard. But Air Force officials are still arguing the B-1 has value to offer, especially since it's all the service really has until newer bombers hit the flight line in the mid-2020s.
Editor's Note: The following story highlights a veteran at Verizon committed to including talented members of the military community in its workplace. Verizon is a client of Hirepurpose, a Task & Purpose sister company. Learn More.
Verizon values leadership, motivation, self-discipline, and hard work — all characteristics that veterans bring to the table. Sometimes, however, veterans struggle with the transition back into the civilian workplace. They may need guidance on interview skills and resume writing, for example.

By participating in the Hiring Our Heroes Corporate Fellowship Program and developing internal programs to help veterans find their place, Verizon continues its support of the military community and produces exceptional leaders.
September 16, 2019 at 02:09 PM
news
CAIRO (Reuters) - Islamic State's media network on Monday issued an audio message purporting to come from its leader Abu Bakr al-Baghdadi saying operations were taking place daily and urging freedom for women jailed in Iraq and Syria over their alleged links to the group.
"Daily operations are underway on different fronts," he said in the 30-minute tape published by the Al Furqan network, in what would be his first message since April. He cited several regions such as Mali and the Levant but gave no dates.
September 16, 2019 at 12:50 PM
news
(DoD photo)
A U.S. service member was killed in Afghanistan on Monday, defense officials have announced.
Soldiers with the 1st Infantry Division are just days away from becoming the first to get their hands on the most advanced night vision goggles the Army has fielded yet.