Watch 2 F-35s flex in 'beast mode' in support of US troops in Afghanistan
May 24, 2019 at 04:15 PM
Military Tech
Two F-35A Lightning II Joint Strike Fighters recently flew a mission in the Middle East in "beast mode," meaning they were loaded up with as much firepower as they could carry.
The F-35s with the 4th Expeditionary Fighter Squadron took off from Al Dhafra Air Base, United Arab Emirates to execute a mission in support of U.S. forces in Afghanistan, Air Forces Central Command revealed. The fifth-generation fighters sacrificed their high-end stealth to fly with a full loadout of weaponry on their wings.
---
An F-35A Lightning II with a full external loadout at Al Dhafra Air Base, United Arab Emirates, in May 2019.(U.S. Air Force/ Staff Sgt. Chris Thornbury)
"Beast mode," the carrying of weapons internally and externally to boost the overall firepower of the aircraft, is also known as the "Third Day of War" configuration. At the start of a fight, the F-35 would store all of its weapons internally to maintain low observability, as the external weapons would likely increase the surfaces that an enemy radar could detect.

The fighters carried 6 GBU-49 Paveway laser-guided precision bombs and 2 AIM-9X Sidewinder infrared-tracking short-range air-to-air missiles externally. AFCENT released a video Friday of 380th Expeditionary Maintenance Group teams loading the weapons onto the jets.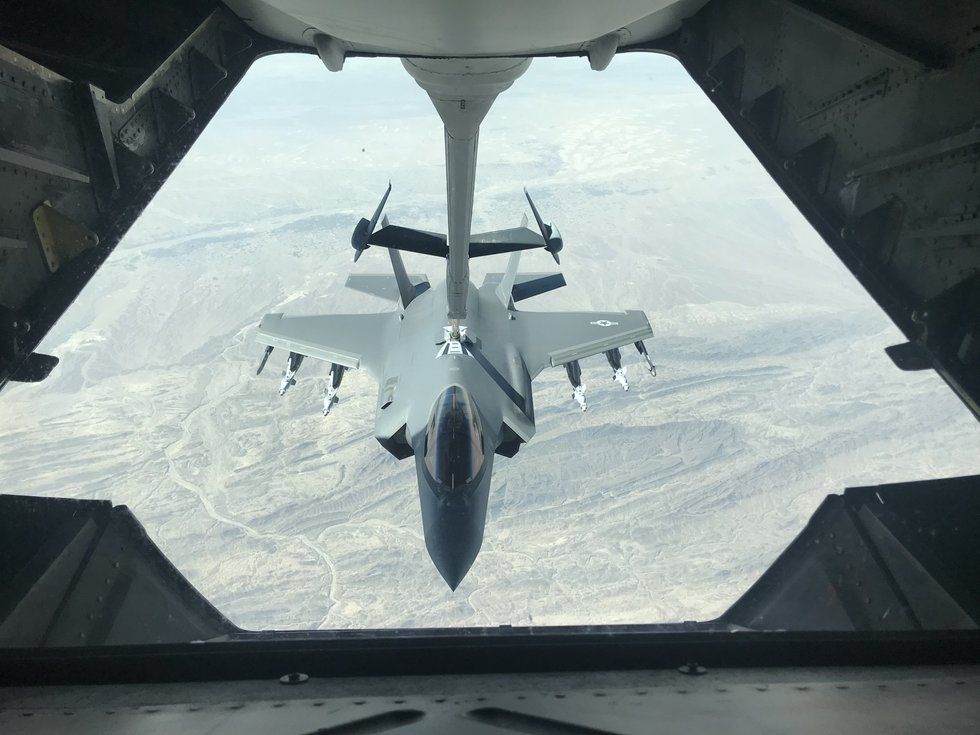 An F-35A Lightning II in "beast mode" during an operation in support of US forces in Afghanistan in May 2019(U.S. Air Force)
U.S. Air Forces deployed the F-35A to the Middle East, the U.S. Central Command area of responsibility, for the first time in April. The aircraft flew their first sortie on April 26.

Four days later, the F-35s, which were pulled from the active-duty 388th Fighter Wing and Reserve 419th Fighter Wing, conducted an strike in Wadi Ashai, Iraq. The mission, carried out in support of Combined Joint Task Force - Operation Inherent Resolve marked the F-35A's first combat mission, according to the U.S. Air Force.
Read more from Business Insider:
WATCH NEXT: An F-35 Fires Five Missile At The Same Time
November 15, 2019 at 11:08 AM
popular
Little girls everywhere will soon have the chance to play with a set of classic little green Army soldiers that actually reflect the presence of women in the armed forces.
U.S. military officials may have abandoned their dreams of powered armor straight out of Starship Troopers, but the futuristic components of America's first prototype combat exoskeleton could eventually end up in the arsenals of both U.S. special operations forces and conventional troops.
November 15, 2019 at 09:27 AM
news
SEOUL (Reuters) - U.S. Secretary of Defense Mark Esper pressed South Korea on Friday to pay more for the cost of stationing U.S. troops in the country and to maintain an intelligence-sharing pact with its other Asian ally, Japan, that Seoul is about to let lapse.
Speaking after a high-level defense policy meeting with his South Korean counterpart, Jeong Kyeong-doo, Esper also said the two countries must be flexible with their joint military drills to back diplomatic efforts to end North Korea's nuclear program.
But he stopped short of announcing any new reduction in military exercises that North Korea has sharply condemned.
November 15, 2019 at 08:06 AM
news
Turkish and Russian patrol is seen near the town of Darbasiyah, Syria, Friday, Nov. 1, 2019. (Associated Press/Baderkhan Ahmad)
MOSCOW (Reuters) - Russia landed attack helicopters and troops at a sprawling air base in northern Syria vacated by U.S. forces, the Russian Defence Ministry's Zvezda TV channel said on Friday.
On Thursday, Zvezda said Russia had set up a helicopter base at an airport in the northeastern Syrian city of Qamishli, a move designed to increase Moscow's control over events on the ground there.
Qamishli is the same city where Syrian citizens pelted U.S. troops and armored vehicles with potatoes after President Donald Trump vowed to pull U.S. troops from Syria.
Editor's Note: This article by Matthew Cox originally appeared on Military.com, a leading source of news for the military and veteran community.
U.S. Army weapons officials are testing an experimental drone armed with a multi-shot, 40mm grenade launcher to destroy enemy targets hiding behind cover.