Get Task & Purpose in your inbox
The White House may get hacked again because so many cybersecurity officials have resigned, according to an internal memo
October 24, 2019 at 05:42 AM
news
Clouds roll over the White House, Tuesday Jan. 8, 2019, in Washington. (Associated Press/Jacquelyn Martin)
An internal White House memo has warned that it could be hacked again because so many cybersecurity officials have resigned or been pushed out under President Donald Trump's administration, Axios reports.
"I foresee the White House is posturing itself to be electronically compromised once again," wrote Dimitrios Vastakis, a branch chief of the White House computer network defense unit, in the October 17 memo obtained by Axios.
---
Vastakis said this was because the White House had been gradually diminishing the responsibilities and power of the Office of the Chief Information Security Officer (OCISO), which was set up in 2014 after hackers accessed an unclassified computer network used by then-President Barack Obama's own office.
The hackers, who were reportedly working for the Russian government, had used a phishing-style attack on the State Department to gain access to the White House network. Through the cyberattack they managed to obtain sensitive information such as Obama's daily schedule.
The Trump administration in July folded the OCISO into the Office of the Chief Information Officer, Axios reported, which diminished the OCISO's power and responsibilities at the White House.
At least a dozen of top- or high-level OCISO officials have resigned or been pushed out since, Axios reported. The memo also served as Vastakis' resignation letter.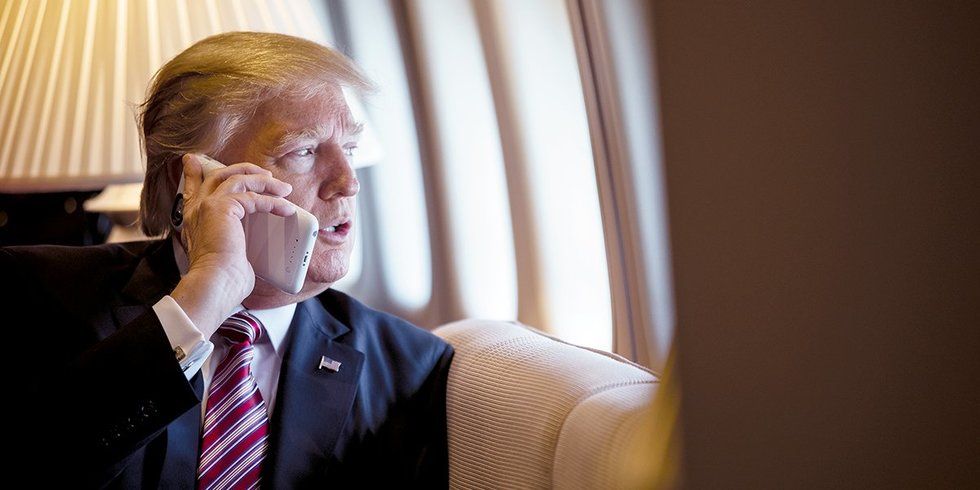 President Donald Trump(White House photo)
Vastakis also said in his memo that remaining OCISO employees were "systematically being targeted for removal" by having their duties diminished, access to buildings revoked, and decision-making power taken away.

"Allowing for a large portion of institutional knowledge to concurrently walk right out the front door seems contrary to the best interests of the mission and the organization as a whole," Vastakis wrote.
Axios also cited an anonymous White House source familiar with the moves as saying: "You have an entire section who's dedicated to providing counter threat intelligence information."
"If you remove that, it's like the Wild West again."
Read the full memo here. The White House has not yet responded to Business Insider's request for comment on Vastakis' allegations, or whether the memo published by Axios is legitimate.
Questions about White House computer systems have come to light in recent weeks after an intelligence-community whistleblower said officials locked away potentially embarrassing — but not sensitive — transcripts of Trump's phone calls in restricted computer system reserved for information that could jeopardize national security.

Read more from Business Insider
January 18, 2020 at 01:47 PM
popular
The U.S. Space Force has a name tape for uniforms now. Get excited people.
In a tweet from its official account, the Space Force said its uniform name tapes have "touched down in the Pentagon," sharing a photo of it on the chest of Gen. John W. Raymond, the newly-minted Chief of Space Operations for the new service branch nested in the Department of the Air Force.
January 18, 2020 at 12:34 PM
news
PALM BEACH, Fla. (Reuters) - U.S. President Donald Trump gave a minute-to-minute account of the U.S. drone strikes that killed Iranian military commander Qassem Soleimani in remarks to a Republican fund-raising dinner on Friday night, according to audio obtained by CNN.
With his typical dramatic flourish, Trump recounted the scene as he monitored the strikes from the White House Situation Room when Soleimani was killed.
January 18, 2020 at 12:18 PM
news
The U.S. Navy will name its fourth Ford-class aircraft carrier after Doris Miller, an iconic World War II sailor recognized for his heroism during the Pearl Harbor attack, according to reports in The Honolulu Star-Advertiser and U.S. Naval Institute News.
Acting Navy Secretary Thomas Modly is expected to announce the naming of CVN-81 during a ceremony on Monday in Pearl Harbor, Hawaii, according to USNI. Two of Miller's nieces are expected to be there, according to the Star-Advertiser.
January 18, 2020 at 11:39 AM
news
Two immigrants, a pastor and an Army sergeant have been convicted of conspiracy to commit marriage fraud as part of an illegal immigration scheme, according to federal prosecutors.
Rajesh Ramcharan, 45; Diann Ramcharan, 37; Sgt. Galima Murry, 31; and the Rev. Ken Harvell, 60, were found guilty Thursday after a nine-day jury trial, according to a news release from the U.S. attorney's office in Colorado.
The conspiracy involved obtaining immigration benefits for Rajesh Ramcharan, Diann Ramcharan, and one of their minor children, the release said. A married couple in 2007 came to the U.S. from Trinidad and Tobago on visitor visas. They overstayed the visas and settled in Colorado.
January 18, 2020 at 10:41 AM
news
DUBAI (Reuters) - Iran said on Saturday it was sending to Ukraine the black boxes from a Ukrainian passenger plane that the Iranian military shot down this month, an accident that sparked unrest at home and added to pressure on Tehran from abroad.
Iran's Tasnim news agency also reported the authorities were prepared for experts from France, Canada and the United States to examine information from the data and voice recorders of the Ukraine International Airlines plane that came down on Jan. 8.
The plane disaster, in which all 176 aboard were killed, has added to international pressure on Iran as it grapples with a long running row with the United States over its nuclear program that briefly erupted into open conflict this month.