Get Task & Purpose in your inbox
The White House may get hacked again because so many cybersecurity officials have resigned, according to an internal memo
October 24, 2019 at 05:42 AM
news
Clouds roll over the White House, Tuesday Jan. 8, 2019, in Washington. (Associated Press/Jacquelyn Martin)
An internal White House memo has warned that it could be hacked again because so many cybersecurity officials have resigned or been pushed out under President Donald Trump's administration, Axios reports.
"I foresee the White House is posturing itself to be electronically compromised once again," wrote Dimitrios Vastakis, a branch chief of the White House computer network defense unit, in the October 17 memo obtained by Axios.
---
Vastakis said this was because the White House had been gradually diminishing the responsibilities and power of the Office of the Chief Information Security Officer (OCISO), which was set up in 2014 after hackers accessed an unclassified computer network used by then-President Barack Obama's own office.
The hackers, who were reportedly working for the Russian government, had used a phishing-style attack on the State Department to gain access to the White House network. Through the cyberattack they managed to obtain sensitive information such as Obama's daily schedule.
The Trump administration in July folded the OCISO into the Office of the Chief Information Officer, Axios reported, which diminished the OCISO's power and responsibilities at the White House.
At least a dozen of top- or high-level OCISO officials have resigned or been pushed out since, Axios reported. The memo also served as Vastakis' resignation letter.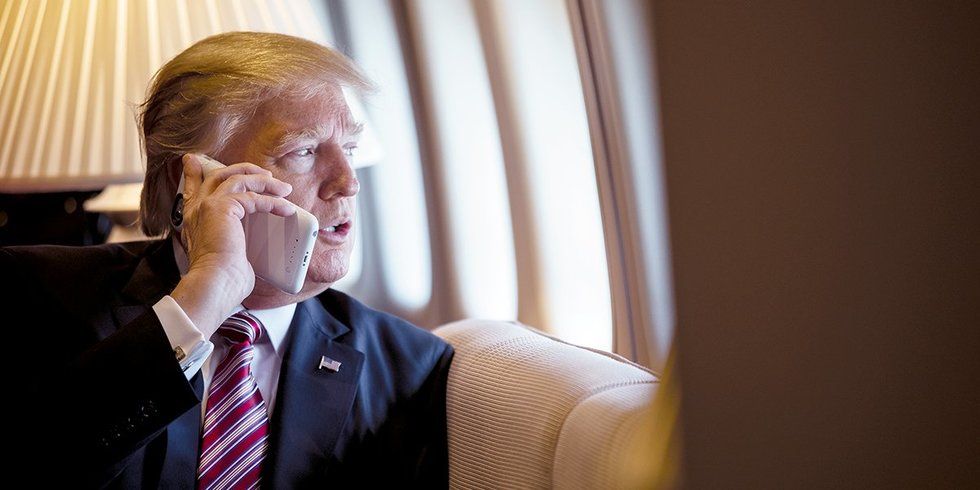 President Donald Trump(White House photo)
Vastakis also said in his memo that remaining OCISO employees were "systematically being targeted for removal" by having their duties diminished, access to buildings revoked, and decision-making power taken away.

"Allowing for a large portion of institutional knowledge to concurrently walk right out the front door seems contrary to the best interests of the mission and the organization as a whole," Vastakis wrote.
Axios also cited an anonymous White House source familiar with the moves as saying: "You have an entire section who's dedicated to providing counter threat intelligence information."
"If you remove that, it's like the Wild West again."
Read the full memo here. The White House has not yet responded to Business Insider's request for comment on Vastakis' allegations, or whether the memo published by Axios is legitimate.
Questions about White House computer systems have come to light in recent weeks after an intelligence-community whistleblower said officials locked away potentially embarrassing — but not sensitive — transcripts of Trump's phone calls in restricted computer system reserved for information that could jeopardize national security.

Read more from Business Insider
November 16, 2019 at 02:22 PM
popular
It didn't take long for a central theme to emerge at the funeral of U.S. Marine Pfc. Joseph Livermore, an event attended by hundreds of area residents Friday at Union Cemetery in Bakersfield.
It's a theme that stems from a widespread local belief that the men and women who have served in the nation's armed forces are held in particularly high esteem here in the southern valley.
"In Bakersfield and Kern County, we celebrate our veterans like no place else on Earth," Bakersfield Chief of Police Lyle Martin told the gathering of mourners.
November 16, 2019 at 10:32 AM
popular
An Air Force Special Tactics combat controller that "delivered thousands of pounds of munition" during a close-range 2007 firefight in Afghanistan was awarded the Silver Star on Friday.
November 16, 2019 at 09:30 AM
popular
ROCKFORD — Delta Force sniper Sgt. First Class James P. McMahon's face was so badly battered and cut, "he looked like he was wearing a fright mask" as he stood atop a downed Black Hawk helicopter and pulled free the body of a fellow soldier from the wreckage.
That's the first description of McMahon in the book by journalist Mark Bowden called "Black Hawk Down: A Story of Modern War." It is a detailed account of the horrific Battle of the Black Sea fought in the streets of Mogadishu, Somalia, in October 1993. It claimed the lives of 18 elite American soldiers.
November 16, 2019 at 08:54 AM
popular
The July arrests of 16 Camp Pendleton Marines in front of their 800-person battalion was unlawful and a violation of their rights, a Marine Corps judge ruled Friday.
November 15, 2019 at 07:00 PM
popular
Navy SEAL Eddie Gallagher will retire as a chief petty officer now that President Donald Trump has restored his rank.
"Before the prosecution of Special Warfare Operator First Class Edward Gallagher, he had been selected for promotion to Senior Chief, awarded a Bronze Star with a "V" for valor, and assigned to an important position in the Navy as an instructor," a White House statement said.
"Though ultimately acquitted on all of the most serious charges, he was stripped of these honors as he awaited his trial and its outcome. Given his service to our Nation, a promotion back to the rank and pay grade of Chief Petty Officer is justified."
The announcement that Gallagher is once again an E-7 effectively nullifies the Navy's entire effort to prosecute Gallagher for allegedly committing war crimes. It is also the culmination of Trump's support for the SEAL throughout the legal process.
On July 2, military jurors found Gallagher not guilty of premeditated murder and attempted murder for allegedly stabbing a wounded ISIS fighter to death and opening fire at an old man and a young girl on separate occasions during his 2017 deployment to Iraq.