This Green Beret's last request after being shot in Afghanistan: 'Save the bullet'
February 06, 2019 at 03:03 PM
Unsung Heroes
"Plenty of people have been shot, don't be a fucking pussy about this," is not the advice many Americans would give a friend still in intensive care after surviving a gunshot wound. But then again, Green Beret veteran Kevin Flike probably didn't need any of their shitty advice.
---
A former staff sergeant in the Army Special Forces, Flike was clearing a valley with a team of Afghan commandos during his second rotation with his 1st Special Forces Group unit in northern Afghanistan in September 2011 when they were caught in an 11-hour firefight with Taliban forces.
During the firefight, Flike was shot in the stomach. After being pulled to safety by an Afghan soldier, his team started working on his injuries, which had caused internal bleeding.
"I could hear people coming up to our medic and saying, 'Hey, is Kevin going to make it or not?' And he's like 'I don't know, it looks pretty bad.' Little did they know I could hear them this whole time," Flike told Task & Purpose. "With every minute that was going by, I'm like, 'This is it for you. You've had a lot of close calls and this one's finally it.'"
After being evacuated back to the field hospital, just before being put under for surgery, he was asked if he had any last requests. His answer: "Could you save the bullet, please?"
Staff Sgt. Kevin Flike in Kunduz, Afghanistan, 2011.(Courtesy of Kevin Flike)
Flike came to four days later in a bed at Germany's Landstuhl Regional Medical Center, and a friend who had also been shot the year before gave him that brutally honest piece of advice — advice he still thinks about today. It helps him keep perspective, he said, and it was exactly what he needed to hear. To understand it you have to "understand the mentality of the special forces and the Green Berets. There's a lot of real talk."
After six surgeries, thousands of hours of physical therapy, and regaining use of his left leg, Flike decided to take his story public to help others. After starting a blog detailing his lengthy recovery, Flike also produced a recently-released documentary Wounded By War, which includes body camera footage from one of his teammates on the day he was shot.
As he told Task & Purpose: "An experience is worth nothing unless you share it."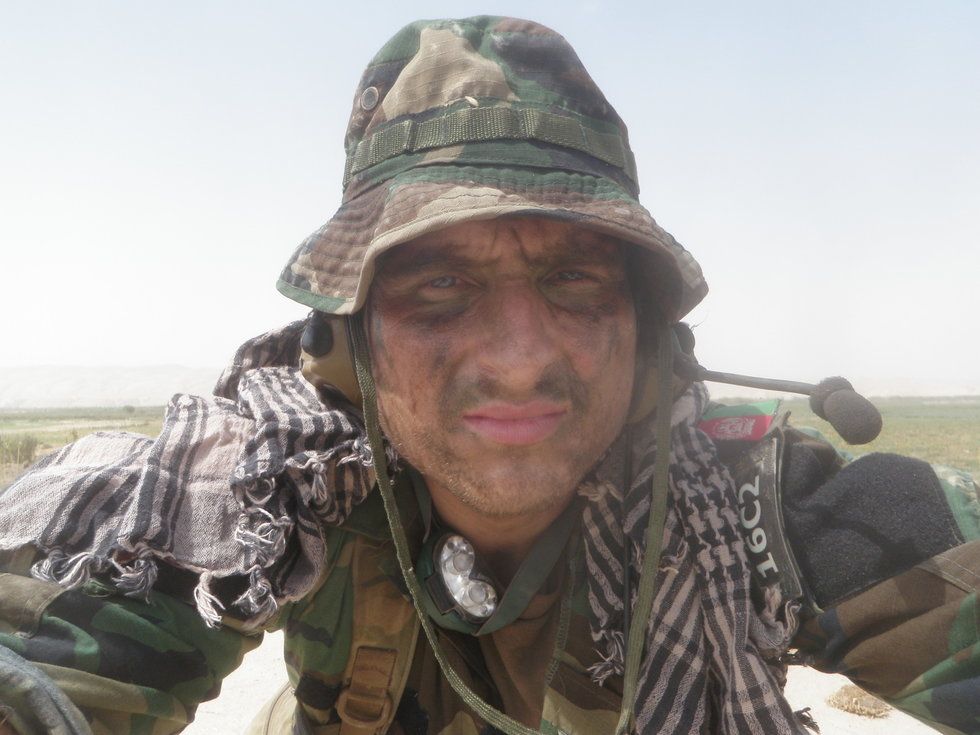 Kevin Flike(Focus Forward Media)
All proceeds of the documentary are going to the Green Beret Foundation, and Flike says he won't benefit financially from the documentary at all; in fact, he said, he paid $2,000 out-of-pocket to help make the short film which touches on his recovery, his struggle with addiction to painkillers, and PTSD — something he says is largely misunderstood by the public.

He's not wrong. According to the National Center for PTSD, between 11-20% of veterans who served in Operations Iraqi Freedom and Enduring Freedom have PTSD, and there are a number of misconceptions about it that simply aren't true — like that it's a sign of weakness, or that there's nothing that can be done to beat it.
Former Defense Secretary James Mattis addressed this in 2014, saying there's one misperception of veterans, "and that is they are somehow damaged goods. ... There is no room for military people, including our veterans, to see themselves as victims even if so many of our countrymen are prone to relish that role."

Flike agrees.
"I think once that label gets thrown around, people kind of think of you as a damaged good," Flike told Task & Purpose. "The thing is, I experienced that, I'd say a large majority of veterans experience that on some level especially if you saw combat, but it doesn't mean that you're damaged goods and it doesn't mean that you can't go out and live this incredible life."
Kevin Flike and his family.(Green Beret Foundation)
And Flike has done just that. After recovering from his surgeries and kicking a painkiller addiction after his wife sat him down for a come-to-Jesus moment, he went back to school for two masters degrees. He's a father to two little girls, a job he says is made easier by the patience he learned in Army Special Forces. He even visited Afghanistan again in 2017, finding the closure he needed.

At the end of the day, he said, his experience is "the best thing that's ever happened" to him because of the lessons he learned from it, which he says made him a better person. And there are still hard days, Flike said, as he continues working at keeping that perspective.
On days he wants to feel a little sorry for himself anyway, he looks at the bullet that nearly took his life, sitting on his desk at home.

"A life that's easy, in my opinion, is not a life worth living."
WATCH NEXT: The Movie That Introduced America To The Green Berets
Related Articles From Your Site
Related Articles Around the Web
(New Line Cinema)
The Marine Corps has tapped a new Silicon Valley defense firm to develop a "digital fortress" of networked surveillance systems in order to enhance the situational awareness of security forces at installations around the world.
Marine Corps Installations Command on July 15 announced a $13.5 million sole source contract award to Anduril Industries — the two-year-old defense technology company and Project Maven contractor founded by Oculus VR founder Palmer Luckey and several former Palantir Technologies executives — for a new Autonomous Surveillance Counter Intrusion Capability (ASCIC) designed to help secure installations against "all manners of intrusion" without additional manpower.
This is no standard intrusion system. Through its AI-driven Lattice Platform network and 32-foot-tall autonomous Sentry Towers, Anduril purports to combine the virtual reality systems that Luckey pioneered at Oculus with Pentagon's most advanced sensors into a simple mobile platform, enhancing an installation's surveillance capabilities with what Wired recently dubbed "a web of all-seeing eyes, with intelligence to know what it sees."
July 23, 2019 at 04:34 PM
news
The Marine Corps' dune buggy drone jammer may have downed two Iranian drones in the Strait of Hormuz, U.S. military have officials announced.
The amphibious assault ship USS Boxer was transiting the Strait of Hormuz on July 18 when two Iranian drones came dangerously close, according to U.S. Central Command.
"This was a defensive action by the USS Boxer in response to aggressive interactions by two Iranian UAS [unmanned aerial systems] platforms in international waters," CENTCOM spokesman Army Lt. Col. Earl Brown said in a statement. "The Boxer took defensive action and engaged both of these platforms."
July 23, 2019 at 03:11 PM
news
On July 17, Army Sgt. 1st Class Richard Stayskal briefly met with President Donald Trump at a rally in Greenville, North Carolina to discuss the eponymous legislation that would finally allow victims of military medical malpractice to sue the U.S. government.
A Green Beret with terminal lung cancer, Stayskal has spent the last year fighting to change the Feres Doctrine, a 1950 Supreme Court precedent that bars service members like him from suing the government for negligence or wrongdoing.
July 23, 2019 at 12:36 PM
news
The Pentagon is no longer topless. On Tuesday, the Senate voted to confirm Mark Esper as the United States' first permanent defense secretary in more than seven months.
Esper is expected to be sworn in as defense secretary later on Tuesday, Pentagon spokesman Jonathan Hoffman told reporters.
"We are grateful for the Senate leadership and the Senate Armed Services Committee's willingness to quickly move through this process," Hoffman said.
(Paramount Pictures via YouTube)
The new trailer for Top Gun: Maverick that dropped last week was indisputably the white-knuckle thrill ride of the summer, a blur of aerial acrobatics and beach volleyball that made us wonder how we ever lost that lovin' feeling in the decades since we first met Pete "Maverick" Mitchell back in 1986.
But it also made us wonder something else: Why is Maverick still flying combat missions in an F/A-18 Super Hornet as a 57-year-old captain after more than 30 years of service?