This Green Beret's last request after being shot in Afghanistan: 'Save the bullet'
February 06, 2019 at 03:03 PM
Unsung Heroes
"Plenty of people have been shot, don't be a fucking pussy about this," is not the advice many Americans would give a friend still in intensive care after surviving a gunshot wound. But then again, Green Beret veteran Kevin Flike probably didn't need any of their shitty advice.
---
A former staff sergeant in the Army Special Forces, Flike was clearing a valley with a team of Afghan commandos during his second rotation with his 1st Special Forces Group unit in northern Afghanistan in September 2011 when they were caught in an 11-hour firefight with Taliban forces.
During the firefight, Flike was shot in the stomach. After being pulled to safety by an Afghan soldier, his team started working on his injuries, which had caused internal bleeding.
"I could hear people coming up to our medic and saying, 'Hey, is Kevin going to make it or not?' And he's like 'I don't know, it looks pretty bad.' Little did they know I could hear them this whole time," Flike told Task & Purpose. "With every minute that was going by, I'm like, 'This is it for you. You've had a lot of close calls and this one's finally it.'"
After being evacuated back to the field hospital, just before being put under for surgery, he was asked if he had any last requests. His answer: "Could you save the bullet, please?"
Staff Sgt. Kevin Flike in Kunduz, Afghanistan, 2011.(Courtesy of Kevin Flike)
Flike came to four days later in a bed at Germany's Landstuhl Regional Medical Center, and a friend who had also been shot the year before gave him that brutally honest piece of advice — advice he still thinks about today. It helps him keep perspective, he said, and it was exactly what he needed to hear. To understand it you have to "understand the mentality of the special forces and the Green Berets. There's a lot of real talk."
After six surgeries, thousands of hours of physical therapy, and regaining use of his left leg, Flike decided to take his story public to help others. After starting a blog detailing his lengthy recovery, Flike also produced a recently-released documentary Wounded By War, which includes body camera footage from one of his teammates on the day he was shot.
As he told Task & Purpose: "An experience is worth nothing unless you share it."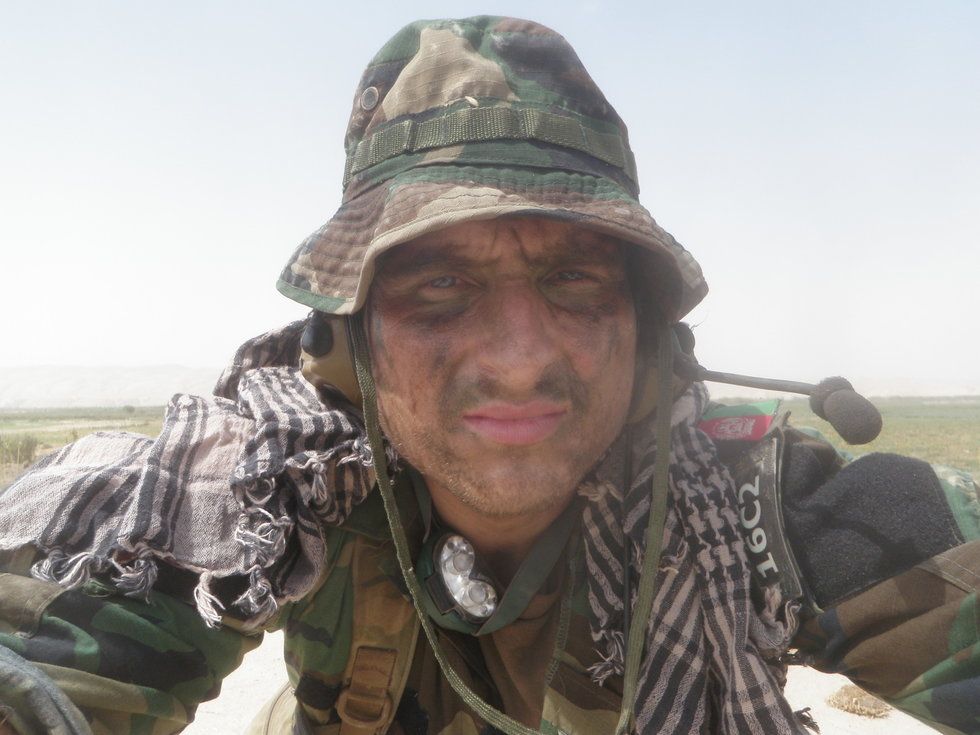 Kevin Flike(Focus Forward Media)
All proceeds of the documentary are going to the Green Beret Foundation, and Flike says he won't benefit financially from the documentary at all; in fact, he said, he paid $2,000 out-of-pocket to help make the short film which touches on his recovery, his struggle with addiction to painkillers, and PTSD — something he says is largely misunderstood by the public.

He's not wrong. According to the National Center for PTSD, between 11-20% of veterans who served in Operations Iraqi Freedom and Enduring Freedom have PTSD, and there are a number of misconceptions about it that simply aren't true — like that it's a sign of weakness, or that there's nothing that can be done to beat it.
Former Defense Secretary James Mattis addressed this in 2014, saying there's one misperception of veterans, "and that is they are somehow damaged goods. ... There is no room for military people, including our veterans, to see themselves as victims even if so many of our countrymen are prone to relish that role."

Flike agrees.
"I think once that label gets thrown around, people kind of think of you as a damaged good," Flike told Task & Purpose. "The thing is, I experienced that, I'd say a large majority of veterans experience that on some level especially if you saw combat, but it doesn't mean that you're damaged goods and it doesn't mean that you can't go out and live this incredible life."
Kevin Flike and his family.(Green Beret Foundation)
And Flike has done just that. After recovering from his surgeries and kicking a painkiller addiction after his wife sat him down for a come-to-Jesus moment, he went back to school for two masters degrees. He's a father to two little girls, a job he says is made easier by the patience he learned in Army Special Forces. He even visited Afghanistan again in 2017, finding the closure he needed.

At the end of the day, he said, his experience is "the best thing that's ever happened" to him because of the lessons he learned from it, which he says made him a better person. And there are still hard days, Flike said, as he continues working at keeping that perspective.
On days he wants to feel a little sorry for himself anyway, he looks at the bullet that nearly took his life, sitting on his desk at home.

"A life that's easy, in my opinion, is not a life worth living."
WATCH NEXT: The Movie That Introduced America To The Green Berets
Related Articles Around the Web
Related Articles From Your Site
(U.S. Army photo by Spc. Keion Jackson).
The U.S. military will build 'facilities' to house at least 7,500 adult migrants, the Pentagon announced on Wednesday.
Acting Defense Secretary Patrick Shanahan has approved a request from the Department of Homeland Security to construct the facilities, said Pentagon spokesman Army Maj. Chris Mitchell.
(U.S. Navy photo by Mass Communication Specialist 1st Class Brian M. Wilbur.)
Defense officials will brief President Donald Trump's national security team on a plan that involves sending 5,000 more troops to the Middle East to deter Iran, Task & Purpose has learned.
So far, no decisions have been made about whether to send the reinforcements to the region, unnamed U.S. officials told CNN's Barbara Starr.
"The military capabilities being discussed include sending additional ballistic missile defense systems, Tomahawk cruise missiles on submarines, and surface ships with land attack capabilities for striking at a long range," CNN reports. "Specific weapons systems and units have not been identified."

The thousands of sailors, Coasties and Marines who descend on New York City every year for Fleet Week are an awesome sight to behold on their own, but this year's confab of U.S. service members includes a uniquely powerful homecoming as well.
When an Air Force major called J.J. completed a solo flight in the U-2 in late August 2016 — 60 years after the high-flying aircraft was introduced — he became the 1,000th pilot to do so.

J.J., whose name was withheld by the U.S. Air Force for security reasons, earned his solo patch a few days after pilots No. 998 and No. 999. Those three pilots are in distinguished company, two fellow pilots said this month.
"We have a pretty small, elite team of folks. We're between about 60 and 70 active-duty pilots at any given time," Maj. Matt "Top" Nauman said during an Air Force event at the Intrepid Sea, Air, and Space Museum in New York City.

"We're about 1,050 [pilots] right now. So to put that in context, there are more people with Super Bowl rings than there are people with U-2 patches," Nauman added. "It's a pretty small group of people that we've hired over the last 60 to 65 years."
(DoD/Sgt. Amber I. Smith)
In what appear to be his first public remarks on U.S. national security since his resignation as Secretary of Defense, retired Marine Gen. James Mattis offered a word of caution to President Donald Trump amid escalating tensions with Iran on Tuesday.
"The United States should buy time to keep peace and stability and allow diplomats to work diplomacy on how to keep peace for one more hour, one more day, one more week, a month or a year," Mattis said during remarks in the United Arab Emirates.
"Iran's behavior must change," Mattis added, "[but] the military must work to buy time for diplomats to work their magic."