This Green Beret's last request after being shot in Afghanistan: 'Save the bullet'
February 06, 2019 at 03:03 PM
Unsung Heroes
"Plenty of people have been shot, don't be a fucking pussy about this," is not the advice many Americans would give a friend still in intensive care after surviving a gunshot wound. But then again, Green Beret veteran Kevin Flike probably didn't need any of their shitty advice.
---
A former staff sergeant in the Army Special Forces, Flike was clearing a valley with a team of Afghan commandos during his second rotation with his 1st Special Forces Group unit in northern Afghanistan in September 2011 when they were caught in an 11-hour firefight with Taliban forces.
During the firefight, Flike was shot in the stomach. After being pulled to safety by an Afghan soldier, his team started working on his injuries, which had caused internal bleeding.
"I could hear people coming up to our medic and saying, 'Hey, is Kevin going to make it or not?' And he's like 'I don't know, it looks pretty bad.' Little did they know I could hear them this whole time," Flike told Task & Purpose. "With every minute that was going by, I'm like, 'This is it for you. You've had a lot of close calls and this one's finally it.'"
After being evacuated back to the field hospital, just before being put under for surgery, he was asked if he had any last requests. His answer: "Could you save the bullet, please?"
Staff Sgt. Kevin Flike in Kunduz, Afghanistan, 2011.(Courtesy of Kevin Flike)
Flike came to four days later in a bed at Germany's Landstuhl Regional Medical Center, and a friend who had also been shot the year before gave him that brutally honest piece of advice — advice he still thinks about today. It helps him keep perspective, he said, and it was exactly what he needed to hear. To understand it you have to "understand the mentality of the special forces and the Green Berets. There's a lot of real talk."
After six surgeries, thousands of hours of physical therapy, and regaining use of his left leg, Flike decided to take his story public to help others. After starting a blog detailing his lengthy recovery, Flike also produced a recently-released documentary Wounded By War, which includes body camera footage from one of his teammates on the day he was shot.
As he told Task & Purpose: "An experience is worth nothing unless you share it."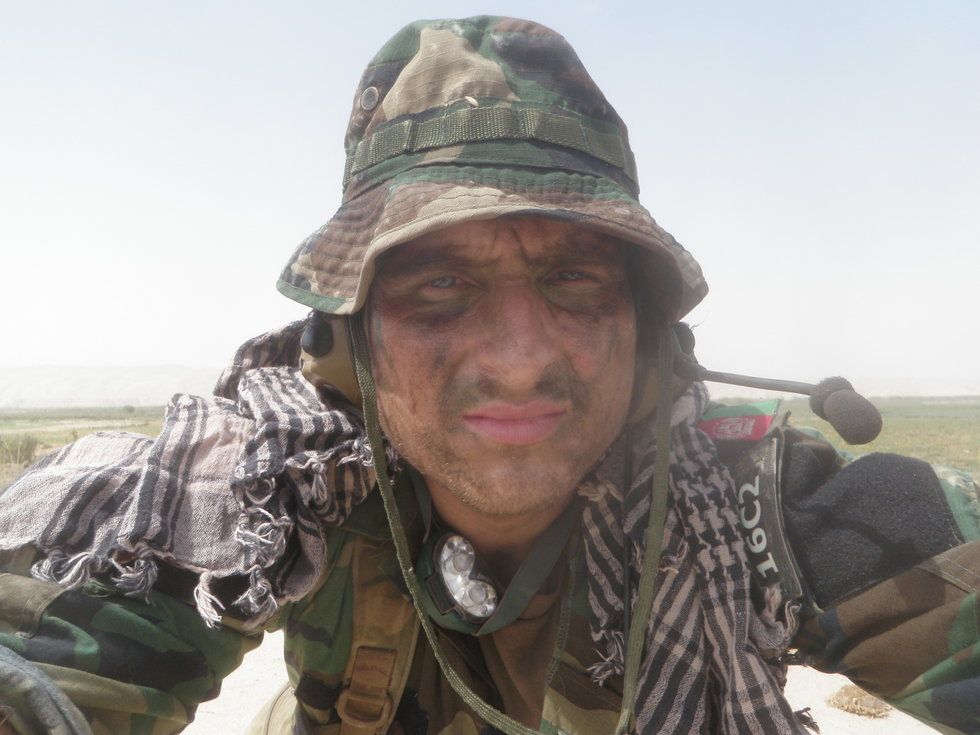 Kevin Flike(Focus Forward Media)
All proceeds of the documentary are going to the Green Beret Foundation, and Flike says he won't benefit financially from the documentary at all; in fact, he said, he paid $2,000 out-of-pocket to help make the short film which touches on his recovery, his struggle with addiction to painkillers, and PTSD — something he says is largely misunderstood by the public.

He's not wrong. According to the National Center for PTSD, between 11-20% of veterans who served in Operations Iraqi Freedom and Enduring Freedom have PTSD, and there are a number of misconceptions about it that simply aren't true — like that it's a sign of weakness, or that there's nothing that can be done to beat it.
Former Defense Secretary James Mattis addressed this in 2014, saying there's one misperception of veterans, "and that is they are somehow damaged goods. ... There is no room for military people, including our veterans, to see themselves as victims even if so many of our countrymen are prone to relish that role."

Flike agrees.
"I think once that label gets thrown around, people kind of think of you as a damaged good," Flike told Task & Purpose. "The thing is, I experienced that, I'd say a large majority of veterans experience that on some level especially if you saw combat, but it doesn't mean that you're damaged goods and it doesn't mean that you can't go out and live this incredible life."
Kevin Flike and his family.(Green Beret Foundation)
And Flike has done just that. After recovering from his surgeries and kicking a painkiller addiction after his wife sat him down for a come-to-Jesus moment, he went back to school for two masters degrees. He's a father to two little girls, a job he says is made easier by the patience he learned in Army Special Forces. He even visited Afghanistan again in 2017, finding the closure he needed.

At the end of the day, he said, his experience is "the best thing that's ever happened" to him because of the lessons he learned from it, which he says made him a better person. And there are still hard days, Flike said, as he continues working at keeping that perspective.
On days he wants to feel a little sorry for himself anyway, he looks at the bullet that nearly took his life, sitting on his desk at home.

"A life that's easy, in my opinion, is not a life worth living."
WATCH NEXT: The Movie That Introduced America To The Green Berets
November 15, 2019 at 07:00 PM
popular
Navy SEAL Eddie Gallagher will retire as a chief petty officer now that President Donald Trump has restored his rank.
"Before the prosecution of Special Warfare Operator First Class Edward Gallagher, he had been selected for promotion to Senior Chief, awarded a Bronze Star with a "V" for valor, and assigned to an important position in the Navy as an instructor," a White House statement said.
"Though ultimately acquitted on all of the most serious charges, he was stripped of these honors as he awaited his trial and its outcome. Given his service to our Nation, a promotion back to the rank and pay grade of Chief Petty Officer is justified."
The announcement that Gallagher is once again an E-7 effectively nullifies the Navy's entire effort to prosecute Gallagher for allegedly committing war crimes. It is also the culmination of Trump's support for the SEAL throughout the legal process.
On July 2, military jurors found Gallagher not guilty of premeditated murder and attempted murder for allegedly stabbing a wounded ISIS fighter to death and opening fire at an old man and a young girl on separate occasions during his 2017 deployment to Iraq.
November 15, 2019 at 06:51 PM
news
Maj. Matthew Golsteyn in Afghanistan. (Photo courtesy of Philip Stackhouse.)
November 15, 2019 at 06:41 PM
news
(Screenshot from 'Leavenworth')
President Donald Trump has signed a full pardon for former 1st Lt. Clint Lorance, who had been convicted of murder for ordering his soldiers to open fire on three unarmed Afghan men, two of whom were killed.
Lorance will now be released from the United States Disciplinary Barracks at Fort Leavenworth, Kansas, where he had been serving a 19-year sentence.
"He has served more than six years of a 19-year sentence he received. Many Americans have sought executive clemency for Lorance, including 124,000 people who have signed a petition to the White House, as well as several members of Congress," said a White House statement released Friday.
"The President, as Commander-in-Chief, is ultimately responsible for ensuring that the law is enforced and when appropriate, that mercy is granted. For more than two hundred years, presidents have used their authority to offer second chances to deserving individuals, including those in uniform who have served our country. These actions are in keeping with this long history. As the President has stated, 'when our soldiers have to fight for our country, I want to give them the confidence to fight.'"
Additionally, Trump pardoned Maj. Matthew Golsteyn, who was to go on trial for murder charges next year, and restored the rank of Navy SEAL Chief Edward Gallagher, who was found not guilty of murdering a wounded ISIS prisoner but convicted of taking an unauthorized photo with the corpse.
Fox News contributor Pete Hegseth first announced on Nov. 4 that the president was expected to intervene in the Lorance case was well as exonerate Army Maj. Matthew Golsteyn, who has been charged with murder after he admitted to killing an unarmed Afghan man whom he believed was a Taliban bomb maker, and restore Navy SEAL Eddie Gallagher's rank to E-7.
For the past week, members of Lorance's family and his legal team have been holding a constant vigil in Kansas anticipating his release, said Lorance's attorney Don Brown.
Now that he has been exonerated of committing a war crime, Lorance wants to return to active duty, Brown told Task & Purpose on Wednesday.
"He loves the Army," Brown said prior to the president's announcement. "He doesn't have any animosity. He's hoping that his case – and even his time at Leavenworth – can be used for good to deal with some issues regarding rules of engagement on a permanent basis so that our warfighters are better protected, so that we have stronger presumptions favoring warfighters and they aren't treated like criminals on the South Side of Chicago."
In the Starz documentary "Leavenworth," Lorance's platoon members discuss the series of events that took place on July 2, 2012, when the two Afghan men were killed during a patrol in Kandahar province.They claim that Lorance ordered one of his soldiers to fire at three Afghan men riding a motorcycle. The three men got off their motorcycle and started walking toward Afghan troops, who ordered them to return to their motorcycle.
At that point, Lorance ordered the turret gunner on a nearby Mine Resistant Ambush Protected vehicle to shoot the three men, according to the documentary. That order was initially ignored, but the turret gunner eventually opened fire with his M-240, killing two of the men.
But Lorance told the documentary makers that his former soldiers' account of what happened was "ill-informed."
"From my experience of what actually went down, when my guy fired at it, and it kept coming, that signified hostile intent, because he didn't stop immediately," Lorance said in the documentary's second episode.
Brown argues that not only is Lorance innocent of murder, he should never have been prosecuted in the first case.
"He made a call and when you look at the evidence itself, the call was made within a matter of seconds," Brown said "He would make that call again."
The new Call of Duty Modern Warfare takes gaming to a new level. In fact, it's the best damn video game of 2019 (in my humble opinion).
You can watch video of the awesome gameplay for CoD above, and make sure to follow the Task & Purpose team on Twitch here.
This post was sponsored by GoatGuns.Com. Use the code TP15 for 15% off your next order.
A new trailer just dropped for the upcoming World War I action flick The Great War.