This Green Beret's last request after being shot in Afghanistan: 'Save the bullet'
February 06, 2019 at 03:03 PM
Unsung Heroes
"Plenty of people have been shot, don't be a fucking pussy about this," is not the advice many Americans would give a friend still in intensive care after surviving a gunshot wound. But then again, Green Beret veteran Kevin Flike probably didn't need any of their shitty advice.
---
A former staff sergeant in the Army Special Forces, Flike was clearing a valley with a team of Afghan commandos during his second rotation with his 1st Special Forces Group unit in northern Afghanistan in September 2011 when they were caught in an 11-hour firefight with Taliban forces.
During the firefight, Flike was shot in the stomach. After being pulled to safety by an Afghan soldier, his team started working on his injuries, which had caused internal bleeding.
"I could hear people coming up to our medic and saying, 'Hey, is Kevin going to make it or not?' And he's like 'I don't know, it looks pretty bad.' Little did they know I could hear them this whole time," Flike told Task & Purpose. "With every minute that was going by, I'm like, 'This is it for you. You've had a lot of close calls and this one's finally it.'"
After being evacuated back to the field hospital, just before being put under for surgery, he was asked if he had any last requests. His answer: "Could you save the bullet, please?"
Staff Sgt. Kevin Flike in Kunduz, Afghanistan, 2011.(Courtesy of Kevin Flike)
Flike came to four days later in a bed at Germany's Landstuhl Regional Medical Center, and a friend who had also been shot the year before gave him that brutally honest piece of advice — advice he still thinks about today. It helps him keep perspective, he said, and it was exactly what he needed to hear. To understand it you have to "understand the mentality of the special forces and the Green Berets. There's a lot of real talk."
After six surgeries, thousands of hours of physical therapy, and regaining use of his left leg, Flike decided to take his story public to help others. After starting a blog detailing his lengthy recovery, Flike also produced a recently-released documentary Wounded By War, which includes body camera footage from one of his teammates on the day he was shot.
As he told Task & Purpose: "An experience is worth nothing unless you share it."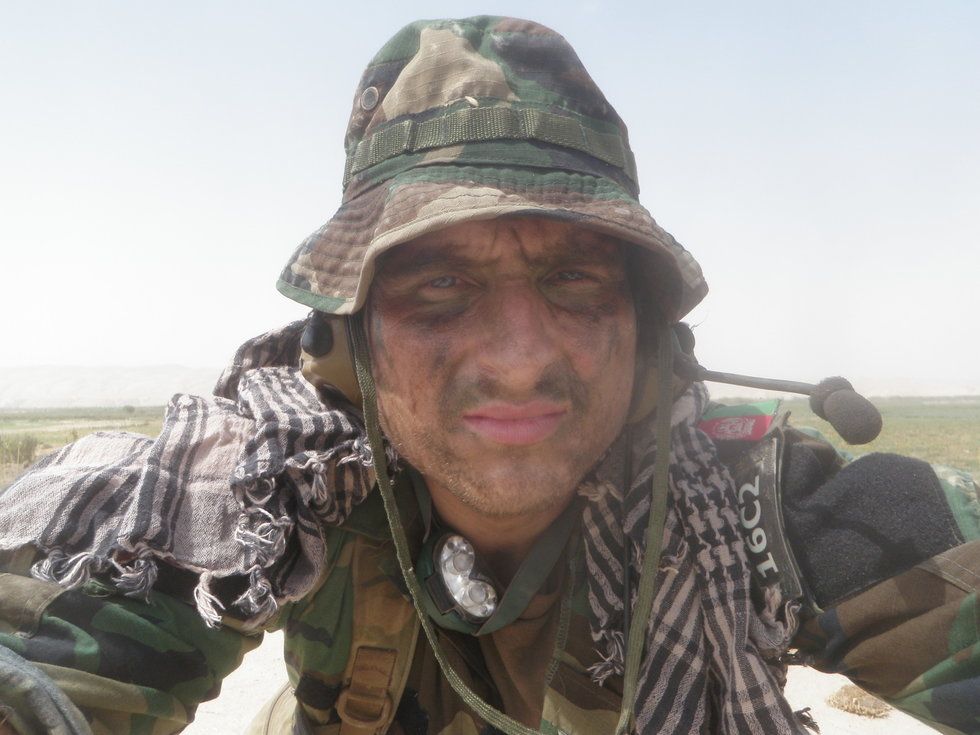 Kevin Flike(Focus Forward Media)
All proceeds of the documentary are going to the Green Beret Foundation, and Flike says he won't benefit financially from the documentary at all; in fact, he said, he paid $2,000 out-of-pocket to help make the short film which touches on his recovery, his struggle with addiction to painkillers, and PTSD — something he says is largely misunderstood by the public.

He's not wrong. According to the National Center for PTSD, between 11-20% of veterans who served in Operations Iraqi Freedom and Enduring Freedom have PTSD, and there are a number of misconceptions about it that simply aren't true — like that it's a sign of weakness, or that there's nothing that can be done to beat it.
Former Defense Secretary James Mattis addressed this in 2014, saying there's one misperception of veterans, "and that is they are somehow damaged goods. ... There is no room for military people, including our veterans, to see themselves as victims even if so many of our countrymen are prone to relish that role."

Flike agrees.
"I think once that label gets thrown around, people kind of think of you as a damaged good," Flike told Task & Purpose. "The thing is, I experienced that, I'd say a large majority of veterans experience that on some level especially if you saw combat, but it doesn't mean that you're damaged goods and it doesn't mean that you can't go out and live this incredible life."
Kevin Flike and his family.(Green Beret Foundation)
And Flike has done just that. After recovering from his surgeries and kicking a painkiller addiction after his wife sat him down for a come-to-Jesus moment, he went back to school for two masters degrees. He's a father to two little girls, a job he says is made easier by the patience he learned in Army Special Forces. He even visited Afghanistan again in 2017, finding the closure he needed.

At the end of the day, he said, his experience is "the best thing that's ever happened" to him because of the lessons he learned from it, which he says made him a better person. And there are still hard days, Flike said, as he continues working at keeping that perspective.
On days he wants to feel a little sorry for himself anyway, he looks at the bullet that nearly took his life, sitting on his desk at home.

"A life that's easy, in my opinion, is not a life worth living."
WATCH NEXT: The Movie That Introduced America To The Green Berets
"It's kind of like the equivalent of dropping a soda can into canyon and putting on a blindfold and going and finding it, because you can't just look down and see it," diver Jeff Goodreau said of finding the wreck.
The USS Eagle 56 was only five miles off the coast of Maine when it exploded.

The World War I-era patrol boat split in half, then slipped beneath the surface of the North Atlantic. The Eagle 56 had been carrying a crew of 62. Rescuers pulled 13 survivors from the water that day. It was April 23, 1945, just two weeks before the surrender of Nazi Germany.
The U.S. Navy classified the disaster as an accident, attributing the sinking to a blast in the boiler room. In 2001, that ruling was changed to reflect the sinking as a deliberate act of war, perpetuated by German submarine U-853, a u-boat belonging to Nazi Germany's Kriegsmarine.
Still, despite the Navy's effort to clarify the circumstances surrounding the sinking, the Eagle 56 lingered as a mystery. The ship had sunk relatively close to shore, but efforts to locate the wreck were futile for decades. No one could find the Eagle 56, a small patrol ship that had come so close to making it back home.
Then, a group of friends and amateur divers decided to try to find the wreck in 2014. After years of fruitless dives and intensive research, New England-based Nomad Exploration Team successfully located the Eagle 56 in June 2018.
Business Insider spoke to two crew members — meat truck driver Jeff Goodreau and Massachusetts Department of Corrections officer Donald Ferrara — about their discovery.
(CIA photo)
Before the 5th Special Forces Group's Operational Detachment Alpha 595, before 160th Special Operations Aviation Regiment's MH-47E Chinooks, and before the Air Force combat controllers, there were a handful of CIA officers and a buttload of cash.
The last time the world saw Marine veteran Austin Tice, he had been taken prisoner by armed men. It was unclear whether his captors were jihadists or allies of Syrian dictator Bashar al Assad who were disguised as Islamic radicals.
Blindfolded and nearly out of breath, Tice spoke in Arabic before breaking into English:"Oh Jesus. Oh Jesus."
That was from a video posted on YouTube on Sept. 26, 2012, several weeks after Tice went missing near Damascus, Syria, while working as a freelance journalist for McClatchy and the Washington Post.
Now that Tice has been held in captivity for more than seven years, reporters who have regular access to President Donald Trump need to start asking him how he is going to bring Tice home.
September 22, 2019 at 12:16 PM
Gear
"Shoots like a carbine, holsters like a pistol." That's the pitch behind the new Flux Defense system designed to transform the Army's brand new sidearm into a personal defense weapon.
Sometimes a joke just doesn't work.
For example, the Defense Visual Information Distribution Service tweeted and subsequently deleted a Gilbert Gottfried-esque misfire about the "Storm Area 51" movement.
On Friday DVIDSHUB tweeted a picture of a B-2 bomber on the flight line with a formation of airmen in front of it along with the caption: "The last thing #Millenials will see if they attempt the #area51raid today."