Unaccompanied Orders - to Go or Stay?
Read More Here
Moving Cars During a PCS
Read More Here
11 MILITARY REC SITES FOR YOUR NEXT VACATION
Read More Here
Your College Station Area Guide
June 11, 2019 at 01:55 PM
Area Guides
So you've accepted orders and are PCS'ing to Texas A&M at College Station. Gig'Em! Here's the information you need to make your A&M tour rock:
PERTINENT INFO
College Station is one half of a set of twin cities known as Bryan-College Station. The twin cities are the 11th largest metropolitan area in Texas, but you wouldn't know it from the town itself, as it is cleverly disguised as a small college town surrounded by farmland and ranches.
Bryan-College Station (BCS) rests quietly in Central Texas, roughly 2 hours north of Houston, 2 hours east of Austin, and 3 hours south of Dallas. It boasts a subtropical climate, with average low temps dipping into the 40s and highs reaching into the triple digits.
The local area sees rain year round, with July averaging 2 inches of rain, and October averaging about 5 inches. Winters are mild, lasting approximately 2 months, and summers are long, generally warming up early March and staying hot until mid-October.
BCS is smack dab in between I-10, I-35, and I-45, with highways 6, 21, and 190 branching out from the BCS area to meet the interstates.
There is a small local airport, Easterwood Airport. It regularly has flights to and from Dallas and Houston and is open from 4am to 11pm.
---
WILD LIFE

BCS is surrounded by farms and ranches, so the typical wildlife should be expected, i.e.: snakes, wild boar, spiders the size of your hand, rabbits, coyotes, and deer- just to name a few. Hunting is a big deal in the Brazos Valley- which surrounds BCS, with permits issued for things like alligators, duck and goose, white tail deer, and snipes. While tempting to add them to the list of wildlife, college students do not fall into this category.
CUSTOMS AND TRADITIONS
It is impossible to be stationed at College Station without acknowledging and accepting that you will live and breathe Texas A&M for the duration of your time there.
Everywhere you go in BCS, you'll hear "howdy" being exchanged regularly, "WHOOP" is a proper response to almost everything, and "Gig'Em" is the equivalent of "Oohrah", "Hooah", or "Hooyah" and is said with one thumb up. Aggies (the residents of BCS) don't boo, rather- they hiss.
There is a saying in the Brazos Valley- if we've done it twice, it's a tradition. Some of the more popular traditions are putting a penny on Sully, proposing to your significant other under the Century Tree, attending the Bonfire Memorial, attending football games and tailgates at Kyle Field, and Silver Taps (monthly) and Muster (annually).
The Texas A&M Corps of Cadets is the largest Corps of Cadets as well as the largest producer of commissioned officers- outside of the service academies. Until 1965, participation in the Corps of Cadets was compulsory for attendance at A&M, but is now completely voluntary. Women were not accepted to the Corps of Cadets until 1974, after gaining admission to the University in 1963 on a limited basis.
The Fightin' Texas Aggie Band is the largest military marching band in the world, and is comprised of more than 400 cadets. They travel with the football team, as well as performing on their own at various events nationwide.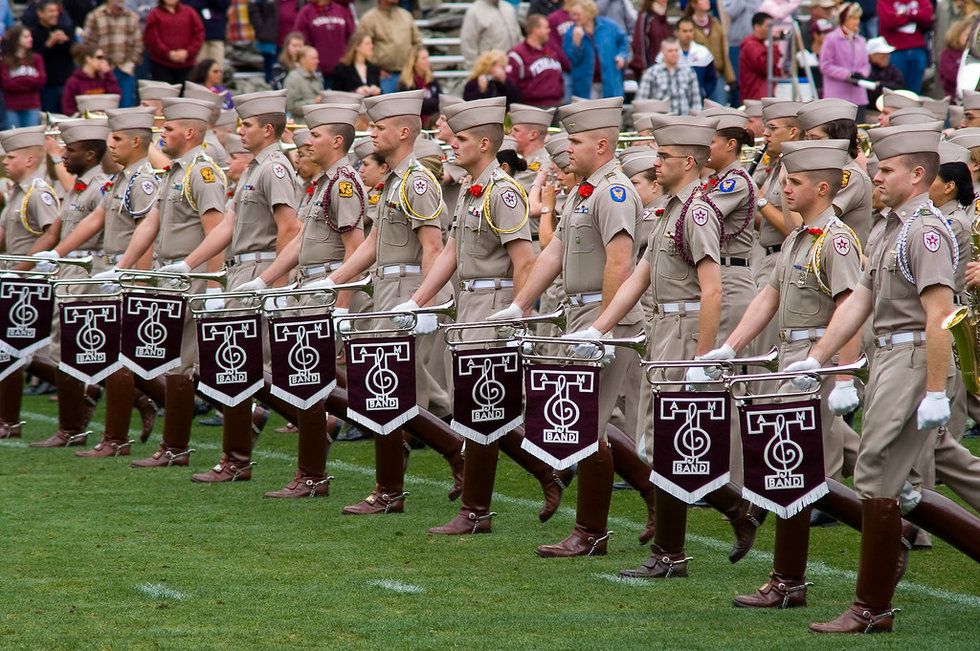 live.staticflickr.com
Yell Leaders– Texas A&M does not have female cheerleaders for its football team. Rather- it has Yell Leaders. Yell Leaders are traditionally 5 men, elected by the student body, and comprised of 3 seniors and 2 juniors from the Corps of Cadets. The Yell Leaders do not "perform cheers". Instead, they lead the crowds with a series of signals. A spectator will find that a hundred thousand plus people in a stadium can be directed to chant, motion, and move around on demand with a single hand motion from a Yell Leader.
12th Man– This is a point of contention with some fans of the Seattle Seahawks, but Aggies claim the 12th Man tradition so furiously that they trademarked the phrase in 1990. The story goes that, at an away game, the football team had sustained so many injuries that the team was at risk of being forced to forfeit the game. Rather than take a loss, the coach pulled a Cadet from the stands and ordered him to suit up. While the cadet never actually played, he was termed as "the twelfth man". Since then, the number 12 is practically a religious symbol to Aggies.
POINTS OF INTEREST
Memorial Student Center– Upon approaching the Memorial Student Center (MSC), one will be inundated with "Stay off the Grass" signs. If you find yourself on a swath of grass, someone from the MSC is destined to magically appear before you to correct the transgression. The MSC is dedicated to Fallen Aggies who've served in all branches of the military and have died in combat. It houses several galleries, halls, meeting rooms, gaming areas, piano rooms, and dining options.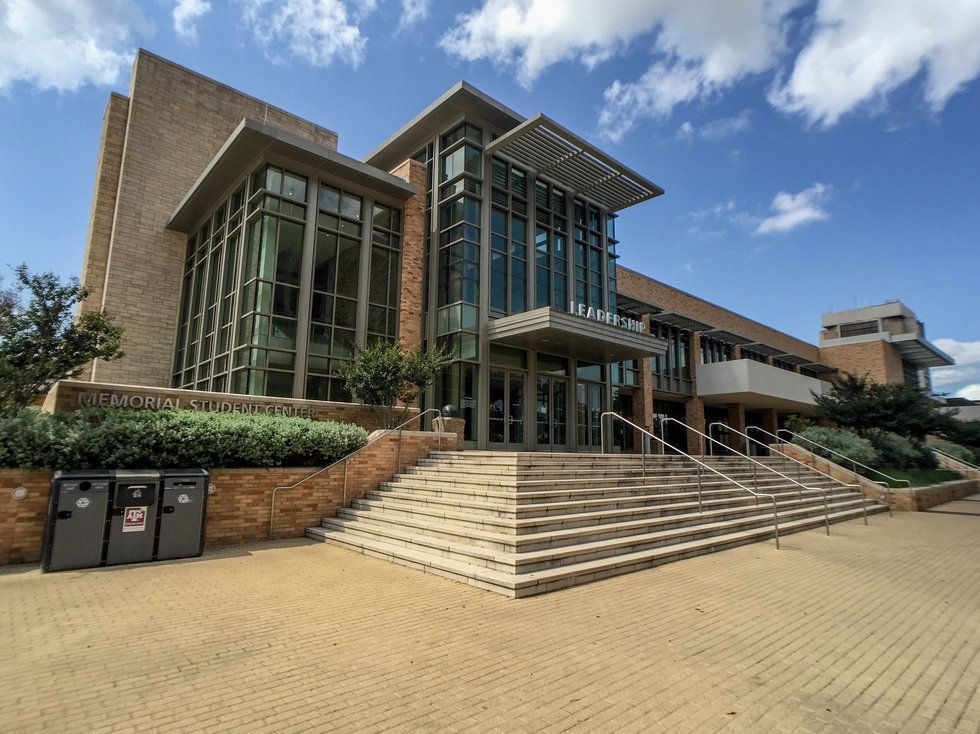 upload.wikimedia.org
One of the most respected spots at College Station will be the Hall of Honor inside the MSC, a hall that displays large photos and bios of 8 Aggies who received the Medal of Honor.
Bonfire Memorial– The memorial is located at the entrance of Texas A&M, and is comprised of 12 portals- commemorating the lives of the 12 students who were killed in a bonfire collapse in 1999. Eighty Nine stones are arranged south to north- to commemorate the 89 years of bonfires before the collapse. The year JFK was assassinated, the bonfire was cancelled in honor of the late president. Twenty seven stones that join the portals commemorate the 27 injured in the collapse.
Kyle Field– Don't call Kyle Field "The House that Johnny Built" or an Aggie might knife hand you. The stadium surrounding Kyle Field began the first stage of its most recent rebuild in 2013, seating 102,733 fans (though the record for attendees is actually 110,633) and becoming one of the 5 largest collegiate stadiums in the nation.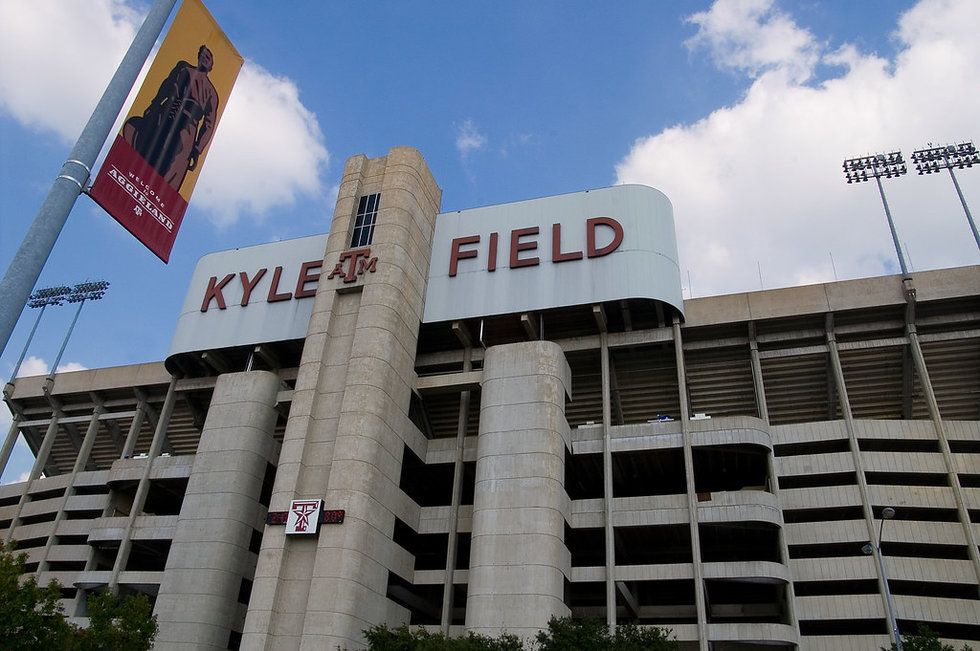 live.staticflickr.com
Dixie Chicken– Dixie Chicken, located in North Gate, is a figure dating back to 1974. It isn't much to look at, with carvings on every available space of wood, but the food is delicious. Other must try eateries: Fuego, Laynes, Raising Cane's, Sodalaks Steakhouse.
Messina Hof Winery and Resort is located in Bryan, and is an award winning winery and B&B. The winery is run by the son of the founders (Paul and Merrill Bonarrigo) and his wife. The younger Paul is a Marine Veteran. If you are a Marine stationed at A&M, make sure to secure a ticket to the private Marine Corps Ball that Paul hosts every year at the winery. You won't be disappointed.
North Gate is located on the northern edge of the University, and is the entertainment go-to for the college crowd. It is a series of country bars, dives, and restaurants, notably the Dixie Chicken, Harry's, and Blackwater Draw Brewing Company (who boasts a killer brunch on Sunday mornings).
In 2014, College Station and Texas A&M were declared the Fittest College in America, and it's no wonder. The town has more gyms than bars, and more running clubs than Greek clubs. BCS is home to the BCS Marathon, which pulls in runners from around the world. This writer once ran the BCS Half and while I did not die- I did meet people from around the world that I am only likely to meet again in Heaven.
MILITARY BASE INFO
There is no military installation in College Station, though there is a small National Guard outpost outside of Bryan. There are extremely limited services available here, to include an ID office. There is no commissary, military treatment facility, or exchange. Active duty personnel stationed at College Station and their dependents will be assigned a civilian PCM, and dependents will have a co-pay for all medications and treatments not completely covered by Tricare. This writer estimates the cost of medications monthly for my family averaged $100- $150, so plan accordingly if you accept orders to College Station.
College Station is a unique experience and one that military families are sure to remember with fond memories long after leaving the area.
This post sponsored by PCSgrades.

Yeah! You got orders to (insert foreign country overseas)! You can already picture your kids in the international school, speaking with cute little accents and wearing local garments. Adorbs. You've got your housing picked out, adventures planned and passport photos taken. You're ready for your epic move ... except for that 13 hour plane ride. Have you wrapped your head around that yet? Before you grab for a paper bag and start hyperventilating, use our travel hacks to help make the emotional turbulence you're experiencing a little lighter.
We've all said it: "We'll drive. It won't be that bad." We picture the adventure, the memories, the nostalgia of car trips when we were younger.
But if we're really being honest with ourselves, think back to those car trips. Someone was crying. Someone was puking. Someone was whining. That person very well may have been your poor mother. True story, my mom once got out and walked along the highway when all six of us kids wouldn't stop fighting. A long car trip can be daunting, but with our tips and tricks they don't need to be.
Nordwood theme, Unsplash
WE ALL HAVE OUR SHARE OF HORROR STORIES WHEN IT COMES TO MILITARY MOVING!
Name the most disgusting item erroneously packed by your movers… for me it was used coffee grounds and of course, trash. For others, I've heard everything from wet towels to dirty diapers. I've caught movers raiding my fridge, lounging on my mattress in my front yard, and throwing out items that they've broken. Raise your hand (or have a drink) if you ever had packers show up late (or not at all). Ever had packers get into a shouting match among themselves as they were packing your china? Or have you caught your movers throwing boxes down the stairs to the basement? That would be me!
LESSONS LEARNED
With each military move, there are "lessons learned". For instance, I won't go into great detail but let's just say after watching one packer go directly from using the restroom back to packing my kitchen without washing his hands, we now use gigantic ziplock bags to "pre-pack" all my kitchen utensils. A packers' bare flesh has never again touched one of my kitchen utensils.
My family's last military move was by far the shortest, only 1½ miles up the road. We were moving from a rental to a home we purchased. It was by far the worst in terms of damage and overall angst. I think because we were only "moving up the road" the pack job left a lot to be desired. I found one box of dishes which had not one piece of wrapping paper! Instead two throw pillows from my family room were used as a buffer! Amazingly, nothing was broken! Go figure!
When I heard glass shatter in the moving truck, I asked one of the guys what shattered.
There are any number of reasons why in a given situation renting might be better than buying or vice versa. For military families, it might make more sense to buy at one duty station and then rent at the next. Up for consideration with each PCS is whether to buy or rent, to stay on-base or off. In making these decisions, there are numerous pros and cons to consider.

PROS TO BUYING
Purchasing the right home can be a great financial investment that can grow in value over time.
Tax deductions such as mortgage interest and property taxes can greatly reduce your overall income tax burden if you itemize.
Being a homeowner can give you pride of ownership and a sense of stability, rare in the military life which can seem nomadic at times.
A mortgage payment that is lower than your BAH can result in a boost to your savings.
You can decorate however you want! Goodbye white walls! Hello, Color!
Anyone can stay with you at any time. So it is not a problem when your Mom or sister comes for an extended stay during a deployment or following a PCS.
You can do (almost) whatever you want….host a late night party, plant a garden, knock a wall down!
There are no security or pet deposits when you buy a home.
You have the opportunity to become a landlord when military orders arrive and you have to move. Your home can become an investment property, providing a source of income which can partially or totally offset your mortgage, taxes, and insurance payments.
While retired military Space A travel is a privilege, there are some retirees that do not have this privilege. There are different categories of retirees, some are eligible for Space A and some are not. But there are efforts to change the eligibility requirements.

For a retiree to be eligible for Space A travel they must possess a 'Blue' DD Form 2 (Military ID card). This includes those that are medically retired. Their dependents are also allowed to travel with them and must bring along their ID cards. All dependents should be enrolled in DEERS.
WHO IS ELIGIBLE FOR RETIRED MILITARY SPACE A TRAVEL?
There are plenty of rumors out there saying that ALL retirees are eligible. This is not true. If you are 100% disabled and you only possess a DD Form 1173, or the new DD Form 2765 ID cards, you are not entitled to travel on Space A. Also, if you possess the brown ID card with DAVPRM (Disabled Veteran Permanent) in the bottom right, then you too are not entitled to retired military space a travel Space A travel privileges.
Dependents of retirees are not allowed to travel without the retiree. If the retiree dies, then the dependents no longer have Space A privileges.
If you are a member of the Guard or Reserves with a 'Red" DD Form 2 you can travel through CONUS (Continental United States), to, from, and between Alaska, Hawaii, Guam, Virgin Islands, American Samoa, and Puerto Rico. Also, if you are active duty for more than 30 consecutive days, Guardsmen and Reservists may fly anywhere that Space A flies.
Dependents of the Guard and Reserves are not authorized to fly on Space A until the member reaches the age of 60. At that time, they will be in the same category as a regular retiree, Category 6. Retired Guardsmen and Reservists who have completed their 20 years but are not old enough to collect their retired pay are considered to be in a "gray area".
AN ACT OF CONGRESS
There have been attempts to change the eligibility of all of the above retirees and dependents.
The first Bill to be submitted to the House of Representatives was House Bill 4164 aka Space-Available Act of 2012. This bill sought to authorize the Secretary of Defense to establish a program to provide transportation on Department of Defense (DOD) aircraft on a space-available basis for (1) active duty and reserve members holding a valid Uniformed Services Identification and Privilege Card; (2) retired members who, but for not attaining age 60, would be eligible for military retired pay; (3) an un-remarried widow or widower of an active or reserve member; and (3) certain dependents of members described above. Allows the Secretary to establish an order of priority based on considerations of military needs and readiness.
This Bill was sent to the Subcommittee on Readiness in March of 2012 where it has sat with no action.
Earlier this year, a measure to establish a space-available transportation priority for veterans of the Armed Forces who have a service-connected, permanent disability rated as total was introduced in the house. That bill HR 936 was referred to the House Subcommittee on Readiness.
HAVE YOUR VOICE HEARD
How can you help? Write your Congressman. Make your voice known.
The Gray Area Retirees Facebook group was created to talk about these problems and to try to get the changes implemented.
Space-A eligibility is sometimes confusing and false information is passed around often. Check out the resources in this article for any updates.
PCSgrades.com is a review platform for military and veteran families. Leave a review of your prior duty station and read the reviews of where you are PCSing to. Home is where the military sends us and together we can make a difference!
This post sponsored by PCSgrades.