Get Task & Purpose in your inbox
September 05, 2019 at 11:42 AM
news
Richard Plummer was a 24-year-old soldier training on a forested mountain slope between Randle and Packwood on May 18, 1980.
He hadn't heard much, if anything, about the volcanic activity at Mount St. Helens about 30 miles to the southwest. So when he saw a storm of ash rolling toward his Green Beret campsite that morning, he didn't quite know what to make of it.
But the next 24 hours of his life would be defined by surviving and escaping the aftermath of the most disastrous volcanic eruption in U.S. history.
Plummer and 45 other Green Berets, plus another 64 Army Ranger trainees, were just miles from Packwood when the volcano erupted that morning, directly killing 57 people and ejecting hundreds of million of tons of ash in their direction.
Those soldiers' story, as far as Plummer is aware, has never been published, although he's mentioned it to friends and family. Plummer and his wife, Rebecca Holton, both 63, are now retired after decades-long careers in the intelligence community.
"From what we've seen and heard and read … this story has never been told," Holton said in a recent interview at their Vancouver home last week.
The National Museum of the U.S. Army at Fort Belvoir (U.S. Army photo)
After three years of construction, the National Museum of the U.S. Army will open next summer.
The 185,000-square-foot museum at Fort Belvoir will open to the public June 4, 2020, according to a press release from the Army Historical Foundation.
August 15, 2019 at 03:29 PM
Opinion
(YouTube screenshot)
Editor's Note: The following is an op-ed. The opinions expressed are those of the author, and do not necessarily reflect the views of Task & Purpose.
Forty years ago today, Apocalypse Now was released. As they say, it was kind of a big deal at the time, and actually it still is. Unlike some other movies about Vietnam released soon after the war, Apocalypse Now still largely stands up, unlike, say, The Deer Hunter, which is damn near unwatchable today. I know. I tried. Even Christopher Walken can't make two hours in rural Pennsylvania exciting.
Apocalypse Now might be the first example of people in the military turning a movie meant to highlight the horrors of war into a motivational video about killing the enemy.
August 09, 2019 at 08:32 AM
History
(Sarasota Herald-Tribune)
VENICE — Packed with 600 tons of ammo and explosives, the USS Serpens died in a flash beneath a full moon at 11:18 p.m. on Jan. 29, 1945.
The blast was so violent it rained shrapnel and debris on the island of Guadalcanal a mile away, killed a soldier onshore, knocked everyone standing within that radius off their feet, and flung one sailor into another vessel moored 650 yards away. That ship, the USS YP 514, had its bow and crow's nest demolished, and counted 14 injuries as "missiles" and "screeching shells" continued to explode and turn night into day.
Witnesses said the calamity generated an 8-foot tidal wave, and that the ground shock rippled five miles out. Some said the sky drizzled oil for up to two hours. When bystanders regained their senses, the 100-ton barge that had been transferring bombs onto the Serpens had vanished, and all that was left of the 441-foot cargo ship was its sinking bow, keel up.
Miraculously, two sailors who had been asleep in a forward hold survived. Few other bodies were recovered intact. When the counting was done, 193 Coast Guard crewmen, who had been manning the Navy ship, were gone — along with 56 Army stevedores and an onboard civilian doctor. It was, in short, the most catastrophic single-event loss of life in the history of the U.S. Coast Guard.
Four years later, in what Arlington National Cemetery describes as "the largest group burial" ever hosted, the remains of the 250 casualties from that disaster were retrieved from Guadalcanal, placed in 52 flag-draped coffins, and laid to rest in 28 graves.
According to the Navy, which conducted the investigation, the Serpens blew up during the accidental mishandling of bombs, torpedoes and depth charges. But the son of a crew member isn't buying it.
After pressing Florida politicians and pursuing government records with Freedom of Information Act requests, Robert Breen of Venice has discovered curious gaps in the Serpens' obituary. And at 76, the retired Central Intelligence Agency senior finance officer and certified fraud investigator wonders if he's onto one of the last coverups of World War II.
August 07, 2019 at 07:22 PM
History
On August 1, 1955, a prototype of the U-2 spy plane sprinted down a runway at Groom Lake in Nevada, and its massive wings quickly lifted it into the sky.
That wasn't exactly how it was supposed to go. It was meant to be a high-speed taxi test, but the prototype's highly efficient wings pulled it into the air unexpectedly. The plane's first official flight happened three days later.
Lockheed Martin footage captured the moment the venerable Dragon Lady started its 64-year career.
VIDEO: The U-2 Spy Plane's First Flight www.youtube.com
The U-2 was developed in secrecy by Lockheed in the early 1950s to meet the U.S. government's need to surveil the Soviet Union and other areas from a height enemy aircraft and anti-aircraft systems couldn't reach.

Renowned engineer Kelly Johnson led the project at Lockheed's advanced development lab, Skunk Works.
"Johnson's take was all right, I need to get as high as I can to overfly enemy defenses, and how do I do that? Well I put big wings on there; big wings means higher. I cut weight; cutting weight means higher, and then let me just strap a big engine on there, and that's it," U-2 pilot Maj. Matt "Top" Nauman said at an Air Force event in New York City in May.
One thing Johnson ditched was wing-mounted landing gear. On takeoff, temporary wheels called "pogos" fall away from the wings.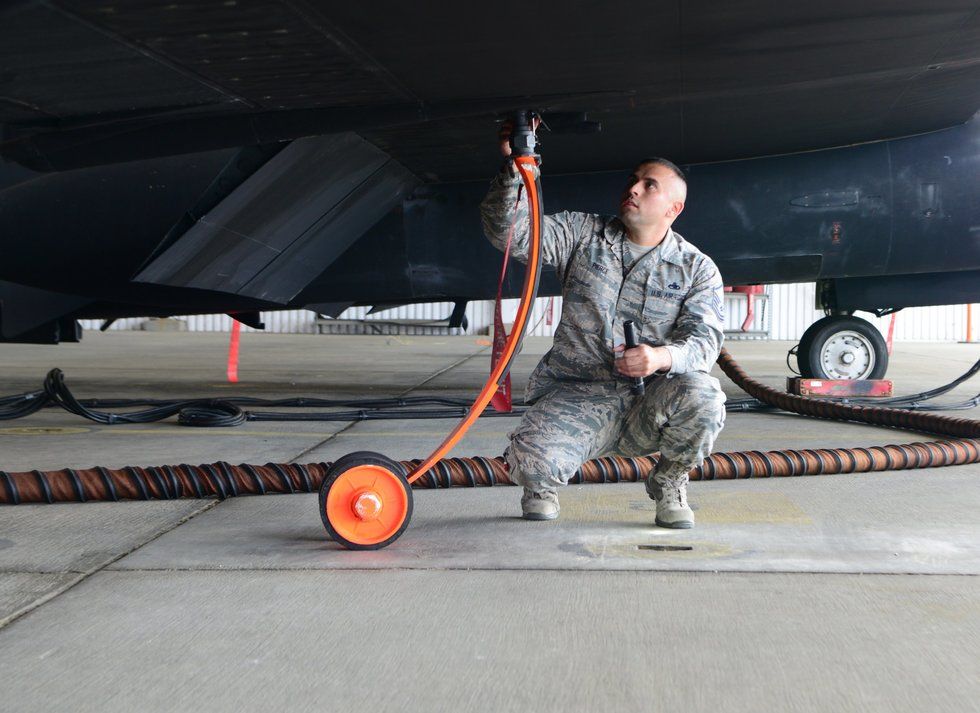 Master Sgt. Justin Pierce, 9th Maintenance Squadron superintendent, preforms preflight checks on a U-2 at Beale Air Force Base in California, April 16, 2018(U.S. Air Force/Senior Airman Tristan D. Viglianco)
"So [Johnson] basically took a glider with parts and pieces from other Lockheed aircraft and strapped an engine to it and delivered it before the anticipated delivery date and under budget," Nauman said.
The plane Johnson and Lockheed produced was well suited for flight — as the Groom Lake test showed, it didn't take much to get it off the ground.
"The pilot was out there taxing around, and [during] a high-speed taxi — we're talking about 30ish miles an hour — the plane actually lifted off on its own, completely unexpected," Nauman said.
"And they thought, 'OK, hang on, let's go back and make sure we're approaching this test phase the right way.' And they found the thing just wants to get off the ground."
Same name, new-ish plane
An Air Force U-2 Dragon Lady flies a training mission(U.S. Air Force/Master Sgt. Rose Reynolds)
Throughout its career, the U-2 has been reengineered and redesigned.

The plane that took off at Groom Lake was a U-2A. The next version was the U-2C, which had a new engine; a U-2C on display at the National Air and Space Museum flew the first operational mission over the Soviet Union on July 4, 1956.
The U-2G and U-2H, outfitted for carrier operations, came in the early 1960s. The U-2R, which was 40% larger than the original and had wing pods to carry more sensors and fuel, arrived in 1967.
The last U-2R arrived in 1989, and most of the planes in use now were built in the mid-1980s.
Since 1994 the US has spent $1.7 billion to modernize the U-2's airframe and sensors. After the GE F118-101 engine was added in the late 1990s, all U-2s were re-designated as U-2S, the current variant.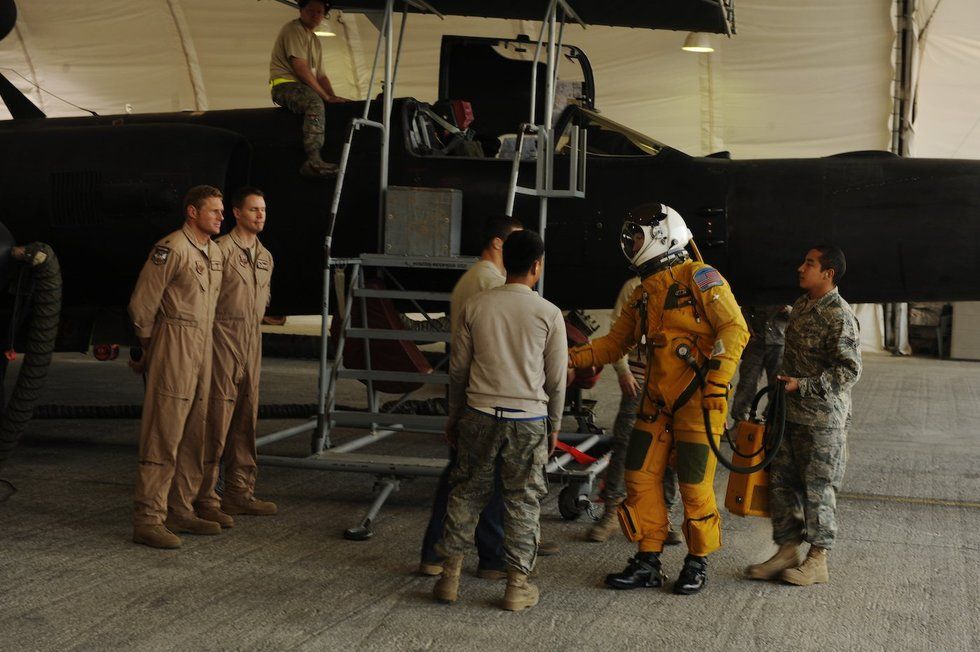 US Air Force Maj. Sean Gallagher greets his ground support crew before a U-2 mission, at an undisclosed location in Southwest Asia, November 24, 2010(U.S. Air Force/Staff Sgt. Eric Harris)
The Air Force now has about 30 single-seat U-2 for missions and four of the two-seat TU-2 trainers. Those planes have a variety of pilot-friendly features, but one aspect remains a challenge.
"It's extremely difficult to land," Nauman said.
"You could YouTube videos of bad U-2 landings all day and see interview sorties that look a little bit sketchy," he said, referring to a part of the pilot-interview process where candidates have to fly the U-2, adding that the landings were done safely.
Despite its grace in flight, getting to earth is an ungainly process that takes a team effort.
Another qualified U-2 pilot in a high-performance chase car — Mustangs, Camaros, Pontiacs, and even a Tesla — meets the aircraft as it lands.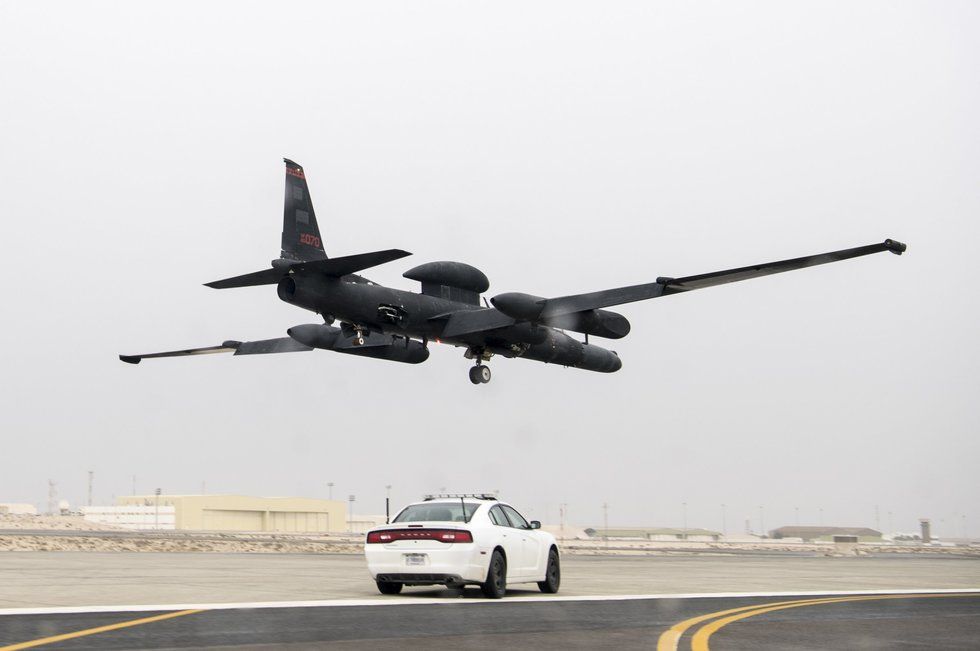 A U-2 pilot drives a chase car behind U-2 during a low-flight touch and go at Al Dhafra Air Base in the United Arab Emirates, March 15, 2019.)(U.S. Air Force/Senior Airman Gracie I. Lee
"As the airplane's coming in over the runway, this vehicle's chasing behind it with a radio, and [the driver is] actually talking the pilot down a little bit, just to help him out ... 'Hey, raise your left wing, raise your right wing, you're about 10 feet, you're about 8 feet, you're about 2 feet, hold it there at 2 feet,'" U-2 pilot Maj. Travis "Lefty" Patterson, said at the same event.
As the plane "approaches a stall and it's able to land, you have that experienced set of eyes in the car watching the airplane, because all [the pilot] can see is right off the front," Patterson said.
The absence of wing landing gear means that once it's slows enough, the plane leans to one side and a wingtip comes to rest on the ground.
"The lifespan of the U-2, the airframe, [is beyond] 2040 to 2050 ... because we spend so little time in a high-stress regime," Patterson added. "Once it gets to altitude it's smooth and quiet and it's very, very nice on the airplane. The only tough part is the landing."
Read more from Business Insider:
August 06, 2019 at 08:18 AM
History
(Photo illustration by Task & Purpose)
East Aurora, New York native and World War II veteran Luciano "Louis" C. Graziano is believed to be the last living eyewitness to the formal surrender of Germany at the "Little Red Schoolhouse" in Reims, France.
Of that monumental moment in history on May 7, 1945, Graziano says that at the time he did not realize the gravity of it.
"I just took it as it came. I was 22. I didn't think too much about anything. I just did what I had to do," the now 96-year-old Army veteran said.
But as the years flew by, he came to understand the significance.
"I was honored to be in that room," Graziano wrote in his recently published book, A Patriot's Memoirs of World War II - Through My Eyes, Heart and Soul.