That WSJ 'Women In Combat' Op-Ed Is A Complete Disaster — But It Still Presents A Threat
January 18, 2019 at 05:45 PM
Opinion
Following Trump's inauguration, some supporters of ground combat integration assumed he would quickly move to reinstate a ban on women in jobs like the infantry. When this did not happen, advocates breathed a collective sigh of relief, and hundreds of qualified women charted a course in history by entering the newly opened occupational fields.
So earlier this week when the Wall Street Journal published an editorial against women in ground combat by conservative political commentator Heather Mac Donald, the inclination of many ground combat integration supporters was to dismiss it outright. But given Trump's proclivity to make knee jerk policy decisions in response to falling approval ratings and the court's tradition of deference to the military when it comes to policies affecting good order and discipline, it would be unwise to assume the 2016 lifting of the ban on women in ground combat is a done deal.
---
To be clear, Mac Donald's article is not grounded in sound data or representative of any service's stated position except that of the Marine Corps. Although Mac Donald is correct in writing that female Marine participation has been limited in newly opened fields like the infantry, this is less due to physiology and job standards than the service's overt and covert cultural barriers to inclusion. Had Mac Donald included Army statistics about the number of women who have successfully competed for ground combat jobs since 2016 and compared it to the number of confirmed violations of good order and discipline directly attributable to integration, her position would have been untenable.
Because of her errors and omissions, ground combat integration advocates expressed frustration with the editorial on social media. Naval officer Andrea Goldstein wrote on Twitter, "not sharing/RT the article going around today written by a white woman who's made a career of using pseudoscience to argue that drawing from 100% of the population doesn't make us stronger. Why? That op/ed falls apart if **fact checked**."
All of this is true, but never before in our history have facts been less relevant when it comes to military policy decisions.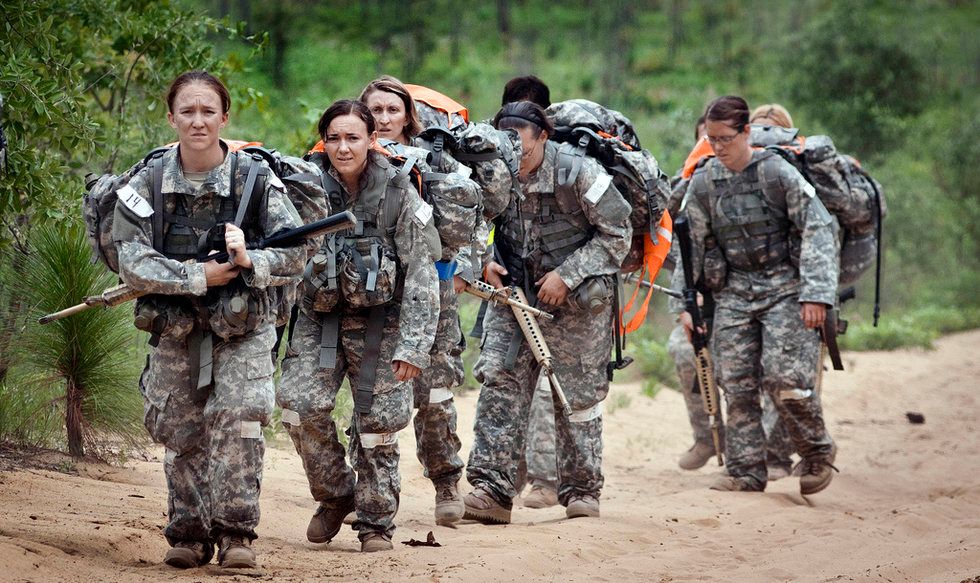 c1.staticflickr.com
Trump's penchant for using social media to announce uncoordinated military policy changes, including a ban on transgender people and the withdrawal of U.S. troops from Syria and Afghanistan, has caused considerable consternation in the Pentagon.

Further, criminal investigations against Trump and his campaign and the longest government shutdown in history have cost him considerable political capital. The timing of Mac Donald's editorial is no accident, and she represents the views of many senior leaders who have long complained that combat integration is a form of social engineering in the military. A reinstatement of the ban on women in ground combat could present a way for the Commander in Chief to win back the support of his military leaders and boost his approval ratings while also appealing to his conservative base.
Some experts argue if Trump were to reinstate the ban, it would quickly be challenged in court. And while transgender rights groups have had some legal success in reversing Trump's ban against their service, the courts traditionally defer to military leaders when it comes to policies related to good order and discipline. This means that there aren't many legal checks and balances to counteract Trump's power as Commander in Chief.
And since it is highly unlikely that the next Secretary of Defense will be supportive of women in ground combat, we can assume they would fall in line with a decision to reinstate the ban. The Service Women's Action Network has had a pending legal case on the issue against the Department of Defense since 2012 with no resolution.
If the government can argue to a conservative judge — even as artlessly as Mac Donald does in her opinion piece — that the integration of women in combat units negatively impacts good order and discipline, the courts may defer to the military and rule against SWAN. Clearly, the judiciary does not offer a guaranteed means of defeating the reinstatement of a ban.
Fighting for change year after year can be draining, and understandably, many advocates of women in ground combat are ready to move on. But as Margaret Thatcher once said, "You may have to fight a battle more than once to win it." Rather than write off Heather Mac Donald's opinion piece as irrelevant, we would be wise to consider her argument in the broader context of the president's ongoing legal challenges and his falling approval ratings.
Whether we like it or not, the issue of ground combat integration is not going away, and supporters will need to re-engage in the battle for public opinion if we are to eventually win the war.
Kate Germano is a 20-year veteran of the Marine Corps. She is a vocal advocate for an end to gender bias and lowered expectations for female performance and conduct. The views expressed here are those of the author and do not necessarily represent the views of the U.S. government or Task & Purpose.

U.S. Army 1st Lt. Elyse Ping Medvigy conducts a call-for-fire during an artillery shoot south of Kandahar Airfield, Afghanistan, Aug. 22, 2014. Medvigy, a fire support officer assigned to the 4th Infantry Division's Company D, 1st Battalion, 12th Infantry Regiment, 4th Infantry Brigade Combat Team, is the first female company fire support officer to serve in an infantry brigade combat team supporting Operation Enduring Freedom. U.S. Army photo by Staff Sgt. Whitney Houston (Photo by U.S. Army photo by Staff Sgt. Whitney Houston)
(U.S. Army photo by Spc. Keion Jackson).
The U.S. military will build 'facilities' to house at least 7,500 adult migrants, the Pentagon announced on Wednesday.
Acting Defense Secretary Patrick Shanahan has approved a request from the Department of Homeland Security to construct the facilities, said Pentagon spokesman Army Maj. Chris Mitchell.
(U.S. Navy photo by Mass Communication Specialist 1st Class Brian M. Wilbur.)
Defense officials will brief President Donald Trump's national security team on a plan that involves sending 5,000 more troops to the Middle East to deter Iran, Task & Purpose has learned.
So far, no decisions have been made about whether to send the reinforcements to the region, unnamed U.S. officials told CNN's Barbara Starr.
"The military capabilities being discussed include sending additional ballistic missile defense systems, Tomahawk cruise missiles on submarines, and surface ships with land attack capabilities for striking at a long range," CNN reports. "Specific weapons systems and units have not been identified."

The thousands of sailors, Coasties and Marines who descend on New York City every year for Fleet Week are an awesome sight to behold on their own, but this year's confab of U.S. service members includes a uniquely powerful homecoming as well.
When an Air Force major called J.J. completed a solo flight in the U-2 in late August 2016 — 60 years after the high-flying aircraft was introduced — he became the 1,000th pilot to do so.

J.J., whose name was withheld by the U.S. Air Force for security reasons, earned his solo patch a few days after pilots No. 998 and No. 999. Those three pilots are in distinguished company, two fellow pilots said this month.
"We have a pretty small, elite team of folks. We're between about 60 and 70 active-duty pilots at any given time," Maj. Matt "Top" Nauman said during an Air Force event at the Intrepid Sea, Air, and Space Museum in New York City.

"We're about 1,050 [pilots] right now. So to put that in context, there are more people with Super Bowl rings than there are people with U-2 patches," Nauman added. "It's a pretty small group of people that we've hired over the last 60 to 65 years."
(DoD/Sgt. Amber I. Smith)
In what appear to be his first public remarks on U.S. national security since his resignation as Secretary of Defense, retired Marine Gen. James Mattis offered a word of caution to President Donald Trump amid escalating tensions with Iran on Tuesday.
"The United States should buy time to keep peace and stability and allow diplomats to work diplomacy on how to keep peace for one more hour, one more day, one more week, a month or a year," Mattis said during remarks in the United Arab Emirates.
"Iran's behavior must change," Mattis added, "[but] the military must work to buy time for diplomats to work their magic."