SOCOM's Iron Man suit is officially dead
February 15, 2019 at 08:59 AM
Military Tech
Long before Tony Stark took a load of shrapnel to the chest in a distant war zone, science fiction legend Robert Heinlein gave America the most visceral description of powered armor for the warfighter of the future. Forget the spines of extra-lethal weaponry, the heads-up display, and even the augmented strength of an Iron Man suit — the real genius, Heinlein wrote in Starship Troopers, "is that you don't have to control the suit; you just wear it, like your clothes, like skin."
"Any sort of ship you have to learn to pilot; it takes a long time, a new full set of reflexes, a different and artificial way of thinking," explains Johnny Rico. "Spaceships are for acrobats who are also mathematicians. But a suit, you just wear."

First introduced in 2013, U.S. Special Operations Command's Tactical Assault Light Operator Suit (TALOS) purported to offer this capability as America's first stab at militarized powered armor. And while SOCOM initially promised a veritable Iron Man-style tactical armor by 2018, a Navy spokesman told Task & Purpose the much-hyped exoskeleton will likely never get off the launch pad.

"The prototype itself is not currently suitable for operation in a close combat environment," SOCOM spokesman Navy Lt. Phillip Chitty told Task & Purpose, adding that JATF-TALOS has no plans for an external demonstration this year. "There is still no intent to field the TALOS Mk 5 combat suit prototype."
---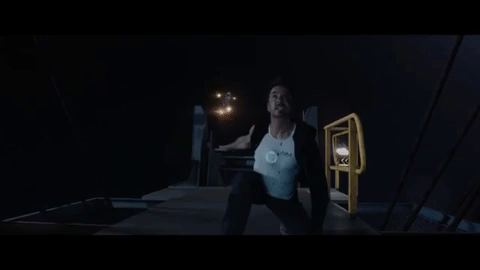 SOCOM's five-year TALOS acquisition process, basically(Marvel Studios)
It's that suit-wide interconnectivity that Heinlein described that's the fundamental capability missing from the TALOS. SOCOM's Joint Acquisition Task Force - TALOS missed the the initial deadline for a working Mk 5 prototype due to "complex subsystem interdependencies," Chitty told Task & Purpose.

Although those individual subsystems — the exoskeleton, base layer, visual augmentation system, helmet assembly, armor, power and communications — continue to be "refined" in support of independent applications elsewhere, they won't come together to form a seamlessly high-tech prosthesis.
"It's not the Iron Man. I'll be the first person to tell you that," SOCOM acquisition officer James Smith told attendees at an NDIA SO/LIC forum in early February, Defense One first reported, adding that TALOS was "not ready for primetime in a close-combat environment."
Chitty confirmed that SOCOM was, as Defense One characterized it, "chopping up its Iron Man Suit for parts."
"As the TALOS project draws to a close, the JATF is being refocused to iteratively prototype new technical solutions that enhance the SOF mission and support the Hyper-Enabled Operator concept," Chitty told Task & Purpose. "Progressions of select TALOS technologies will be further developed to support the JATF's new direction."
The TALOS will not come together like this(Marvel Studios)
Those technologies are nothing to sneeze at. According to Chitty, the five-year slog towards an operator-ready combat suit ended up yielding a significant number of mature direct technology spin-outs, including new lightweight polyethylene armor, a "thermal management suit," an enhanced operational stress monitoring capability, and a small arms stabilization system."

Other technologies show great promise, but "need more development to attain maturity," said Chitty, including "a 3D audio system, a biomedical monitoring suit, a garment that detects ballistic penetration, and pneumatic ankles and knees that decrease metabolic cost."
"The full-body exoskeleton prototype to offload payload weight is currently not mature enough for SOF needs," Chitty said. "However, the knowledge gained informs the Services' interest in exoskeleton technology for mobility and logistic applications."
A 2015 CNN segment on ''the Army's real life 'Iron Man' suits" (CNN/YouTube)
The five years and at least $80 million spent on the TALOS has yielded a tremendous volume of technical knowledge that may bolster other exoskeleton projects throughout the U.S. armed forces and defense industrial base, Chitty said, from the Army's "third arm" weapons harness to Lockheed Martin's ONYX exoskeleton.

But even the applications beyond JATF TALOS are limited due to its focus on a SOF mission set. While the lightweight armor and small arms systems may be useful for conventional close combat, JATF's main effort "is shifting to the cognitive domain and provisioning the warfighter with information dominance at the edge," Chitty said.
"Today's technology is capable of providing exceptional amounts of data and information that must be processed and delivered to the right person, at the right time, in a useful way, to be operationally relevant," he said. "We must develop the architectures necessary to sense, monitor, transport, process, and analyze data to aggregate the right information that will inform tactical decisions at the edge."
An artist's rendition of a combat exoskeleton flaunted by Revision Military at SOFIC in 2015(Revision Military)
As SOCOM scales back its powered armor aspirations, other adversaries are expanding their horizons. In August 2018, the Russian Ministry of Defense flaunted its third-generation Ratnik-3 combat suit purportedly replete with a powered exoskeleton and active camouflage capabilities. The appearance of the Ratnik-3 smack in the middle of a critical year for the TALOS appeared to signal a what Defense One called a "military exoskeleton arms race."

When asked about where the Pentagon's powered exoskeleton capability stood compared to America's great power competitors, Chitty declined to comment.
WATCH NEXT: DARPA Reinvented The Wheel
February 19, 2020 at 05:00 AM
news
Retired Lt. Gen. Charles "Chuck" Pitman Sr. (DoD photo)
The decorated U.S. Marine Corps pilot who risked his life and military career to help New Orleans police halt the Howard Johnson's hotel sniper attack that shattered the quiet of a Sunday morning and claimed seven lives in 1973 died Feb. 13 following a lengthy battle with cancer, according to his family.
Retired Lt. Gen. Charles "Chuck" Pitman Sr., whose heroics against Mark Essex that day earned him the eternal gratitude of city leaders and first responders, was 84.
February 18, 2020 at 03:11 PM
news
A Syrian commando-in-training applies the safety on his rifle during basic rifle marksmanship training in Syria, July 20, 2019. (U.S. Army/Spc. Alec Dionne)
The U.S. government failed to effectively account for nearly $715.8 million in weapons and equipment allocated to Syrian partners as part of the multinational counter-ISIS fight, according to a new report from the Defense Department inspector general.
February 18, 2020 at 06:20 PM
news
On Feb. 19, 1945, more than 70,000 U.S. Marines conducted an amphibious assault to take the Island of Iwo Jima from fortified Japanese forces. Over the next 36 days nearly 7,000 Marines would be killed during the battle, which is regarded as one of the bloodiest of World War II, as they faced hidden enemy artillery, machine guns, vast bunker systems and underground tunnels. Of the 82 Marines who earned the Medal of Honor during all of World War II, 22 medals were earned for actions on Iwo Jima.

Now, 75 years later, 28 Marines and Sailors who fought on Iwo Jima gathered to remember the battle at the 75th and final commemoration sunset ceremony Feb. 15, 2020, at the Pacific Views Event Center on Camp Pendleton, California.
February 18, 2020 at 11:46 AM
news
REUTERS/Scott Audette/File Photo
Rep. Tulsi Gabbard (D-Hawaii), has long been seen as an apologist for Syrian dictator Bashar al-Assad, whom she met during a secret trip to Damascus in January 2017.
Most recently, a video was posted on Twitter shows Gabbard evading a question about whether Assad is a war criminal.

Since Gabbard is the only actively serving member of the military who is running for president — she is a major in the Hawaii Army National Guard — Task & Purpose sought to clarify whether she believes Assad has used chlorine gas and chemical weapons to kill his own people.
Barrett's bolt-action Multi-Role Adaptive Design (MRAD) system (Courtesy photo)
The Army is almost doubling its purchase of new bolt-action Precision Sniper Rifles as its primary anti-personnel sniper system of choice, according to budget documents.