SOCOM's Iron Man suit is officially dead
February 15, 2019 at 08:59 AM
Military Tech
Long before Tony Stark took a load of shrapnel to the chest in a distant war zone, science fiction legend Robert Heinlein gave America the most visceral description of powered armor for the warfighter of the future. Forget the spines of extra-lethal weaponry, the heads-up display, and even the augmented strength of an Iron Man suit — the real genius, Heinlein wrote in Starship Troopers, "is that you don't have to control the suit; you just wear it, like your clothes, like skin."
"Any sort of ship you have to learn to pilot; it takes a long time, a new full set of reflexes, a different and artificial way of thinking," explains Johnny Rico. "Spaceships are for acrobats who are also mathematicians. But a suit, you just wear."

First introduced in 2013, U.S. Special Operations Command's Tactical Assault Light Operator Suit (TALOS) purported to offer this capability as America's first stab at militarized powered armor. And while SOCOM initially promised a veritable Iron Man-style tactical armor by 2018, a Navy spokesman told Task & Purpose the much-hyped exoskeleton will likely never get off the launch pad.

"The prototype itself is not currently suitable for operation in a close combat environment," SOCOM spokesman Navy Lt. Phillip Chitty told Task & Purpose, adding that JATF-TALOS has no plans for an external demonstration this year. "There is still no intent to field the TALOS Mk 5 combat suit prototype."
---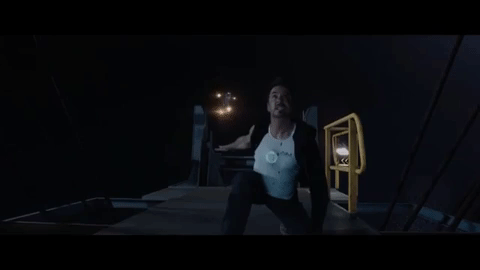 SOCOM's five-year TALOS acquisition process, basically(Marvel Studios)
It's that suit-wide interconnectivity that Heinlein described that's the fundamental capability missing from the TALOS. SOCOM's Joint Acquisition Task Force - TALOS missed the the initial deadline for a working Mk 5 prototype due to "complex subsystem interdependencies," Chitty told Task & Purpose.

Although those individual subsystems — the exoskeleton, base layer, visual augmentation system, helmet assembly, armor, power and communications — continue to be "refined" in support of independent applications elsewhere, they won't come together to form a seamlessly high-tech prosthesis.
"It's not the Iron Man. I'll be the first person to tell you that," SOCOM acquisition officer James Smith told attendees at an NDIA SO/LIC forum in early February, Defense One first reported, adding that TALOS was "not ready for primetime in a close-combat environment."
Chitty confirmed that SOCOM was, as Defense One characterized it, "chopping up its Iron Man Suit for parts."
"As the TALOS project draws to a close, the JATF is being refocused to iteratively prototype new technical solutions that enhance the SOF mission and support the Hyper-Enabled Operator concept," Chitty told Task & Purpose. "Progressions of select TALOS technologies will be further developed to support the JATF's new direction."
The TALOS will not come together like this(Marvel Studios)
Those technologies are nothing to sneeze at. According to Chitty, the five-year slog towards an operator-ready combat suit ended up yielding a significant number of mature direct technology spin-outs, including new lightweight polyethylene armor, a "thermal management suit," an enhanced operational stress monitoring capability, and a small arms stabilization system."

Other technologies show great promise, but "need more development to attain maturity," said Chitty, including "a 3D audio system, a biomedical monitoring suit, a garment that detects ballistic penetration, and pneumatic ankles and knees that decrease metabolic cost."
"The full-body exoskeleton prototype to offload payload weight is currently not mature enough for SOF needs," Chitty said. "However, the knowledge gained informs the Services' interest in exoskeleton technology for mobility and logistic applications."
A 2015 CNN segment on ''the Army's real life 'Iron Man' suits" (CNN/YouTube)
The five years and at least $80 million spent on the TALOS has yielded a tremendous volume of technical knowledge that may bolster other exoskeleton projects throughout the U.S. armed forces and defense industrial base, Chitty said, from the Army's "third arm" weapons harness to Lockheed Martin's ONYX exoskeleton.

But even the applications beyond JATF TALOS are limited due to its focus on a SOF mission set. While the lightweight armor and small arms systems may be useful for conventional close combat, JATF's main effort "is shifting to the cognitive domain and provisioning the warfighter with information dominance at the edge," Chitty said.
"Today's technology is capable of providing exceptional amounts of data and information that must be processed and delivered to the right person, at the right time, in a useful way, to be operationally relevant," he said. "We must develop the architectures necessary to sense, monitor, transport, process, and analyze data to aggregate the right information that will inform tactical decisions at the edge."
An artist's rendition of a combat exoskeleton flaunted by Revision Military at SOFIC in 2015(Revision Military)
As SOCOM scales back its powered armor aspirations, other adversaries are expanding their horizons. In August 2018, the Russian Ministry of Defense flaunted its third-generation Ratnik-3 combat suit purportedly replete with a powered exoskeleton and active camouflage capabilities. The appearance of the Ratnik-3 smack in the middle of a critical year for the TALOS appeared to signal a what Defense One called a "military exoskeleton arms race."

When asked about where the Pentagon's powered exoskeleton capability stood compared to America's great power competitors, Chitty declined to comment.
WATCH NEXT: DARPA Reinvented The Wheel
September 21, 2019 at 05:00 PM
news
Guided-missile destroyer USS Stethem (DDG 63) Sailors participate in a memorial for the shipÕs namesake, Robert D. Stethem. Navy diver, Steelworker 2nd Class Robert Stethem, who was returning from an assignment in the Middle East, when he was taken hostage aboard TWA 847 commercial airliner. The flight was hijacked by terrorists, and Stethem was shot to death after being tortured by the terrorists on June 15, 1985. (U.S. Navy photo by Ensign Danny Ewing Jr.)
ATHENS (Reuters) - Greek police have arrested a 65-year-old Lebanese man suspected of involvement in the 1985 hijacking of a Trans World Airlines (TWA) plane in which a U.S. navy diver was killed.
A Greek police official said on Saturday the suspect had disembarked from a cruise ship on the island of Mykonos on Thursday and that his name came up as being wanted by German authorities.
The last time the world saw Marine veteran Austin Tice, he had been taken prisoner by armed men. It was unclear whether his captors were jihadists or allies of Syrian dictator Bashar al Assad who were disguised as Islamic radicals.
Blindfolded and nearly out of breath, Tice spoke in Arabic before breaking into English:"Oh Jesus. Oh Jesus."
That was from a video posted on YouTube on Sept. 26, 2012, several weeks after Tice went missing near Damascus, Syria, while working as a freelance journalist for McClatchy and the Washington Post.
Now that Tice has been held in captivity for more than seven years, reporters who have regular access to President Donald Trump need to start asking him how he is going to bring Tice home.
September 21, 2019 at 01:45 PM
news
SAN DIEGO — John Timothy Earnest didn't hide his smirks as he sat in a San Diego courtroom on Thursday, watching surveillance video of Lori Gilbert-Kaye being shot down inside the lobby of a Poway synagogue.
Earnest also smiled as a synagogue congregant testified about running toward the shooter, screaming "I'm going to kill you!" and seeing the gunman "with a look of astonishment or fear" turn and run.
Earnest, 20, is facing one count of murder and three counts of attempted murder in the shootings at Chabad of Poway on April 27. He also faces an arson charge related to an Escondido mosque fire in March, when several people who were sleeping inside escaped unharmed.
Sometimes a joke just doesn't work.
For example, the Defense Visual Information Distribution Service tweeted and subsequently deleted a Gilbert Gottfried-esque misfire about the "Storm Area 51" movement.
On Friday DVIDSHUB tweeted a picture of a B-2 bomber on the flight line with a formation of airmen in front of it along with the caption: "The last thing #Millenials will see if they attempt the #area51raid today."
September 21, 2019 at 10:48 AM
news
ISTANBUL (Reuters) - Turkey is ready to act on its southern border with Syria, President Tayyip Erdogan said, after warning that it could take unilateral steps if the U.S. does not establish a "safe zone" in northeast Syria this month.
"Our preparations along our borders are complete," Erdogan told reporters in Istanbul on Saturday before departing to attend a U.N. General Assembly meeting.