Exclusive: DHS is considering classifying fentanyl as a 'weapon of mass destruction'
April 15, 2019 at 08:31 AM
news
Photo illustration by Aaron Provost/Task & Purpose
The Department of Homeland Security is considering designating the painkiller drug fentanyl as a weapon of mass destruction "when certain criteria are met," according to an internal memo obtained by Task & Purpose.
---
Dated Feb. 22, 2019 under the subject line "Use of counter-WMD authorities to combat fentanyl," the information memorandum prepared for then-Secretary Kirstjen Nielsen from James F. McDonnell, DHS assistant secretary for countering weapons of mass destruction, offered background on the drug and how some elements of the U.S. government see fentanyl as a potential "mass casualty weapon."
"Fentanyl's high toxicity and increasing availability are attractive to threat actors seeking nonconventional materials for a chemical weapons attack," wrote McDonnell, a longtime Homeland Security executive appointed by President Donald Trump to lead the Countering Weapons of Mass Destruction (CWMD) Office in May 2018.
"In July 2018, the FBI Weapons of Mass Destruction Directorate assessed that '...fentanyl is very likely a viable option for a chemical weapon attack by extremists or criminals," he wrote.
The Department of Justice did not respond to a request for comment from Task & Purpose. The Department of Homeland Security also declined to answer any questions from Task & Purpose regarding the memo.
In 2017, President Trump declared the opioid crisis a public health emergency amid tens of thousands of American deaths traced to fentanyl overdose in recent years.
Roughly 50 to 100 times more powerful than morphine, fentanyl is a synthetic opioid that is medically-prescribed to treat severe pain under such names as Sublimaze and Actiq, according to the National Institute on Drug Abuse.
The illegal version — usually sourced from China or Mexico — is sometimes manufactured and sold as powder, put in small candies and eye droppers, or mixed into other illicit drugs to increase their potency, which has led to a significant increase in overdoses for unknowing drug users.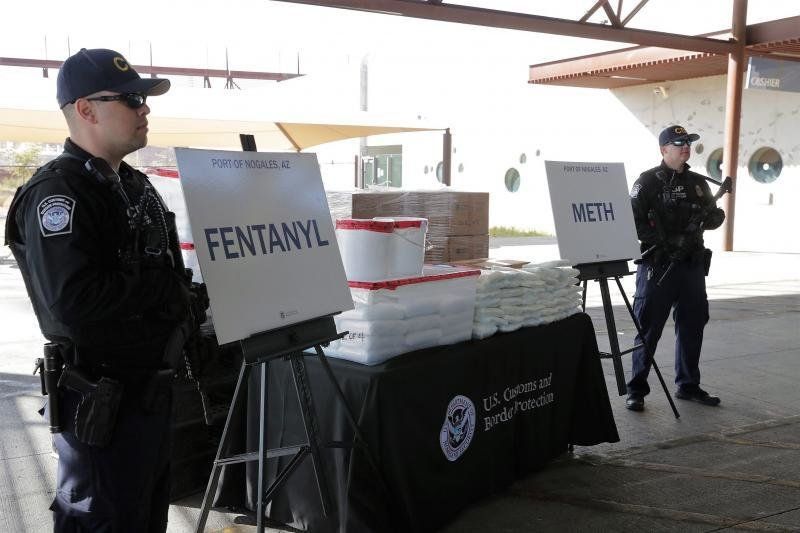 Customs and Border Patrol officers pose next to roughly 650 pounds of seized fentanyl and methamphetamine in Jan. 2019. www.cbp.gov
But the effort to classify the drug as a weapon capable of causing mass casualties has some experts scratching their heads.

"This is like declaring ecstasy as a WMD," said one member of the DoD's counter-WMD community, who would only speak on condition of anonymity, mentioning another illegal drug that could lead to overdose death.
Dan Kaszeta, a chemical, biological, radiological, and nuclear defense expert, told Task & Purpose the threat of fentanyl being used as a weapon is a "fringe scenario" since there are "literally dozens" of available toxic chemicals that could easily be weaponized.
"It reads like somebody is laying the administrative background for trying to tap into pots of money for detecting WMD and decontaminating WMD," Kaszeta told Task & Purpose after viewing the memo. "It's an interdepartmental play for money, that's all it is."
Indeed, the budget for countering weapons of mass destruction has declined, apparently due to Trump's homeland security priorities, which mainly emphasize border security and enforcement.

"The priorities are: increased border security along the southern border, hiring 15,000 more Customs and Border [Protection] agents, and increasing the number of detention facilities for undocumented immigrants," John Fischer, DHS division director, told National Defense Magazine in Sep. 2017. "That is consuming the budgets. Everybody else within DHS ... is contributing to those priorities."
Less than a year after the Countering Weapons of Mass Destruction Office was established, McDonnell's memo seemed to suggest that increasing counter-fentanyl efforts could get WMD-focused homeland security personnel alongside others trying to stop drug smugglers.
"[Counter-WMD] Office efforts will focus on quantities and configurations that could be used as mass casualty weapons," McDonnell wrote. "However, many activities, such as support to fentanyl interdiction and detection efforts, would tangentially benefit broader DHS and interagency counter-opioid efforts."
"Within the past couple years, there has been a reinvigorated interest in addressing fentanyl and its analogues as WMD materials due to the ongoing opioid crisis," McDonnell added, telling Nielsen that his office could assist in counter-fentanyl efforts by managing and developing new technologies, deploying sensors, and assisting others in the field.
Photo: DHS CWMD
McDonnell also claimed that other senior leaders in the Department of Defense, such as Navy Adm. Craig Faller, commander of U.S. Southern Command, had "proposed formally designating fentanyl as a WMD material."

A spokesperson for Southern Command declined to answer whether Faller had done so, telling Task & Purpose in a statement that "the command is constantly assessing a wide range of threats and concerns with our inter-agency partners and their potential impacts to national security; however, we will not be discussing the specifics of these conversations."
As part of the memo's proposed next steps, McDonnell said his office would further brief DHS on counter-WMD efforts related to fentanyl and host an interagency planning event on the topic.

"I think an interagency planning event is a good idea," a senior defense official told Task & Purpose on condition of anonymity in order to discuss sensitive matters, though the official concluded it was far more feasible for a threat actor to manufacture sarin or mustard gas. "Anybody with a college level degree in chemistry can manufacture chemical weapons agents."
"I cannot see any scenario where a nation-state would use fentanyl on the battlefield, or for that matter, a terrorist using a really toxic chemical like fentanyl in an attack when they could just sell it for funding the purchase of firearms and explosives or steal an industrial chemical instead," the official said.
Read the full memo below:
October 14, 2019 at 06:23 PM
popular
Photo: Twitter
For an organization that is constantly shining a light on things that would rather be kept out of the public eye, the moderators of U.S. Army WTF! Moments have done a remarkably impressive job at staying anonymous.
That is, until Monday.
For U.S. service members who have fought alongside the Kurds, President Donald Trump's decision to approve repositioning U.S. forces in Syria ahead of Turkey's invasion is a naked betrayal of valued allies.
"I am ashamed for the first time in my career," one unnamed special operator told Fox News Jennifer Griffin.
In a Twitter thread that went viral, Griffin wrote the soldier told her the Kurds were continuing to support the United States by guarding tens of thousands of ISIS prisoners even though Turkey had nullified an arrangement under which U.S. and Turkish troops were conducting joint patrols in northeastern Syria to allow the Kurdish People's Protection Units, or YPG, to withdraw.
"The Kurds are sticking by us," the soldier told Griffin. "No other partner I have ever dealt with would stand by us."
October 14, 2019 at 05:47 PM
news
Defense Secretary Mark Esper has confirmed that a nightmare scenario has come to pass: Captured ISIS fighters are escaping as a result of Turkey's invasion of Kurdish-held northeast Syria.
Turkey's incursion has led to "the release of many dangerous ISIS detainees," Esper said in a statement on Monday.
October 14, 2019 at 03:06 PM
news
ABC News anchor Tom Llamas just before his network airs grossly inaccurate footage
Video footage of a purported "bombing of Kurd civilians" by Turkish military forces shown on ABC News appeared to be a nighttime firing of tracer rounds at a Kentucky gun range.
October 14, 2019 at 02:58 PM
news
The U.S. military's seemingly never-ending mission supporting civil authorities along the southwestern border will last at least another year.
On Sept. 3, Defense Secretary Mark Esper approved a request from the Department of Homeland Security to provide a total of up to 5,500 troops along the border until Sept. 30, 2020, Lt. Gen. Laura Richardson, commander of U.S. Army North, said on Monday.