Exclusive: DHS is considering classifying fentanyl as a 'weapon of mass destruction'
April 15, 2019 at 08:31 AM
news
The Department of Homeland Security is considering designating the painkiller drug fentanyl as a weapon of mass destruction "when certain criteria are met," according to an internal memo obtained by Task & Purpose.
---
Dated Feb. 22, 2019 under the subject line "Use of counter-WMD authorities to combat fentanyl," the information memorandum prepared for then-Secretary Kirstjen Nielsen from James F. McDonnell, DHS assistant secretary for countering weapons of mass destruction, offered background on the drug and how some elements of the U.S. government see fentanyl as a potential "mass casualty weapon."
"Fentanyl's high toxicity and increasing availability are attractive to threat actors seeking nonconventional materials for a chemical weapons attack," wrote McDonnell, a longtime Homeland Security executive appointed by President Donald Trump to lead the Countering Weapons of Mass Destruction (CWMD) Office in May 2018.
"In July 2018, the FBI Weapons of Mass Destruction Directorate assessed that '...fentanyl is very likely a viable option for a chemical weapon attack by extremists or criminals," he wrote.
The Department of Justice did not respond to a request for comment from Task & Purpose. The Department of Homeland Security also declined to answer any questions from Task & Purpose regarding the memo.
In 2017, President Trump declared the opioid crisis a public health emergency amid tens of thousands of American deaths traced to fentanyl overdose in recent years.
Roughly 50 to 100 times more powerful than morphine, fentanyl is a synthetic opioid that is medically-prescribed to treat severe pain under such names as Sublimaze and Actiq, according to the National Institute on Drug Abuse.
The illegal version — usually sourced from China or Mexico — is sometimes manufactured and sold as powder, put in small candies and eye droppers, or mixed into other illicit drugs to increase their potency, which has led to a significant increase in overdoses for unknowing drug users.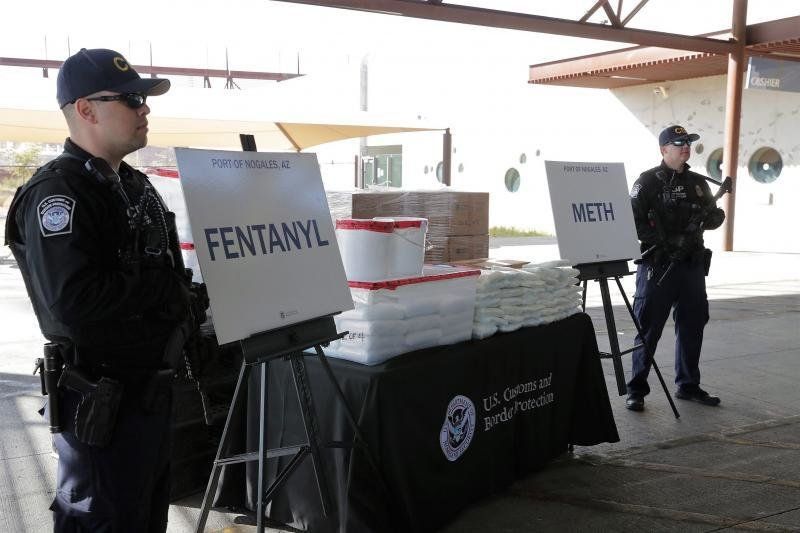 Customs and Border Patrol officers pose next to roughly 650 pounds of seized fentanyl and methamphetamine in Jan. 2019. www.cbp.gov
But the effort to classify the drug as a weapon capable of causing mass casualties has some experts scratching their heads.

"This is like declaring ecstasy as a WMD," said one member of the DoD's counter-WMD community, who would only speak on condition of anonymity, mentioning another illegal drug that could lead to overdose death.
Dan Kaszeta, a chemical, biological, radiological, and nuclear defense expert, told Task & Purpose the threat of fentanyl being used as a weapon is a "fringe scenario" since there are "literally dozens" of available toxic chemicals that could easily be weaponized.
"It reads like somebody is laying the administrative background for trying to tap into pots of money for detecting WMD and decontaminating WMD," Kaszeta told Task & Purpose after viewing the memo. "It's an interdepartmental play for money, that's all it is."
Indeed, the budget for countering weapons of mass destruction has declined, apparently due to Trump's homeland security priorities, which mainly emphasize border security and enforcement.

"The priorities are: increased border security along the southern border, hiring 15,000 more Customs and Border [Protection] agents, and increasing the number of detention facilities for undocumented immigrants," John Fischer, DHS division director, told National Defense Magazine in Sep. 2017. "That is consuming the budgets. Everybody else within DHS ... is contributing to those priorities."
Less than a year after the Countering Weapons of Mass Destruction Office was established, McDonnell's memo seemed to suggest that increasing counter-fentanyl efforts could get WMD-focused homeland security personnel alongside others trying to stop drug smugglers.
"[Counter-WMD] Office efforts will focus on quantities and configurations that could be used as mass casualty weapons," McDonnell wrote. "However, many activities, such as support to fentanyl interdiction and detection efforts, would tangentially benefit broader DHS and interagency counter-opioid efforts."
"Within the past couple years, there has been a reinvigorated interest in addressing fentanyl and its analogues as WMD materials due to the ongoing opioid crisis," McDonnell added, telling Nielsen that his office could assist in counter-fentanyl efforts by managing and developing new technologies, deploying sensors, and assisting others in the field.
Photo: DHS CWMD
McDonnell also claimed that other senior leaders in the Department of Defense, such as Navy Adm. Craig Faller, commander of U.S. Southern Command, had "proposed formally designating fentanyl as a WMD material."

A spokesperson for Southern Command declined to answer whether Faller had done so, telling Task & Purpose in a statement that "the command is constantly assessing a wide range of threats and concerns with our inter-agency partners and their potential impacts to national security; however, we will not be discussing the specifics of these conversations."
As part of the memo's proposed next steps, McDonnell said his office would further brief DHS on counter-WMD efforts related to fentanyl and host an interagency planning event on the topic.

"I think an interagency planning event is a good idea," a senior defense official told Task & Purpose on condition of anonymity in order to discuss sensitive matters, though the official concluded it was far more feasible for a threat actor to manufacture sarin or mustard gas. "Anybody with a college level degree in chemistry can manufacture chemical weapons agents."
"I cannot see any scenario where a nation-state would use fentanyl on the battlefield, or for that matter, a terrorist using a really toxic chemical like fentanyl in an attack when they could just sell it for funding the purchase of firearms and explosives or steal an industrial chemical instead," the official said.
Read the full memo below:
Photo illustration by Aaron Provost/Task & Purpose
On Nov, 10, 2004, Army Staff Sgt. David Bellavia knew that he stood a good chance of dying as he tried to save his squad.
Bellavia survived the intense enemy fire and went on to single-handedly kill five insurgents as he cleared a three-story house in Fallujah during the iconic battle for the city. For his bravery that day, President Trump will present Bellavia with the Medal of Honor on Tuesday, making him the first living Iraq war veteran to receive the award.
In an interview with Task & Purpose, Bellavia recalled that the house where he fought insurgents was dark and filled with putrid water that flowed from broken pipes. The battle itself was an assault on his senses: The stench from the water, the darkness inside the home, and the sounds of footsteps that seemed to envelope him.
(U.S. Army/Pvt. Stephen Peters)
With the Imperial Japanese Army hot on his heels, Oscar Leonard says he barely slipped away from getting caught in the grueling Bataan Death March in 1942 by jumping into a choppy bay in the dark of the night, clinging to a log and paddling to the Allied-fortified island of Corregidor.
After many weeks of fighting there and at Mindanao, he was finally captured by the Japanese and spent the next several years languishing under brutal conditions in Filipino and Japanese World War II POW camps.
Now, having just turned 100 years old, the Antioch resident has been recognized for his 42-month ordeal as a prisoner of war, thanks to the efforts of his friends at the Brentwood VFW Post #10789 and Congressman Jerry McNerney.
McNerney, Brentwood VFW Commander Steve Todd and Junior Vice Commander John Bradley helped obtain a POW award after doing research and requesting records to surprise Leonard during a birthday party last month.
June 24, 2019 at 02:30 PM
news
(U.S. Marine Corps/Staff Sgt. Andrew Ochoa)
Editor's Note: This article by Gina Harkins originally appeared on Military.com, a leading source of news for the military and veteran community.
Hundreds of Marines will join their British counterparts at a massive urban training center this summer that will test the leathernecks' ability to fight a tech-savvy enemy in a crowded city filled with innocent civilians.
The North Carolina-based Kilo Company, 3rd Battalion, 8th Marines, will test drones, robots and other high-tech equipment at Muscatatuck Urban Training Center near Butlerville, Indiana, in August.
They'll spend weeks weaving through underground tunnels and simulating fires in a mock packed downtown city center. They'll also face off against their peers, who will be equipped with off-the-shelf drones and other gadgets the enemy is now easily able to bring to the fight.
It's the start of a four-year effort, known as Project Metropolis, that leaders say will transform the way Marines train for urban battles. The effort is being led by the Marine Corps Warfighting Laboratory, based in Quantico, Virginia. It comes after service leaders identified a troubling problem following nearly two decades of war in the Middle East: adversaries have been studying their tactics and weaknesses, and now they know how to exploit them.
June 24, 2019 at 01:11 PM
news
(Reuters/Carlos Barria)
WASHINGTON/RIYADH (Reuters) - President Donald Trump imposed new U.S. sanctions onIran on Monday following Tehran's downing of an unmanned American drone and said the measures would target Iranian Supreme Leader Ayatollah Ali Khamenei.
Trump told reporters he was signing an executive order for the sanctions amid tensions between the United States and Iran that have grown since May, when Washington ordered all countries to halt imports of Iranian oil.
Trump also said the sanctions would have been imposed regardless of the incident over the drone. He said the supreme leaders was ultimately responsible for what Trump called "the hostile conduct of the regime."
"Sanctions imposed through the executive order ... will deny the Supreme Leader and the Supreme Leader's office, and those closely affiliated with him and the office, access to key financial resources and support," Trump said.
June 24, 2019 at 01:01 PM
news
U.S. Air National Guard/Senior Airman Jonathan W. Padish
While it can be difficult to peg down just how star-spangled a state is, one indicator is the rate at which citizens enlist in the military, especially during the United States' longest period of sustained conflict. At least, that's the thinking behind WalletHub's new study, 2019's Most Patriotic States in America.