A Few Lucky Soldiers Are Finally Getting Their Hands On The Army's New Humvee Replacement
January 14, 2019 at 12:46 PM
Military Tech
Nearly four years after the Army settled on Oshkosh to produce a next-generation replacement for the troubled Humvee, a few lucky soldiers from the 1st Armored Brigade Combat Team, 3rd Infantry Division are finally going to get their paws on the much-hyped Joint Light Tactical Vehicle.
---
On Monday, the Raider Brigaide's official Twitter account posted photos of flatbed trucks hauling the new JLTV rolling up at Fort Stewart in Georgia.
In December, the Army announced that the Raider Brigaide would receive a total of 500 JLTVs by the end of March.
"We are very excited to get these trucks into the hands of our Soldiers," 1st ABCT commander Col. Mike Adams said in an Army release. "It's an honor to be chosen as the first unit to receive such an improved capability, and I look forward to getting it into our formations."
It's worth noting that fielding the JLTV to the 1st ABCT represents a departure from thee Army's initial plan to field the first batch of the vehicles to an infantry brigade combat team with the 10th Mountain Division at Fort Drum, New York. The Army did not immediately respond to requests for comment regarding the change.

The Marine Corps also initially planned to equip an infantry battalion with II Marine Expeditionary Force at Camp Lejeune in North Carolina with 69 JLTVs, while both the Air Force and U.S. Special Operations Command were considering adopting the vehicles to their security forces and special tactics teams, respectively.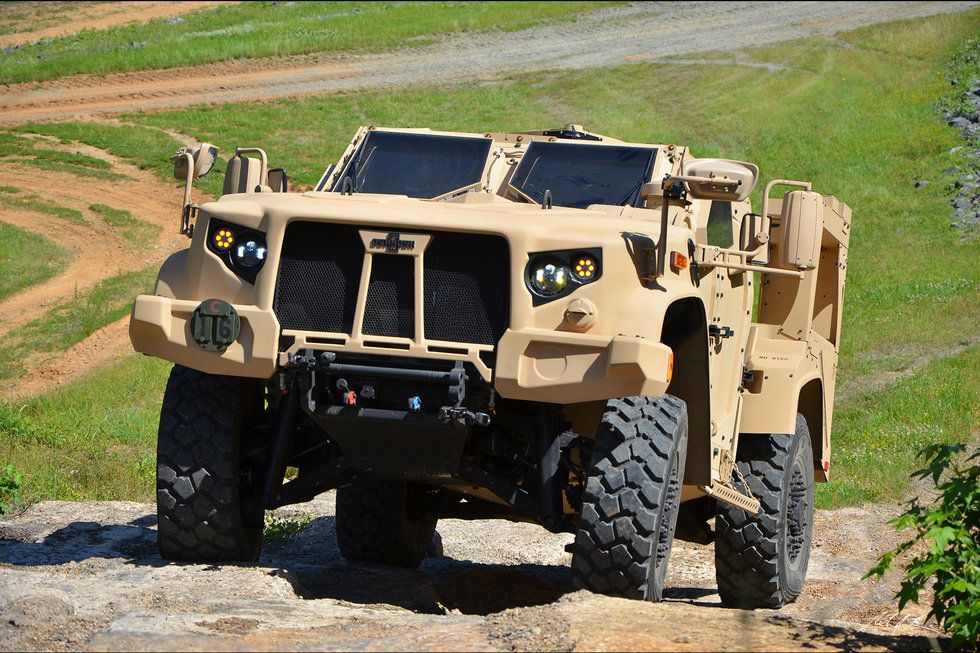 The Joint Light Tactical Vehicle (JLTV) Family of Vehicles is a U.S. Army-led, Joint acquisition modernization program with the Marine Corps (U.S. Army photo)
The arrival of the JLTV was highly anticipated long before the Army finalized its Oshkosh contract in 2015. Initiated in 2005, the program was designed to develop an armored vehicle with a higher survivability rate than the beleaguered Humvee that proved ridiculously incapable of handling heavy combat in the early years of the Global War on Terror.

Indeed, Oshkosh hyped up the JLTV's advantages over the Humvee when the company showed off two new variants of the vehicle on the floor of the Associated of the United States Army's annual expo in Washington in October 2017.
"My son is of the age where he could join the military," Dave Diersen, vice president and general manager of joint programs at Oshkosh, told Task & Purpose at the time. "If he was assigned to an up-armored Humvee, I'd say go to Canada or go to jail."
WATCH NEXT: The JLTV In Action
February 17, 2020 at 07:27 PM
news
(Air Force photo / Tech Sgt. Oneika Banks)
Kirtland Air Force Base isn't much different from the world beyond its gates when it comes to dealing with mental illnesses, a base clinical psychologist says.
Maj. Benjamin Carter told the Journal the most frequent diagnosis on the base is an anxiety disorder.
"It's not a surprise, but I anticipate about anytime in the population in America, about 20% of the population has some form of diagnosable anxiety disorder, and it's no different in the military," he said.
Leading the way among the anxiety disorders, he said, were post-traumatic stress disorder "or something like panic disorder or generalized anxiety disorder."
February 17, 2020 at 06:23 PM
news
(National Archives / Marine Corps Photo / WO Obie Newcomb, Jr., November 1943)
The DNA of a niece and nephew, who never met their uncle, has helped identify the remains of the Kansas Marine who died in WWII.
The Defense POW/MIA Accounting Agency announced that 21-year-old U.S. Marine Corps Reserve Pfc. Raymond Warren was identified using DNA and circumstantial evidence. Warren had been buried in a cemetery in the Gilbert Islands, where he was killed when U.S. forces tried to take secure one of the islands from the Japanese.
The Battle of Tarawa lasted from Nov. 20 to Nov. 23, 1943, and claimed the lives of 1,021 U.S. marines and sailors, more than 3,000 Japanese soldiers and an estimated 1,000 Korean laborers before the U.S. troops seized control, the agency said.
February 17, 2020 at 05:50 PM
news
(U.S. Air Force photo by Staff. Sgt. Daniel Snider)
Arizona lawmakers are vowing to fight a plan by the Air Force to start retiring some of the nation's fleet of A-10 Thunderbolt II ground-attack jets — a major operation at Davis-Monthan Air Force Base — as part of a plan to drop some older, legacy weapon systems to help pay for new programs.
U.S. Sen. Martha McSally, R-Ariz., a former A-10 pilot, and U.S. Rep. Ann Kirkpatrick, D-Ariz., both vowed to fight the move to retire 44 of the oldest A-10s starting this year.
During a press briefing last week, Air Force officials unveiled plans to start mothballing several older platforms, including retiring some A-10s even as it refits others with new wings.
February 17, 2020 at 03:51 PM
news
MOSCOW/SEOUL (Reuters) - North Korea, whose leader Kim Jong Un was filmed riding through the snow on a white stallion last year, has spent tens of thousands of dollars on 12 purebred horses from Russia, according to Russian customs data.
Accompanied by senior North Korean figures, Kim took two well-publicized rides on the snowy slopes of the sacred Paektu Mountain in October and December.
State media heralded the jaunts as important displays of strength in the face of international pressure and the photos of Kim astride a galloping white steed were seen around the world.
North Korea has a long history of buying pricey horses from Russia and customs data first reported by Seoul-based NK News suggests that North Korea may have bolstered its herd in October.
February 17, 2020 at 02:51 PM
news
Screenshot of a propaganda video featuring former Pakistani Taliban spokesman Ehsanullah Ehsan
ISLAMABAD (Reuters) - A high-profile local Taliban figure who announced and justified the 2012 attack on teenage Nobel laureate Malala Yousafzai has escaped detention, Pakistan's interior minister confirmed a few days after the militant announced his breakout on social media.
Former Pakistani Taliban spokesman Ehsanullah Ehsan, who claimed responsibility on behalf of his group for scores of Taliban attacks, proclaimed his escape on Twitter and then in an audio message sent to Pakistani media earlier this month.
The Pakistani military, which had kept Ehsan in detention for three years, has declined to comment but, asked by reporters about the report, Interior Minister Ijaz Shah, said: "That is correct, that is correct."
Shah, a retired brigadier general, added that "you will hear good news" in response to questions about whether there had been progress in hunting down Ehsan.