I went down a rabbit hole chasing a rumor about a Marine who tried to set the battalion HQ on fire. Here's what I found out
February 25, 2019 at 03:54 PM
Mandatory Fun
Earlier this month a tip landed in the inbox for Task & Purpose's Facebook page claiming that a Marine at Camp Lejeune, North Carolina, allegedly set fire to an infantry battalion's headquarters.

"And it was intentional," wrote the tipster. "And it apparently is because of op tempo and being annoyed with their command."
---
That got our attention, so we started digging. There were so many questions that needed to be answered: Who did this? Why did they do it? How big was the fire? And was it as this reporter first suspected, and secretly hoped, that it was some grunt gone rogue who finally decided: If they won't sign my leave papers, I'm burning this bitch down.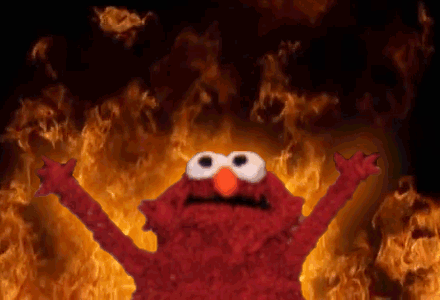 media.giphy.com
So off I went. Following the Feb. 14 tip, we reached out to Corps officials that same day, who confirmed that a fire did in fact take place, though they were mum on the size of the blaze.

"We can confirm there was a fire in a building aboard Camp Lejeune," 1st Lt. Thomas Kleiber, a spokesman with 2nd Marine Division Public Affairs, told Task & Purpose via email on Feb. 14. "There were no reported injuries as a result of the fire. The cause of the fire remains under investigation."
Beyond that, the details remained vague, or unavailable due to an ongoing investigation.
Over the next several days I continued to harass unsuspecting public affairs officers, duty NCOs, office clerks, and anyone else at Lejeune unlucky enough to be manning the phones when I called. A Feb. 15 call to the Naval Criminal Investigation Services office that oversees Lejeune went unanswered. As did the message I left for the base court docket that same day, asking if any upcoming cases involved Article 126 (arson), since the online register hadn't been updated since September, 2018, but again, crickets.
Desperate to know more, this reporter returned to the rumor mill, asking around in private Marine Facebook groups if anyone knew of this mystery fire, or the would-be battalion arsonist. Sure, there was speculation, a few recriminations of "FAKE NEWS," an abundance of laughing emojis, and no shortage of belligerent giggling at the thought of a fed up grunt setting fire to some part of his battalion's office, but nothing solid.
Despondent, I braced for my editor in chief's best Ben Bradlee impression as I told him the story was dead, but I was saved at the last second by an official statement from a Marine Corps spokesperson:
"I am able to confirm the fire was located at building HP-111, which houses 1st Battalion, 6th Marine Regiment," Victoria Long, a spokeswoman with Marine Corps Installations East told Task & Purpose via email on Feb. 21. In a follow-up email that same day, Long confirmed that the fire took place on Feb. 11, at around 1 a.m.
Armed with a unit, the date, time, and location, I reached out to the base Provost Marshall's Office, to ask for a copy of the incident report, but I was foiled again, and instructed to submit a Freedom of Information Act Request for the report, which I did on Feb. 22.
Then, on Feb. 25, Task & Purpose was informed by Camp Lejeune's FOIA office that a separate request needed to be submitted to NCIS directly, since they're overseeing the investigation. Thwarted again!
Which brings us to where we are now. As Shawn Snow reported for Marine Corps Times on Sunday, a "mystery fire" took place on Camp Lejeune.
Nearly two weeks of pestering emails and phone calls, and dreams of disgruntled daring-do, that's about all we were able to confirm, too: A fire occurred on Lejeune, around 1 a.m. on Feb 11, at building HP-111, where 1st Battalion, 6th Marines is headquartered, nobody was injured, and an investigation is underway.
For now, the who, how and why remain a mystery.
However, if anyone reading this happens to know what transpired that day, what led to the fire, how big it was, or really anything at all, please for the love of all that is sacred and belligerent in this world, email me at james@taskandpurpose.com.
Unsolved Mysteries Intro & Closing S1E01 (10/5/1988) youtu.be
WATCH NEXT: Jack Mandaville's Guide To Vetsplaining
U.S. Marine Corps/Lance Cpl. Shane T. Manson
(Reuters/Henry Nicholls)
WASHINGTON (Reuters) - The U.S. Justice Department unveiled 17 new criminal charges against WikiLeaks founder Julian Assange on Thursday, saying he unlawfully published the names of classified sources and conspired with and assisted ex-Army intelligence analyst Chelsea Manning in obtaining access to classified information.
The superseding indictment comes a little more than a month after the Justice Department unsealed a narrower criminal case against Assange.
The F-35 Joint Strike Program may be the most expensive weapons program in modern military history, but it looks as though the new border wall is giving the beleaguered aircraft a run for its money.
NAVAL BASE SAN DIEGO — Three members of the defense team for Navy SEAL Chief Edward "Eddie" Gallagher were revealed on Wednesday to have close ties to the Trump administration amid reports the president is considering the veteran Navy SEAL for a pardon on Memorial Day.
President Donald Trump's personal attorney, Marc Mukasey, 51, and longtime Trump associate Bernard Kerik, 63, a former New York City police commissioner, have joined Gallagher's defense team in recent months, both men told Task & Purpose on Wednesday.
Meanwhile, in response to a question from a reporter after a motions hearing, lead defense attorney Tim Parlatore confirmed that he had previously represented Pete Hegseth, the conservative Fox News personality who has been privately lobbying Trump since January to pardon Gallagher, according to The Daily Beast.
(DoD photo by Claudett Roulo.)
Former Navy SEAL Eric Greitens, who resigned in disgrace as governor of Missouri last year, is putting his uniform back on — just not as a Navy SEAL.
Greitens, who stepped down in May 2018 amid criminal charges related to an alleged extramarital affair, has become a reserve naval officer with Navy Operational Support Center — St. Louis, a spokeswoman for Navy Recruiting Command confirmed to Task & Purpose. The Kansas City Star first reported the news.
(Department of Veterans Affairs photo)
A Department of Veterans affairs employee allegedly placing cameras in the women's restroom of a VA office in Washington, D.C., NBC News reported on Thursday.