Get Task & Purpose in your inbox
Meet The Army Helicopter Pilot Who Re-Supplied Thousands Of Hippies At Woodstock
January 07, 2019 at 01:13 PM
History
In the summer of 1969, hundreds of thousands of people descended on a small dairy farm in Bethel, New York for a watershed moment in recent music history: The Woodstock Music and Art Fair.
The four-day festival was a celebration of peace, youth, life, love, long hair and incredible music. However, the fiestival might have ended in disaster, were it not for an unexpected ally.
This is the inside story of how the U.S. Army ran a resupply mission to party-goers at Woodstock.
---
It was August 1969, and Clark Stahl was enjoying temporary duty at West Point in New York. It's what the former Army helicopter pilot referred to as "pretty sweet gig" in a phone interview with Task & Purpose.
Recently returned home from the Vietnam War, Stahl was a 23-year-old warrant officer who'd flown medevac missions during his tour downrange. Now he was enjoying a stint as the lead pilot flying West Point cadets around in a Huey; part of their familiarization training ahead of graduation.
Clark Stahl, left, with his father inside a CH-47 in the early '70s.Photo courtesy of Clark Stahl
"Our duties there weren't exactly strenuous, shall we say," Stahl said. "We'd fly a couple of hours a day and then spend the rest of the time by the swimming pool." So when Stahl's commanding officer approached him to ask if he and his guys would be available that Friday, Aug. 15, and into the weekend, his answer was "yeah, sure we can do that."
The reason they were needed? To provide medical aid and resupply for a rock festival. More specifically: Woodstock.
"We kind of looked at each other and said 'what the hell is a rock festival?'" Stahl recalled with a laugh. "Of course we knew nothing about Woodstock. It was explained to us that there'd be a lot of big names and they didn't know how many people would end up showing up, but they expected it'd be quite a few more than they originally thought."
There were. More than 400,000 people arrived at the event — more than double the number anticipated. The roads, what few there were to begin with, became bogged down with mud and stuck cars. The influx of people coupled with a lack of access, made food and medical care a concern, as Task & Purpose noted in August 2017.
When one of the vendor's booths was burned down overnight — one of the few instances of violence at Woodstock — due to anger over inflated prices and a shortage of food, a plan was already in motion.
As the festival kicked into high gear, Stahl and his crew were instructed to ferry in supplies. (Though Stahl said he recalls seeing a number of other helicopters arriving at Woodstock over the course of the festival, as far as he can remember, his was the only military aircraft.)
One thing that hasn't faded from memory is the sight as he flew overhead that first time.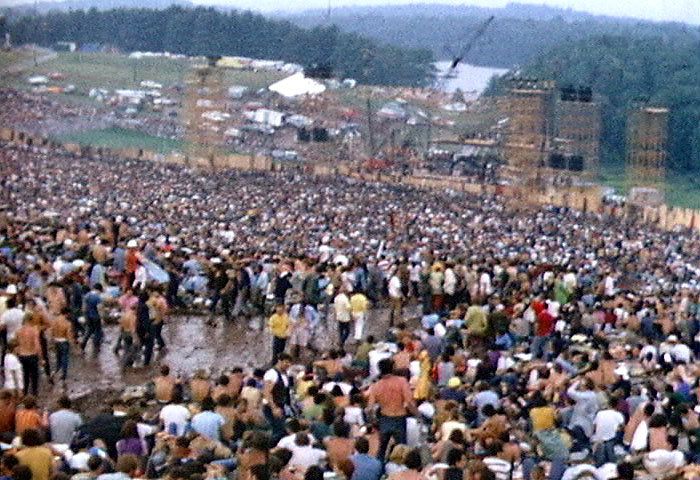 Woodstock, August 1969. upload.wikimedia.org
"I can remember quite vividly, it's probably one of two times in my flying career, which spanned 50 years altogether, where we flew over something and were completely speechless," Stahl, who left active duty in 1971 and served in the reserves until he retired in 1991, told Task & Purpose.

"Seeing this mass of humanity there, it's hard to register," he continued. "There's nothing to compare it to or judge it by. Not knowing what to expect, that's probably the one thing that sticks in my mind more than anything else."
As the helo made its approach Stahl and his copilot made a number of slow and lazy circles over the venue.
"It was to make sure the people there realized that this isn't Uncle Sam or the man coming in to affect any kind of law enforcement or anything like that," Stahl said. "That we're just here to help."
Though Woodstock didn't frame itself as an anti-war event, the festival took place during the height of the Vietnam War, and with the counterculture music scene closely aligned with the anti-war movement, the sight of an incoming Army helicopter likely conjured up images of American militarization to those on the ground. That concern was captured by John Morris, the production coordinator for the festival, who was onstage when Stahl's helicopter came in:
"It was like a wave," Morris said in Woodstock: The Oral History. "You could see people start to look up ... and all I said was, 'Ladies and gentlemen, the United States Army' — and you could feel it and you could hear it, the tension — 'Medical Corps.' And the crowd broke into a cheer that was just fantastic. And just about then you could see the red crosses on the side."
Circling above, Stahl still remembers that moment.
"You could almost see the reaction of the crowd, going from kind of surprised and wary, to more relaxed and accepting," he said. "It sounds funny to say that, but you could almost see it happen."
Once he got the go ahead, Stahl touched down in a small clearing that was roped off for the helicopter. On the first flight in they offloaded medical personnel and supplies, but after that the details get a little hazy, Stahl said.
"I read a couple of accounts that said we had supposedly delivered sandwiches and I thought about it, and I suppose we could have," Stahl told Task & Purpose, adding that he and his crew conducted anywhere between six to a dozen sorties over the course of the concert, though he couldn't recall the exact number.

"They would put people or stuff on board and we would take it out there and drop it off without knowing exactly what it was, without really caring. It was all part of the effort to keep things safe and peaceful," he added. "We knew they needed to get stuff in and out of there, but the main focus was on the health and safety aspect of it, and making sure nobody had any injuries or medical issues, and if they did, they'd have the ability to treat them."
Though Stahl was back in the states and no longer cruising over the jungles of Vietnam, in a way the mission was oddly familiar.
"I flew medevacs in Vietnam, so I was used to the concept of medical evacuation and help from the sky, if you will. So my mindset was that this was just kind of a continuation of what I'd done in South East Asia, and helping those in need on the ground."
Decades later, and with a lengthy career in the Army behind him, Stahl said that if he hadn't been drafted in 1967, it's likely he would have been there just the same, only on the ground instead of the air.
"Oh yeah. Had I not been in the Army and been anywhere close by, it's very likely I would have been there, you know? Sex, drugs, rock and roll and that stuff, of course!"
WATCH NEXT: A World War II Training Video On How To 'Crack A Tank'
June 26, 2019 at 07:34 PM
news
(Photo: CNN/screenshot)
NAVAL BASE SAN DIEGO — A Navy SEAL sniper on Wednesday contradicted earlier testimony of fellow SEALs who claimed he had fired warning shots to scare away civilian non-combatants before Chief Eddie Gallagher shot them during their 2017 deployment to Mosul, and said he would not want to deploy again with one of the prosecution's star witnesses.
Special Operator 1st Class Joshua Graffam originally invoked his Fifth Amendment privilege before Navy Judge Capt. Aaron Rugh gave him immunity in order to compel his testimony.
Graffam testified that Gallagher was essentially justified in the shooting of a man he is accused of unlawfully targeting, stating that "based off everything i had seen so far ... in my opinion, they were two shitheads moving from one side of the road to the other."
Spotting for Gallagher in the tower that day, Graffam said, he called out the target to him and he fired. He said the man was hit in the upper torso and ran away.
Graffam, who joined the Navy in 2010 and has been assigned to SEAL Team 7's Alpha Platoon since September 2015, deployed alongside Gallagher to Mosul in 2017, occasionally acting as a spotter for Gallagher when the SEALs were tasked with providing sniper support for Iraqi forces from two towers east of the Tigris River.
Another SEAL, Special Warfare Operator 1st Class Dalton Tolbert, had previously testified under direct examination by prosecutors that, while stationed in the south tower of a bombed-out building in June 2017, he had observed Gallagher shoot and kill an elderly civilian.
"He ran north to south across the road," Tolbert testified on Friday. "That's when I saw the red mark on his back and I saw him fall for the first time. Blood started to pool and I knew it was a square hit in the back." Over the radio, he said he heard Gallagher tell the other snipers, "you guys missed him but I got him."

Former SO1 Dylan Dille, who was also in the south tower that day, testified last week that he watched an old man die from a sniper shot on Father's Day. He said the date stuck out in his mind because he thought the man was probably a father.
Later that day, after the mission, Graffam said he spoke with Dille about the shooting and they disagreed about the circumstances. Dille, he said, believed the man was a noncombatant.
"I, on the other hand, was confident that the right shot was taken," Graffam said, although he said later under cross-examination that the man was unarmed. Dille previously testified that the SEALs were authorized to shoot unarmed personnel if they first received signals intelligence or other targeting information.
Photo: Paul Szoldra/Task & Purpose
Graffam described the man as a male between 40 and 50 years old wearing black clothing, giving him the impression of an ISIS fighter who was moving in a "tactical" manner. He testified that he did not see anything like Dille had described.

Graffam further testified that he didn't see Gallagher take any shots that he shouldn't have on that day or any other.
Although Graffam said he did not hear of allegations that Gallagher had stabbed a wounded ISIS fighter on deployment, he testified that he started to hear rumblings in early 2018. Chief Craig Miller, he said, asked him at one point whether he would "cooperate" with others in reporting him.
When asked whether he would like to serve with Miller again in a SEAL platoon, Graffam said, "I don't feel as confident about it." A member of the jury later asked him why he'd feel uncomfortable deploying with Miller and he responded, "I just wouldn't."
Graffam said he would serve with Gallagher again if given the chance.
Under cross examination by prosecutors, Graffam said he couldn't say whether there were warning shots fired that day, though Dille and Tolbert both said happened. "There were multiple shots throughout the day," Graffam said.
Prosecutors also asked him about his previous statements to NCIS, in which Graffam said of Miller that "he has good character" and was "a good guy." Graffam confirmed he said just that.
Defense attorney Tim Parlatore, however, said those statements were back in January and "a lot had happened since then." Parlatore said Graffam had also said at the time that Gallagher was a good leader.
"That part remains unchanged, correct?" Parlatore asked.
"Yes," Graffam said.
The defense is expected to call more witnesses in the case, which continues on Thursday.
(U.S. Air Force photo by Airman 1st Class Alexi Myrick)
The U.S. military is seeing an increase in sexually transmitted infections such as chlamydia, gonorrhea, and syphilis in part due to dating apps, according to the Military Health System.
"There appears to be an increase in high-risk behaviors among service members; that is, having sex without a condom or having more than one sexual partner," Air Force physician Maj. Dianne Frankel said in a news release.
June 26, 2019 at 11:10 AM
news
June 26, 2019 at 04:54 PM
news
(YouTube via Air Force Times)
Editor's Note: This article by Oriana Pawlyk originally appeared on Military.com, a leading source of news for the military and veteran community.
The Air Force is investigating an airman after he posted a video on YouTube rife with homophobic slurs and insults.
A man in an Air Force uniform, identified only by the YouTube username "Baptist Dave 1611" ranted in a recent video, calling gay people "sodomites," "vermin scum," and "roaches" among other slurs, according to Air Force Times, which first reported the story Wednesday.
"The specifics of the situation are being reviewed by the airman's command team," said service spokesman Maj Nick Mercurio, confirming the incident. Mercurio did not provide any identifying details about the airman.
June 26, 2019 at 07:48 AM
news