DoD funding being redirected for border wall includes elementary schools, Hurricane Maria recovery projects
September 04, 2019 at 06:30 PM
popular
DoD/Lisa Ferdinando
Military base schools and Hurricane Maria-related recovery projects in Puerto Rico are among the military construction projects having their funding redirected to pay for the border wall.
A list provided by the Department of Defense on Tuesday offered an itemized look at the $3.6 billion worth of military construction projects that are having their funding reprogrammed towards the wall at the southwest border, which came about after President Donald Trump declared a national emergency earlier this year.
---
In total, 127 projects overseas and in the U.S. and its territories are having their funding diverted. This includes 10 projects related to Hurricane Maria recovery, to the tune of just over $400 million; nine school projects — six overseas and three in the U.S.; over $700 million in projects meant to help deter Russia in Europe; $160 million originally heading to West Point for an engineering center and structure support; and $17 million for a fire/crash rescue station at Tyndall Air Force Base, which suffered overwhelming damage during Hurricane Michael.
A senior defense official emphasized to reporters on Wednesday that the Pentagon still believed these projects are important, but that they "have to respond to the emergency that we've been directed to respond to on the southwest border.
"Projects on the list have either existing capabilities, or temporary solutions to mitigate any delays," the official said. "All projects on the list are important, and we will work with Congress to support them."
This struck a different tone than Trump had in February, when he said that the projects having their funding diverted "didn't sound too important to me."
Of the Hurricane Maria projects impacted, the official said that the Pentagon is "fully committed to the recovery effort," and that the earliest project was not set to be awarded until September 2020, and that the funding is "something we can use now and backfill, we've got time to do that."
The schools on the list were either being replaced completely — "really upgrading to sort of modern technology," the official said — or being refurbished. The official added there are still existing facilities being used, and that Defense Department schools will continue being "some of the best there are."
The Pentagon is working with Congress on getting the projects backfilled, the official explained, so that they can continue without delay; that's one of the reasons projects that aren't meant to be awarded until next year were chosen, so there's time to get them funded in the next budget.
But there are no guarantees that they will be, which the official acknowledged. Many lawmakers have expressed frustration at the method the administration has taken to get funding for a wall that they declined to fund in the first place, by taking money from projects that Congress had already approved and leaving them to fund them again.
President Trump campaigned on the idea that Mexico was going to pay for the border wall, and maintains that Mexico will end up paying — "[e]ventually, but at a later date," "through reimbursement/other."
"I think it would be too early for me to answer a question about 'what if this' or 'what if that,'" the official said when asked what the Pentagon planned to do if the funding was never replaced. "I think we're focused on kind of our near-term actions, and if there's things that progress that don't work out, we'll adjust and we'll plan as we need to."
Read the full itemized list of deferred projects below:
Pentagon Military Construction Projects Raided For Trump's Border Wall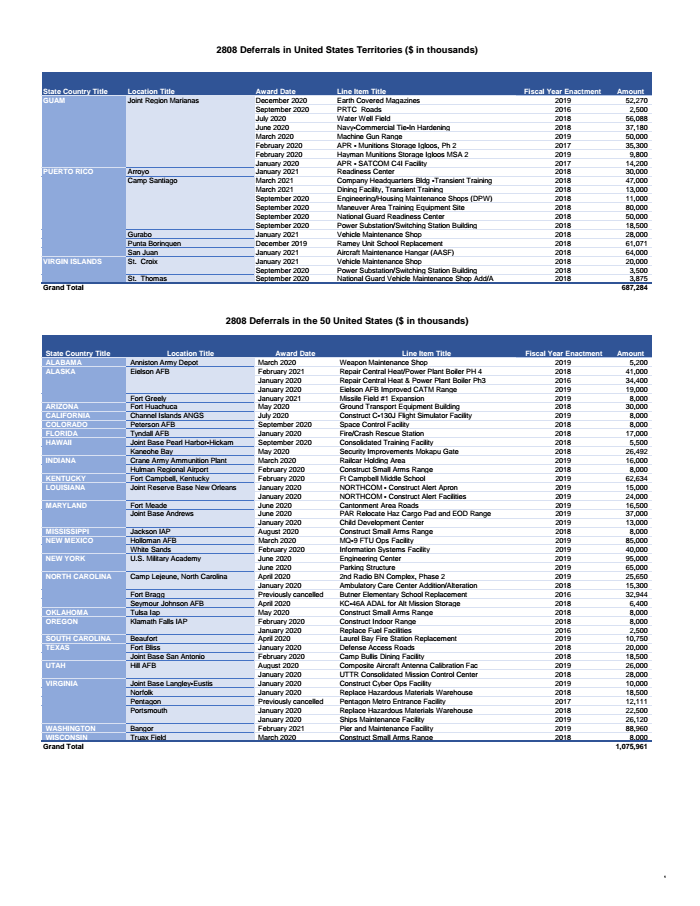 Pentagon Military Construction Projects Raided For Trump's Border Wall www.documentcloud.org
Source document contributed to DocumentCloud by Jared Keller (Task and Purpose).
Related Articles From Your Site
Related Articles Around the Web
October 21, 2019 at 12:58 PM
news
Syrians threw potatoes and yelled at United States armored vehicles on Monday as U.S. troops drove through the northeast border town of Qamishli, after Trump vowed to pull U.S. troops from Syria.
October 21, 2019 at 12:44 PM
news
(Reuters) - In the summer of 2004, U.S. soldier Greg Walker drove to a checkpoint just outside of Baghdad's Green Zone with his Kurdish bodyguard, Azaz. When he stepped out of his SUV, three Iraqi guards turned him around at gunpoint.
As he walked back to the vehicle, he heard an AK-47 being racked and a hail of cursing in Arabic and Kurdish. He turned to see Azaz facing off with the Iraqis.
"Let us through or I'll kill you all," Walker recalled his Kurdish bodyguard telling the Iraqi soldiers, who he described as "terrified."
He thought to himself: "This is the kind of ally and friend I want."
October 21, 2019 at 12:37 PM
news
The winner of an Army competition searching for innovative technology for troops would let soldiers see their enemies through walls.
October 21, 2019 at 12:30 PM
news
The U.S. military has pulled about 2,000 troops from Afghanistan over the past year, the top U.S. and coalition military commander said Monday.
"As we work in Afghanistan with our partners, we're always looking to optimize the force," Army Gen. Austin Miller said at a news conference in Kabul. "Unbeknownst to the public, as part of our optimization … we reduced our authorized strength by 2,000 here."
"I'm confident that we have the right capabilities to: 1. Reach our objectives as well as continue train, advise, and assist throughout the country," Miller continued.

The New York Times was first to report that the U.S. military had reduced its troop strength in Afghanistan even though peace talks with the Taliban are on hiatus. The number of troops in the country has gone from about 15,000 to 13,000, a U.S. official told Task & Purpose on condition of anonymity.
Separately, the U.S. military is considering drawing down further to 8,600 troops in Afghanistan as part of a broader political agreement, Defense Secretary Mark Esper told reporters on Oct. 19.
"We've always said, that it'll be conditions based, but we're confident that we can go down to 8,600 without affecting our [counterterrorism] operations, if you will," Esper said while enroute to Afghanistan.
So far, no order has been given to draw down to 8,600 U.S. troops in Afghanistan, the U.S. official said.
After President Donald Trump cancelled peace talks with the Taliban, which had been expected to take place at Camp David around the anniversary of the Sept. 11 attacks, the U.S. military has increased both air and ground attacks.
In September, U.S. military aircraft dropped more ordnance in Afghanistan than they have since October 2010, according to Air Force statistics.
However, the president has also repeatedly vowed to bring U.S. troops home from the post 9/11 wars. Most recently, he approved withdrawing most U.S. troops from Syria.
On Monday, Esper said the situations in Syria and Afghanistan are very different, so the Afghans and other U.S. allies "should not misinterpret our actions in the recent week or so with regard to Syria."
October 21, 2019 at 12:04 PM
news
DOHUK, Iraq/KABUL (Reuters) - The Pentagon is considering keeping some U.S. troops near oilfields in northeastern Syria alongside Kurdish-led Syrian Democratic Forces (SDF) to help deny oil to Islamic State militants, Defense Secretary Mark Esper said on Monday.
U.S. troops are crossing into Iraq as part of a broader withdrawal from Syria ordered by President Donald Trump, a decision that allowed Turkey to launch an offensive against the SDF which for years was a U.S. ally battling Islamic State.