Trump Proposes Seizing Land In His Own Personal 'Jade Helm' To Get His Border Wall Built
January 05, 2019 at 11:32 AM
Analysis
(Jay Janner/Austin American-Statesman/Associated Press)
With the federal government still shut down over funding for a wall on the U.S.-Mexico border, the President Donald Trump floated an unusual proposition on Friday: Let's just seize a bunch of privately-owned land and have the U.S. military build a wall without those pesky lawmakers in Congress getting in the way.
---
"We can call a national emergency. I may do it. We can call a national emergency and build it very quickly," Trump stated during a briefing in the Rose Garden following a lengthy sit-down with with Democrats over border security. "Under the military version of eminent domain and under homeland security, we can do it."
"You have to use eminent domain," he added. "If we had one person that wouldn't sell us...then we wouldn't be able to build proper border security because we'd have that big opening."
Trump isn't totally wrong. While the federal government has invoked the principle of eminent domain to build public utilities like roads and highways for decades, the "military version" Trump mentioned likely refers to 10 U.S. Code § 2663, which provides for the acquisition of land for military purposes including "construction, or operation of fortifications, coast defenses, or military training camps."
But at the same time, there are two elements here which may complicate this approach to expediting the construction of a border wall.
The first is that pesky "national emergency." The United States has technically been in a state of national emergency since three days after 9/11, initially declared by President George W. Bush and extended by both President Barack Obama and Trump. It's unclear if Trump actually needs to declare a new emergency since 10 U.S. Code § 2663 technically applies to a "time of war or when war is imminent," which almost certainly defines the current national security posture of the United States.
The second is more broad: Trump is proposing that U.S. service members deploy to states around the southern border and snatch up land for wall construction — which, if I'm not mistaken, sounds not unlike the insane conspiracy theories that cropped up back in 2015 during the now-notorious Jade Helm military exercise.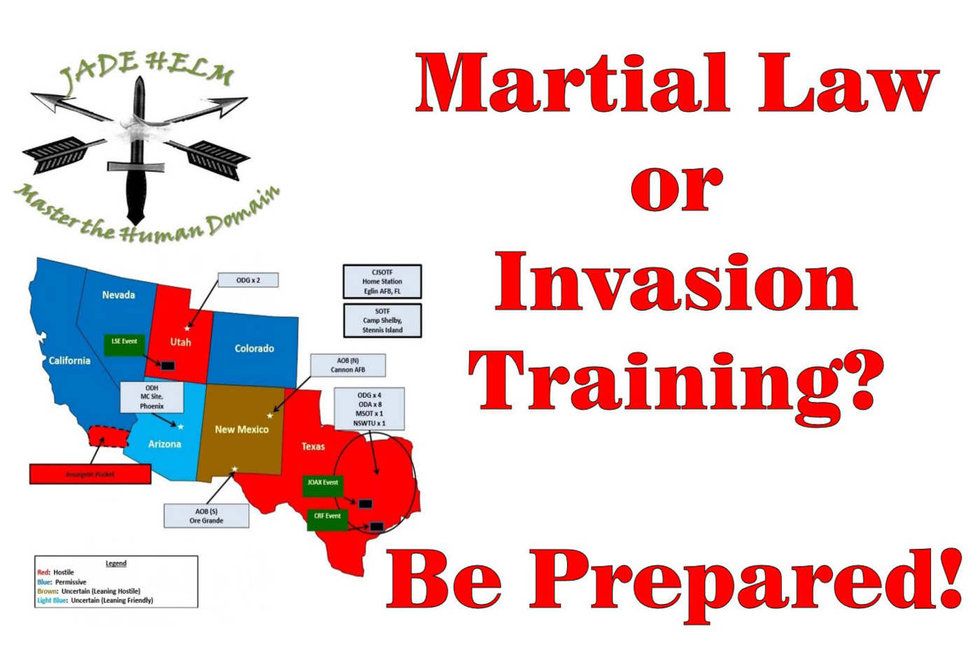 Lol
After U.S. Army Special Operations Command sent thousands of troops to the American southwest for the totally normal eight-week training exercise Jade Helm 15, Texas Gov. Greg Abbott ordered the state's volunteer guard to keep en eye on U.S. service members to ensure that this wasn't some Obama-era precursor to martial law. The theory became so widespread that Texas' own lieutenant governor David Dewhurst had to blast his fellow conservatives in an open letter that "suspicion of our fellow troops must stop."

That conspiracy theory, it turns out, was totally false, fueled by Russian bots with a healthy dose of inflammatory fear-mongering from alt-right media.
"Russian bots and the American alt-right media convinced most – many – Texans that Obama planned to round up political dissidents, and it got so much traction that the governor of Texas had to call up the [state guard] to observe the federal exercise to keep the population calm,' former NSA chief Michael Hayden revealed in May 2018.
Obama put it best 2016. "Really? You think that, like, the entire Pentagon said, 'Oh really, you want to declare martial law, take over Texas, let's do it under the guise of routine training missions.'"
Still, it's unnervingly strange to see such an entirely fictional prospect like the 2015 Jade Helm federal "invasion" get treated as fact while Trump's explicit declaration that, yes, he may declare a national emergency and send U.S. troops to seize land for a border wall go over without any major freakout from the usual circles.
What an age we live in.
WATCH NEXT:
January 20, 2020 at 03:11 PM
news
U.S. Air Force Master Sgt. Aliah Reyes, a Defense POW/MIA Accounting Agency (DPAA) recovery team recovery noncommissioned officer, sifts through dirt during a recovery mission in Lang Son Province, Vietnam, Oct. 29, 2019. (Air Force photo/Staff Sgt. Rusty Frank)
The 80-minute ride each day to the site in Lang Son Province, Vietnam, through mostly unspoiled forestland and fields, reminded Air Force Master Sgt. Aliah Reyes a little of her hometown back in Maine.
The Eliot native recently returned from a 45-day mission to the Southeast Asian country, where she was part of a team conducting a search for a Vietnam War service member who went missing more than 45 years ago and is presumed dead.
Reyes, 38, enlisted in the Air Force out of high school and has spent more than half her life in military service. But she had never been a part of anything like this.
January 20, 2020 at 01:47 PM
news
A smoking U.S. Army Stryker Infantry Carrier Vehicle in Poland on January 18, 2020 (Facebook/Orzysz 998)
A U.S. Army Stryker armored vehicle burst into flames on the side of a Polish roadway on Saturday, the Army confirmed on Monday.
January 20, 2020 at 12:10 PM
news
A U.S. Soldier assigned to 10th Special Forces Group (Airborne) runs for cover during a live fire exercise at the 7th Army Training Command, Grafenwoehr Training Area, Germany. (U.S. Army/Gertrud Zach)
A memo circulating over the weekend warning of a "possible imminent attack" against U.S. soldiers in Germany was investigated by Army officials, who found there to not be a serious threat after all.
January 18, 2020 at 12:18 PM
news
The U.S. Navy will name its fourth Ford-class aircraft carrier after Doris Miller, an iconic World War II sailor recognized for his heroism during the Pearl Harbor attack, according to reports in The Honolulu Star-Advertiser and U.S. Naval Institute News.
Acting Navy Secretary Thomas Modly is expected to announce the naming of CVN-81 during a ceremony on Monday in Pearl Harbor, Hawaii, according to USNI. Two of Miller's nieces are expected to be there, according to the Star-Advertiser.
January 20, 2020 at 11:43 AM
popular
Comedian and activist Jon Stewart meets with members of Toxic Exposures in the American Military (TEAM), a coalition of veteran and military service organizations, Jan. 17 on Capitol Hill. (Courtesy of TEAM)
Comedian Jon Stewart has joined forces with veterans groups to make sure service members who have been sickened by toxins from burn pits get the medical care they need, according to the Military Officers Association of America.
"Quite frankly, this is not just about burn pits — it's about the way we go to war as a country," Stewart said during his Jan. 17 visit to Washington, D.C. "We always have money to make war. We need to always have money to take care of what happens to people who are selfless enough, patriotic enough, to wage those wars on our behalf."