Trump Proposes Seizing Land In His Own Personal 'Jade Helm' To Get His Border Wall Built
January 05, 2019 at 11:32 AM
Analysis
With the federal government still shut down over funding for a wall on the U.S.-Mexico border, the President Donald Trump floated an unusual proposition on Friday: Let's just seize a bunch of privately-owned land and have the U.S. military build a wall without those pesky lawmakers in Congress getting in the way.
---
"We can call a national emergency. I may do it. We can call a national emergency and build it very quickly," Trump stated during a briefing in the Rose Garden following a lengthy sit-down with with Democrats over border security. "Under the military version of eminent domain and under homeland security, we can do it."
"You have to use eminent domain," he added. "If we had one person that wouldn't sell us...then we wouldn't be able to build proper border security because we'd have that big opening."
Trump isn't totally wrong. While the federal government has invoked the principle of eminent domain to build public utilities like roads and highways for decades, the "military version" Trump mentioned likely refers to 10 U.S. Code § 2663, which provides for the acquisition of land for military purposes including "construction, or operation of fortifications, coast defenses, or military training camps."
But at the same time, there are two elements here which may complicate this approach to expediting the construction of a border wall.
The first is that pesky "national emergency." The United States has technically been in a state of national emergency since three days after 9/11, initially declared by President George W. Bush and extended by both President Barack Obama and Trump. It's unclear if Trump actually needs to declare a new emergency since 10 U.S. Code § 2663 technically applies to a "time of war or when war is imminent," which almost certainly defines the current national security posture of the United States.
The second is more broad: Trump is proposing that U.S. service members deploy to states around the southern border and snatch up land for wall construction — which, if I'm not mistaken, sounds not unlike the insane conspiracy theories that cropped up back in 2015 during the now-notorious Jade Helm military exercise.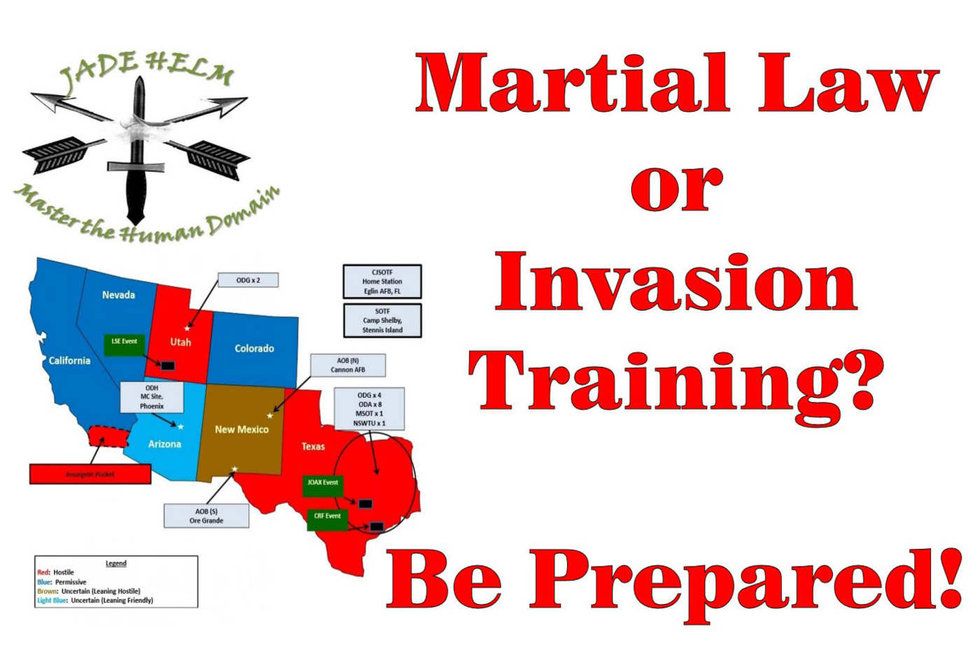 Lol
After U.S. Army Special Operations Command sent thousands of troops to the American southwest for the totally normal eight-week training exercise Jade Helm 15, Texas Gov. Greg Abbott ordered the state's volunteer guard to keep en eye on U.S. service members to ensure that this wasn't some Obama-era precursor to martial law. The theory became so widespread that Texas' own lieutenant governor David Dewhurst had to blast his fellow conservatives in an open letter that "suspicion of our fellow troops must stop."

That conspiracy theory, it turns out, was totally false, fueled by Russian bots with a healthy dose of inflammatory fear-mongering from alt-right media.
"Russian bots and the American alt-right media convinced most – many – Texans that Obama planned to round up political dissidents, and it got so much traction that the governor of Texas had to call up the [state guard] to observe the federal exercise to keep the population calm,' former NSA chief Michael Hayden revealed in May 2018.
Obama put it best 2016. "Really? You think that, like, the entire Pentagon said, 'Oh really, you want to declare martial law, take over Texas, let's do it under the guise of routine training missions.'"
Still, it's unnervingly strange to see such an entirely fictional prospect like the 2015 Jade Helm federal "invasion" get treated as fact while Trump's explicit declaration that, yes, he may declare a national emergency and send U.S. troops to seize land for a border wall go over without any major freakout from the usual circles.
What an age we live in.
WATCH NEXT:
(Jay Janner/Austin American-Statesman/Associated Press)
On Nov, 10, 2004, Army Staff Sgt. David Bellavia knew that he stood a good chance of dying as he tried to save his squad.
Bellavia survived the intense enemy fire and went on to single-handedly kill five insurgents as he cleared a three-story house in Fallujah during the iconic battle for the city. For his bravery that day, President Trump will present Bellavia with the Medal of Honor on Tuesday, making him the first living Iraq war veteran to receive the award.
In an interview with Task & Purpose, Bellavia recalled that the house where he fought insurgents was dark and filled with putrid water that flowed from broken pipes. The battle itself was an assault on his senses: The stench from the water, the darkness inside the home, and the sounds of footsteps that seemed to envelope him.
(U.S. Army/Pvt. Stephen Peters)
With the Imperial Japanese Army hot on his heels, Oscar Leonard says he barely slipped away from getting caught in the grueling Bataan Death March in 1942 by jumping into a choppy bay in the dark of the night, clinging to a log and paddling to the Allied-fortified island of Corregidor.
After many weeks of fighting there and at Mindanao, he was finally captured by the Japanese and spent the next several years languishing under brutal conditions in Filipino and Japanese World War II POW camps.
Now, having just turned 100 years old, the Antioch resident has been recognized for his 42-month ordeal as a prisoner of war, thanks to the efforts of his friends at the Brentwood VFW Post #10789 and Congressman Jerry McNerney.
McNerney, Brentwood VFW Commander Steve Todd and Junior Vice Commander John Bradley helped obtain a POW award after doing research and requesting records to surprise Leonard during a birthday party last month.
June 24, 2019 at 02:30 PM
news
(U.S. Marine Corps/Staff Sgt. Andrew Ochoa)
Editor's Note: This article by Gina Harkins originally appeared on Military.com, a leading source of news for the military and veteran community.
Hundreds of Marines will join their British counterparts at a massive urban training center this summer that will test the leathernecks' ability to fight a tech-savvy enemy in a crowded city filled with innocent civilians.
The North Carolina-based Kilo Company, 3rd Battalion, 8th Marines, will test drones, robots and other high-tech equipment at Muscatatuck Urban Training Center near Butlerville, Indiana, in August.
They'll spend weeks weaving through underground tunnels and simulating fires in a mock packed downtown city center. They'll also face off against their peers, who will be equipped with off-the-shelf drones and other gadgets the enemy is now easily able to bring to the fight.
It's the start of a four-year effort, known as Project Metropolis, that leaders say will transform the way Marines train for urban battles. The effort is being led by the Marine Corps Warfighting Laboratory, based in Quantico, Virginia. It comes after service leaders identified a troubling problem following nearly two decades of war in the Middle East: adversaries have been studying their tactics and weaknesses, and now they know how to exploit them.
June 24, 2019 at 01:11 PM
news
(Reuters/Carlos Barria)
WASHINGTON/RIYADH (Reuters) - President Donald Trump imposed new U.S. sanctions onIran on Monday following Tehran's downing of an unmanned American drone and said the measures would target Iranian Supreme Leader Ayatollah Ali Khamenei.
Trump told reporters he was signing an executive order for the sanctions amid tensions between the United States and Iran that have grown since May, when Washington ordered all countries to halt imports of Iranian oil.
Trump also said the sanctions would have been imposed regardless of the incident over the drone. He said the supreme leaders was ultimately responsible for what Trump called "the hostile conduct of the regime."
"Sanctions imposed through the executive order ... will deny the Supreme Leader and the Supreme Leader's office, and those closely affiliated with him and the office, access to key financial resources and support," Trump said.
June 24, 2019 at 01:01 PM
news
U.S. Air National Guard/Senior Airman Jonathan W. Padish
While it can be difficult to peg down just how star-spangled a state is, one indicator is the rate at which citizens enlist in the military, especially during the United States' longest period of sustained conflict. At least, that's the thinking behind WalletHub's new study, 2019's Most Patriotic States in America.