Trump Proposes Seizing Land In His Own Personal 'Jade Helm' To Get His Border Wall Built
January 05, 2019 at 11:32 AM
Analysis
(Jay Janner/Austin American-Statesman/Associated Press)
With the federal government still shut down over funding for a wall on the U.S.-Mexico border, the President Donald Trump floated an unusual proposition on Friday: Let's just seize a bunch of privately-owned land and have the U.S. military build a wall without those pesky lawmakers in Congress getting in the way.
---
"We can call a national emergency. I may do it. We can call a national emergency and build it very quickly," Trump stated during a briefing in the Rose Garden following a lengthy sit-down with with Democrats over border security. "Under the military version of eminent domain and under homeland security, we can do it."
"You have to use eminent domain," he added. "If we had one person that wouldn't sell us...then we wouldn't be able to build proper border security because we'd have that big opening."
Trump isn't totally wrong. While the federal government has invoked the principle of eminent domain to build public utilities like roads and highways for decades, the "military version" Trump mentioned likely refers to 10 U.S. Code § 2663, which provides for the acquisition of land for military purposes including "construction, or operation of fortifications, coast defenses, or military training camps."
But at the same time, there are two elements here which may complicate this approach to expediting the construction of a border wall.
The first is that pesky "national emergency." The United States has technically been in a state of national emergency since three days after 9/11, initially declared by President George W. Bush and extended by both President Barack Obama and Trump. It's unclear if Trump actually needs to declare a new emergency since 10 U.S. Code § 2663 technically applies to a "time of war or when war is imminent," which almost certainly defines the current national security posture of the United States.
The second is more broad: Trump is proposing that U.S. service members deploy to states around the southern border and snatch up land for wall construction — which, if I'm not mistaken, sounds not unlike the insane conspiracy theories that cropped up back in 2015 during the now-notorious Jade Helm military exercise.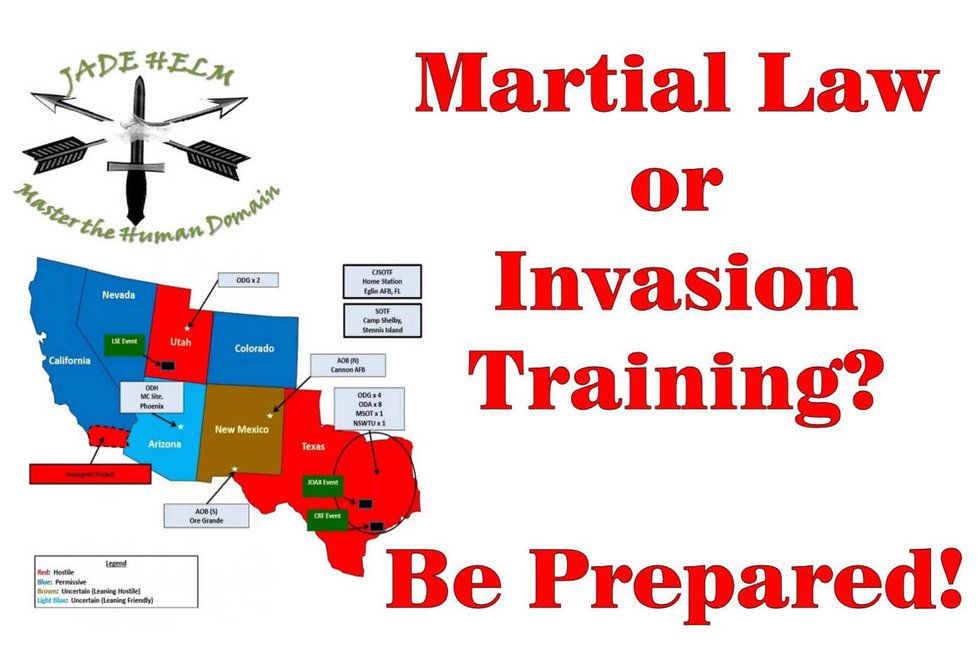 Lol
After U.S. Army Special Operations Command sent thousands of troops to the American southwest for the totally normal eight-week training exercise Jade Helm 15, Texas Gov. Greg Abbott ordered the state's volunteer guard to keep en eye on U.S. service members to ensure that this wasn't some Obama-era precursor to martial law. The theory became so widespread that Texas' own lieutenant governor David Dewhurst had to blast his fellow conservatives in an open letter that "suspicion of our fellow troops must stop."

That conspiracy theory, it turns out, was totally false, fueled by Russian bots with a healthy dose of inflammatory fear-mongering from alt-right media.
"Russian bots and the American alt-right media convinced most – many – Texans that Obama planned to round up political dissidents, and it got so much traction that the governor of Texas had to call up the [state guard] to observe the federal exercise to keep the population calm,' former NSA chief Michael Hayden revealed in May 2018.
Obama put it best 2016. "Really? You think that, like, the entire Pentagon said, 'Oh really, you want to declare martial law, take over Texas, let's do it under the guise of routine training missions.'"
Still, it's unnervingly strange to see such an entirely fictional prospect like the 2015 Jade Helm federal "invasion" get treated as fact while Trump's explicit declaration that, yes, he may declare a national emergency and send U.S. troops to seize land for a border wall go over without any major freakout from the usual circles.
What an age we live in.
WATCH NEXT:
December 10, 2019 at 05:00 AM
news
Maj. Mathew Golsteyn and 1st Lt. Clint Lorance (U.S. Army photos)
President Donald Trump, speaking during a closed-door speech to Republican Party of Florida donors at the state party's annual Statesman's Dinner, was in "rare form" Saturday night.
The dinner, which raised $3.5 million for the state party, was met with unusual secrecy. The 1,000 attendees were required to check their cell phones into individual locked cases before they entered the unmarked ballroom at the south end of the resort. Reporters were not allowed to attend.
But the secrecy was key to Trump's performance, which attendees called "hilarious."
Riding the high of the successful event turnout — and without the pressure of press or cell phones — Trump transformed into a "total comedian," according to six people who attended the event and spoke afterward to the Miami Herald.
He also pulled an unusual move, bringing on stage Army 1st Lt. Clint Lorance and Maj. Mathew Golsteyn, who Trump pardoned last month for cases involving war crimes. Lorance was serving a 19-year sentence for ordering his soldiers shoot at unarmed men in Afghanistan, and Golsteyn was to stand trial for the 2010 extrajudicial killing of a suspected bomb maker.
December 10, 2019 at 04:30 AM
news
Retired U.S. Air Force Col. Charles McGee (center), a decorated veteran of three wars, receives a congratulatory a send off after visiting with 436 Aerial Port Squadron personnel at Dover Air Force Base to help celebrate his 100th birthday in Dover, Delaware, Friday, Dec. 6, 2019. (Associated Press/David Tulis)
Retired Col. Charles McGee stepped out of the small commercial jet and flashed a smile.
Then a thumbs-up.
McGee had returned on a round-trip flight Friday morning from Dover Air Force Base, where he served as co-pilot on one of two flights done especially for his birthday.
By the way he disembarked from the plane, it was hard to tell that McGee, a Tuskegee Airman, was turning 100.
(U.S. Navy/Mass Communication Specialist 2nd Class Stephane Belcher)
The 2020 National Defense Authorization Act would allow service members to seek compensation when military doctors make mistakes that harm them, but they would still be unable to file medical malpractice lawsuits against the federal government.
On Monday night, Congress announced that it had finalized the NDAA, which must be passed by the House and Senate before going to President Donald Trump. If the president signs the NDAA into law, it would mark the first time in nearly seven decades that U.S. military personnel have had legal recourse to seek payment from the military in cases of medical malpractice.
December 09, 2019 at 05:53 PM
news
Maj. Jason Michael Musgrove (Lincoln County Sheriff's Office)
A major serving at U.S. Army Cyber Command has been charged with distributing child pornography, according to the Justice Department.
Maj. Jason Michael Musgrove, who is based at Fort Gordon, Georgia, has been remanded to the U.S. Marshals service, a news release from the U.S. Attorney's Office for the Southern District of Georgia says.
( DSG Technologies photo)
Editor's Note: This article originally appeared on Business Insider.
A new weapon being tested by the U.S. military could give special operators a more lethal edge by allowing them to shoot underwater, according to Defense One.