Trump Proposes Seizing Land In His Own Personal 'Jade Helm' To Get His Border Wall Built
January 05, 2019 at 11:32 AM
Analysis
(Jay Janner/Austin American-Statesman/Associated Press)
With the federal government still shut down over funding for a wall on the U.S.-Mexico border, the President Donald Trump floated an unusual proposition on Friday: Let's just seize a bunch of privately-owned land and have the U.S. military build a wall without those pesky lawmakers in Congress getting in the way.
---
"We can call a national emergency. I may do it. We can call a national emergency and build it very quickly," Trump stated during a briefing in the Rose Garden following a lengthy sit-down with with Democrats over border security. "Under the military version of eminent domain and under homeland security, we can do it."
"You have to use eminent domain," he added. "If we had one person that wouldn't sell us...then we wouldn't be able to build proper border security because we'd have that big opening."
Trump isn't totally wrong. While the federal government has invoked the principle of eminent domain to build public utilities like roads and highways for decades, the "military version" Trump mentioned likely refers to 10 U.S. Code § 2663, which provides for the acquisition of land for military purposes including "construction, or operation of fortifications, coast defenses, or military training camps."
But at the same time, there are two elements here which may complicate this approach to expediting the construction of a border wall.
The first is that pesky "national emergency." The United States has technically been in a state of national emergency since three days after 9/11, initially declared by President George W. Bush and extended by both President Barack Obama and Trump. It's unclear if Trump actually needs to declare a new emergency since 10 U.S. Code § 2663 technically applies to a "time of war or when war is imminent," which almost certainly defines the current national security posture of the United States.
The second is more broad: Trump is proposing that U.S. service members deploy to states around the southern border and snatch up land for wall construction — which, if I'm not mistaken, sounds not unlike the insane conspiracy theories that cropped up back in 2015 during the now-notorious Jade Helm military exercise.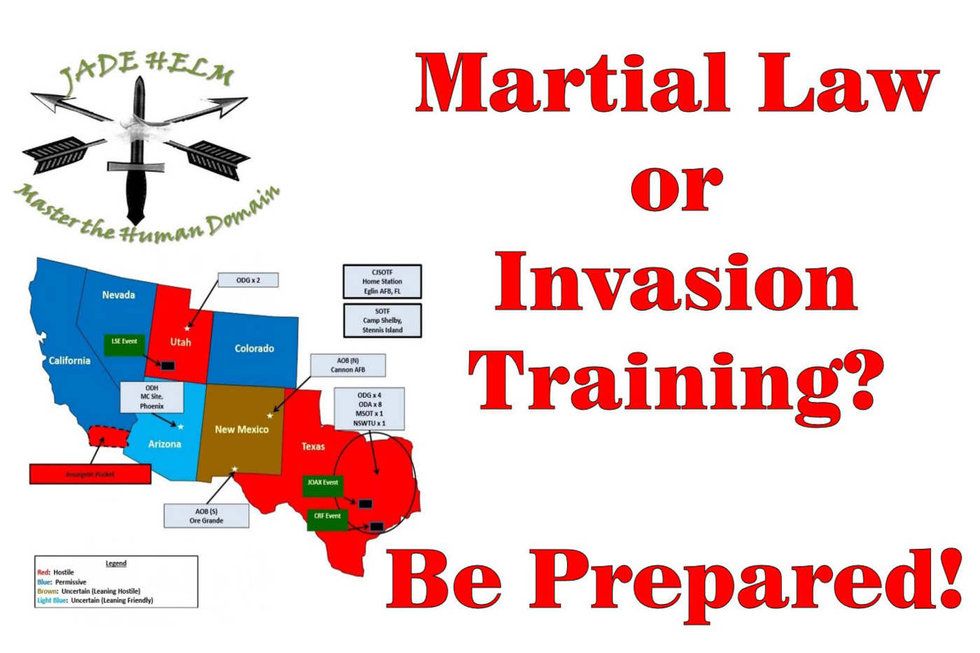 Lol
After U.S. Army Special Operations Command sent thousands of troops to the American southwest for the totally normal eight-week training exercise Jade Helm 15, Texas Gov. Greg Abbott ordered the state's volunteer guard to keep en eye on U.S. service members to ensure that this wasn't some Obama-era precursor to martial law. The theory became so widespread that Texas' own lieutenant governor David Dewhurst had to blast his fellow conservatives in an open letter that "suspicion of our fellow troops must stop."

That conspiracy theory, it turns out, was totally false, fueled by Russian bots with a healthy dose of inflammatory fear-mongering from alt-right media.
"Russian bots and the American alt-right media convinced most – many – Texans that Obama planned to round up political dissidents, and it got so much traction that the governor of Texas had to call up the [state guard] to observe the federal exercise to keep the population calm,' former NSA chief Michael Hayden revealed in May 2018.
Obama put it best 2016. "Really? You think that, like, the entire Pentagon said, 'Oh really, you want to declare martial law, take over Texas, let's do it under the guise of routine training missions.'"
Still, it's unnervingly strange to see such an entirely fictional prospect like the 2015 Jade Helm federal "invasion" get treated as fact while Trump's explicit declaration that, yes, he may declare a national emergency and send U.S. troops to seize land for a border wall go over without any major freakout from the usual circles.
What an age we live in.
WATCH NEXT:
August 19, 2019 at 02:14 PM
news
Joshua Yabut/Twitter
The soldier who was arrested for taking an armored personnel carrier on a slow-speed police chase through Virginia has been found not guilty by reason of insanity on two charges, according to The Richmond-Times Dispatch.
Joshua Phillip Yabut, 30, entered a plea of not guilty by reason of insanity for unauthorized use of a motor vehicle — in this case, a 12-ton APC taken from Fort Pickett in June 2018 — and violating the terms of his bond, which stemmed from a trip to Iraq he took in March 2019 (which was not a military deployment).
ISIS in Afghanistan (Twitter)
In the aftermath of the ISIS suicide bombing at a wedding reception on in Afghanistan that left 63 people dead on Saturday night, Afghan president Ashraf Ghani marked the nation's 100th independence celebration with a solemn vow to "eliminate" the terror group's strongholds across the country.
"We will take revenge for every civilian drop of blood," Ghani declared. "Our struggle will continue against (ISIS), we will take revenge and will root them out."
That might prove difficult. Six month after President Donald Trump declared victory over the ISIS "caliphate" in Iraq and Syria, the terror group continues to mount a bloody comeback across the Middle East — and Afghanistan is no exception.
August 19, 2019 at 12:39 PM
news
30th Armored Brigade Combat Team Bradley Fighting Vehicle scans for its moment of opportunity to attack opposing forces in Ujen Military Training Village at the National Training Center on Ft. Irwin, CA July 14, 2019 as part of Operation Hickory Sting. (U.S. Army/Spc. Brianna Lawrence)
A career Fort Worth defense contractor who spent time in prison for lying to the government is in trouble again for similar conduct, which investigators say could have compromised troop safety and led to the disclosure of U.S. technology secrets to foreign governments.
Ross Hyde, 63, has been charged in federal court with making false claims about the type of aluminum he provided under a contract for aircraft landing gear, court records show. He faces up to five years in prison, if convicted.
Hyde, a machinist, has said in court documents that he's worked in the industry all his life. His latest company, Vista Machining Co., has supplied the Pentagon with parts for tanks, aircraft and other military equipment — mostly hardware and machined metals — since 2008. But inspectors said many of his products were cheap replacements, some illegally obtained from China, which he tried to hide from the government.
This photo taken on Oct. 7, 2018, shows a billboard that reads "The State Central Navy Testing Range" near residential buildings in the village of Nyonoksa, northwestern Russia. The Aug. 8, 2019, explosion of a rocket engine at the Russian navy's testing range just outside Nyonoksa led to a brief spike in radiation levels and raised new questions about prospective Russian weapons. (AP Photo/Sergei Yakovlev)
It's been more than a week since a mysterious Russian nuclear accident roughly 600 miles north of Moscow and only the Kremlin and those killed know what happened.
What is known is something exploded on Aug. 8 at a naval weapons testing range near the village of Nyonoksa. The Russian government's official account of the accident has changed several times since then, but the country's weather agency recently confirmed that radiation levels jumped to 16 times greater than normal after the blast.
U.S. media outlets have reported that a nuclear-powered cruise missile named the SSX-C-9 Skyfall likely exploded during testing. President Donald Trump appeared to confirm as much when he tweeted on Aug. 12 that the United States had gleaned useful information from "the failed missile explosion in Russia."
Sesame Street is launching a new initiative geared toward military caregivers that's designed to help children understand, cope with, and ask questions about their parent's military service.