The Army Is Finally About To Get Its Hands On Some Next-Generation Rifle Prototypes
January 31, 2019 at 03:35 PM
Military Tech
The Army has issued a formal call for industry partners to send in their prototypes for the Next Generation Squad Weapon program, a major step towards finally testing out a replacement for the M4 carbine and M249 squad automatic weapon.
---
On Wednesday, Army Contracting Command dropped a formal Prototype Project Opportunity Notice calling on industry partners to send in two variants — the Next Generation Squad Weapon-Rifle (NGSW-R) and the Next Generation Squad Weapon-Automatic Rifle (NGSW-AR) —chambered in 6.8 mm ahead of a 27-month prototyping period.
While the Army had previously issued a draft notice in October ahead of the formal PPON, the formal notice provides more details regarding what PEO Soldier engineers are looking for in the next-generation platform. Those details include:
"a flash hider, removable suppressor (with or without flash hider installed), and a tool for suppressor removal after firing or for maintenance"
a tactical carrying sling "with quick release attachments"
a fire control mechanism with positions for safe, semi-auto, and fully-automatic firing modes
resistance to extreme conditions ranging from environmental phenomena to CBRN contaminants
magazines that are interchangeable between both the NGSW-R and the NGSW-AR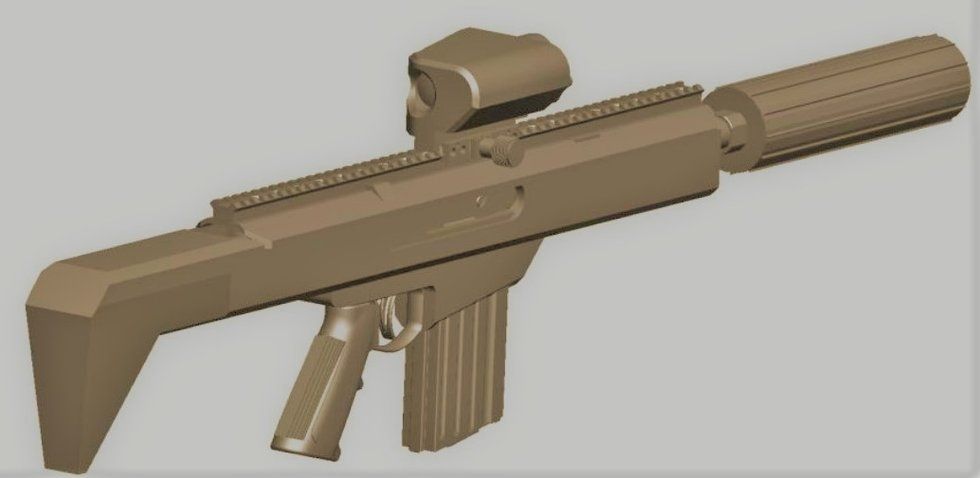 2015 CAD concept of what NGSW might look likeU.S. Army/The Firearm Blog
Like the Army's stab at a 7.62mm Intermediate Combat Service Rifle, the NGSW program hasn't been without drama. Several companies, including General Dynamics, Sig Sauer, and Textron Systems, received separate Army contracts in July 2018. When the draft PON notice dropped the following October, some military observers suspected that the service was rebooting the program entirely, a suspicion the Army denied.
"This [October draft NGSW PON] does not impact the six contracts awarded to the five contractors on June 25, 2018," Army Contracting Command told The Firearm Blog. "The new NGSW PON will not replace the Next Generation Squad Automatic Rifle (NGSAR) system demonstrator awards."
Translation: the Army is casting a wide net for its next rifle.
And with good reason! Indeed, the Army bailed on the ICSR program and even declined to follow the Marine Corps' lead on adopting the M27 Infantry Automatic Weapons for a simple reason: It wants to engineer its own unique, effective rifle to accompany soldiers downrange for the foreseeable future, an effort that's likely getting a lot of input from the Close Combat Lethality Task Force that is currently rethinking infantry combat.
But that doesn't mean that the Army can't start testing those prototypes now: PEO Soldier chief Brig. Gen. Anthony Potts told Military Times that the NGSW-AR should end up in soldiers' hands on the firing line for testing by summer 2019.
WATCH NEXT: The M4 Carbine In Slow Motion
Soldiers from the 1-118th Field Artillery Regiment of the 48th Infantry Brigade Combat Team fire an M777 Howitzer during a fire mission in Southern Afghanistan, June 10th, 2019. (U.S. Army photo by Sgt. Jordan Trent)
January 25, 2020 at 10:22 PM
History
Audie Murphy (U.S. Army photo)
Editor's note: a version of this post first appeared in 2018
On January 26, 1945, the most decorated U.S. service member of World War II earned his legacy in a fiery fashion.
January 26, 2020 at 10:04 AM
news
A Purple Heart (DoD photo)
Florida's two senators are pushing the Defense Department to award Purple Hearts to the U.S. service members wounded in the December shooting at Naval Air Station Pensacola.
January 26, 2020 at 11:30 AM
news
Ships from Destroyer Squadron (DESRON) 23 transit the Pacific Ocean Jan. 22, 2020. DESRON 23, part of the Theodore Roosevelt Carrier Strike Group, is on a scheduled deployment to the Indo-Pacific. (U.S. Navy/Mass Communication Specialist 3rd Class Erick A. Parsons)
Editor's Note: This article by Gina Harkins originally appeared on Military.com, a leading source of news for the military and veteran community.
The Navy and Marine Corps need to be a bit more short-sighted when assessing how many ships they need, the acting Navy secretary said this week.
The Navy Department is in the middle of a new force-structure review, which could change the number and types of ships the sea services say they'll need to fight future conflicts. But instead of trying to project what they will need three decades out, which has been the case in past assessments, acting Navy Secretary Thomas Modly said the services will take a shorter view.
"I don't know what the threat's going to be 30 years from now, but if we're building a force structure for 30 years from now, I would suggest we're probably not building the right one," he said Friday at a National Defense Industrial Association event.
The Navy completed its last force-structure assessment in 2016. That 30-year plan called for a 355-ship fleet.
January 26, 2020 at 05:05 AM
news
Newport News Police Chief Steve Drew becomes emotional while speaking about officer Katie Thyne during a press conference Friday morning Jan. 24, 2020 in Newport News, Va. Officer Thyne died Thursday night after being dragged during a traffic stop. (Daily Press/Jonathon Gruenke via Tribune News Service)
NEWPORT NEWS, Va. — The police officer killed during a traffic stop in Newport News on Thursday night was a well-liked young officer who just graduated from the police academy seven months ago, Police Chief Steve Drew said at a somber news conference Friday.