The Army Is Finally About To Get Its Hands On Some Next-Generation Rifle Prototypes
January 31, 2019 at 03:35 PM
Military Tech
The Army has issued a formal call for industry partners to send in their prototypes for the Next Generation Squad Weapon program, a major step towards finally testing out a replacement for the M4 carbine and M249 squad automatic weapon.
---
On Wednesday, Army Contracting Command dropped a formal Prototype Project Opportunity Notice calling on industry partners to send in two variants — the Next Generation Squad Weapon-Rifle (NGSW-R) and the Next Generation Squad Weapon-Automatic Rifle (NGSW-AR) —chambered in 6.8 mm ahead of a 27-month prototyping period.
While the Army had previously issued a draft notice in October ahead of the formal PPON, the formal notice provides more details regarding what PEO Soldier engineers are looking for in the next-generation platform. Those details include:
"a flash hider, removable suppressor (with or without flash hider installed), and a tool for suppressor removal after firing or for maintenance"
a tactical carrying sling "with quick release attachments"
a fire control mechanism with positions for safe, semi-auto, and fully-automatic firing modes
resistance to extreme conditions ranging from environmental phenomena to CBRN contaminants
magazines that are interchangeable between both the NGSW-R and the NGSW-AR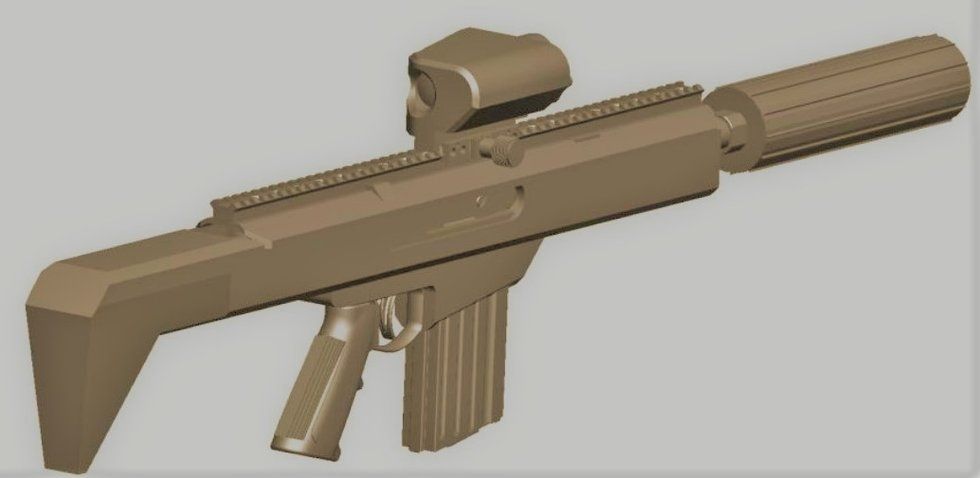 2015 CAD concept of what NGSW might look likeU.S. Army/The Firearm Blog
Like the Army's stab at a 7.62mm Intermediate Combat Service Rifle, the NGSW program hasn't been without drama. Several companies, including General Dynamics, Sig Sauer, and Textron Systems, received separate Army contracts in July 2018. When the draft PON notice dropped the following October, some military observers suspected that the service was rebooting the program entirely, a suspicion the Army denied.
"This [October draft NGSW PON] does not impact the six contracts awarded to the five contractors on June 25, 2018," Army Contracting Command told The Firearm Blog. "The new NGSW PON will not replace the Next Generation Squad Automatic Rifle (NGSAR) system demonstrator awards."
Translation: the Army is casting a wide net for its next rifle.
And with good reason! Indeed, the Army bailed on the ICSR program and even declined to follow the Marine Corps' lead on adopting the M27 Infantry Automatic Weapons for a simple reason: It wants to engineer its own unique, effective rifle to accompany soldiers downrange for the foreseeable future, an effort that's likely getting a lot of input from the Close Combat Lethality Task Force that is currently rethinking infantry combat.
But that doesn't mean that the Army can't start testing those prototypes now: PEO Soldier chief Brig. Gen. Anthony Potts told Military Times that the NGSW-AR should end up in soldiers' hands on the firing line for testing by summer 2019.
WATCH NEXT: The M4 Carbine In Slow Motion
November 20, 2019 at 09:00 AM
news
Two U.S. troops were killed in Afghanistan on Wednesday in a helicopter crash, military officials have announced.
November 20, 2019 at 04:30 AM
news
Chief Master Sgt. Jason Morehouse. (U.S. Air Force photo)
Editor's Note: This article by Oriana Pawlyk originally appeared onMilitary.com, a leading source of news for the military and veteran community.
The command chief of the 20th Fighter Wing at Shaw Air Force Base, South Carolina, was removed from his position last month after his chain of command received evidence he disrespected his subordinates.
November 20, 2019 at 04:00 AM
Opinion
Editor's Note: The following is an op-ed. The opinions expressed are those of the author, and do not necessarily reflect the views of Task & Purpose.
The "suck it up and drive on" mentality permeated our years in the U.S. military and often led us to delay getting both physical and mental health care. As veterans, we now understand that engaging in effective care enables us not just to survive but to thrive. Crucially, the path to mental wellness, like any serious journey, isn't accomplished in a day — and just because you need additional or recurring mental health care doesn't mean your initial treatment failed.
November 20, 2019 at 03:30 AM
news
Editor's Note: This article originally appeared on Radio Free Europe/Radio Free Liberty.
NATO Secretary-General Jens Stoltenberg has called on the security alliance's allies to maintain and strengthen their "unity," saying the organization is "the only guarantor of European and transatlantic security."
Stoltenberg told reporters on November 19 that NATO "has only grown stronger over the last 70 years" despite "differences" among the allies on issues such as trade, climate, the Iran nuclear deal, and the situation in northeastern Syria.
He was speaking at the alliance's headquarters in Brussels on the eve of a NATO foreign ministers meeting aimed at finalizing preparations for next month's summit in London.
November 20, 2019 at 03:30 AM
news
An aerial view of the Pentagon building in Washington, June 15, 2005. (Reuters/Jason Reed JIR/CN)
WASHINGTON — More than $35 million of the roughly $400 million in aid to Ukraine that President Donald Trump delayed, sparking the impeachment inquiry, has not been released to the country, according to a Pentagon spending document obtained by the Los Angeles Times.
Instead, the defense funding for Ukraine remains in U.S. accounts, according to the document. It's not clear why the money hasn't been released, and members of Congress are demanding answers.