The Army Is Finally About To Get Its Hands On Some Next-Generation Rifle Prototypes
January 31, 2019 at 03:35 PM
Military Tech
The Army has issued a formal call for industry partners to send in their prototypes for the Next Generation Squad Weapon program, a major step towards finally testing out a replacement for the M4 carbine and M249 squad automatic weapon.
---
On Wednesday, Army Contracting Command dropped a formal Prototype Project Opportunity Notice calling on industry partners to send in two variants — the Next Generation Squad Weapon-Rifle (NGSW-R) and the Next Generation Squad Weapon-Automatic Rifle (NGSW-AR) —chambered in 6.8 mm ahead of a 27-month prototyping period.
While the Army had previously issued a draft notice in October ahead of the formal PPON, the formal notice provides more details regarding what PEO Soldier engineers are looking for in the next-generation platform. Those details include:
"a flash hider, removable suppressor (with or without flash hider installed), and a tool for suppressor removal after firing or for maintenance"
a tactical carrying sling "with quick release attachments"
a fire control mechanism with positions for safe, semi-auto, and fully-automatic firing modes
resistance to extreme conditions ranging from environmental phenomena to CBRN contaminants
magazines that are interchangeable between both the NGSW-R and the NGSW-AR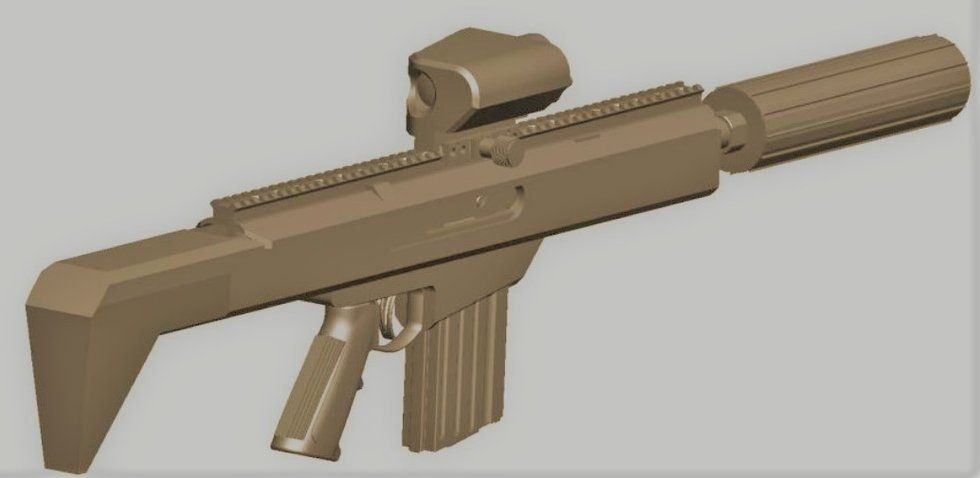 2015 CAD concept of what NGSW might look likeU.S. Army/The Firearm Blog
Like the Army's stab at a 7.62mm Intermediate Combat Service Rifle, the NGSW program hasn't been without drama. Several companies, including General Dynamics, Sig Sauer, and Textron Systems, received separate Army contracts in July 2018. When the draft PON notice dropped the following October, some military observers suspected that the service was rebooting the program entirely, a suspicion the Army denied.
"This [October draft NGSW PON] does not impact the six contracts awarded to the five contractors on June 25, 2018," Army Contracting Command told The Firearm Blog. "The new NGSW PON will not replace the Next Generation Squad Automatic Rifle (NGSAR) system demonstrator awards."
Translation: the Army is casting a wide net for its next rifle.
And with good reason! Indeed, the Army bailed on the ICSR program and even declined to follow the Marine Corps' lead on adopting the M27 Infantry Automatic Weapons for a simple reason: It wants to engineer its own unique, effective rifle to accompany soldiers downrange for the foreseeable future, an effort that's likely getting a lot of input from the Close Combat Lethality Task Force that is currently rethinking infantry combat.
But that doesn't mean that the Army can't start testing those prototypes now: PEO Soldier chief Brig. Gen. Anthony Potts told Military Times that the NGSW-AR should end up in soldiers' hands on the firing line for testing by summer 2019.
WATCH NEXT: The M4 Carbine In Slow Motion
September 18, 2019 at 06:23 PM
news
It has been a deadly year for Green Berets, with every active-duty Special Forces Group losing a valued soldier in Afghanistan or Syria.
A total of 12 members of the Army special operations forces community have died in 2019, according to U.S. Army Special Operations Command. All but one of those soldiers were killed in combat.
In Afghanistan, Army special operators account for 10 of the 17 U.S. troops killed so far this year. Eight of the fallen were Green Berets. Of the other two soldiers, one was attached to the 10th Special Forces Group and the other was a Ranger.
September 18, 2019 at 04:36 PM
news
WASHINGTON (Reuters) - Documents from the Pentagon show that "far more taxpayer funds" were spent by the U.S. military on overnight stays at a Trump resort in Scotland than previously known, two Democratic lawmakers said on Wednesday, as they demanded more evidence from the Defense Department as part of their investigation.
In a letter to Defense Secretary Mark Esper, the heads of the House of Representatives Oversight Committee and one of it subcommittees said that while initial reports indicated that only one U.S. military crew had stayed at President Donald Trump's Turnberry resort southeast of Glasgow, the Pentagon had now turned over data indicating "more than three dozen separate stays" since Trump moved into the White House.
Sigourney Weaver as Ellen Ripley from 1979's 'Alien' (20th Century Fox)
Editor's Note: This article by Gina Harkins originally appeared on Military.com, a leading source of news for the military and veteran community.
QUANTICO, Va. -- Marines who spend much of their day lifting hefty ammunition or moving pallets full of gear could soon get a helping hand.
The Marine Corps is close to signing a deal to test an exoskeleton prototype that can help a single person move as much as several leathernecks combined.
NEC Corp.'s machine with propellers hovers at the company's facility in Abiko near Tokyo, Monday, Aug. 5, 2019. The Japanese electronics maker showed a "flying car," a large drone-like machine with four propellers that hovered steadily for about a minute. (Associated Press/Koji Sasahara
'Agility Prime' sounds like a revolutionary new video streaming service, or a parkour-themed workout regimen, or Transformers-inspired niche porno venture.
But no, it's the name of the Air Force's nascent effort to replace the V-22 Osprey with a militarized flying car — and it's set to take off sooner than you think.
September 18, 2019 at 02:20 PM
career
In this March 12, 2016, file photo, Marines of the U.S., left, and South Korea, wearing blue headbands on their helmets, take positions after landing on a beach during the joint military combined amphibious exercise, called Ssangyong, part of the Key Resolve and Foal Eagle military exercises, in Pohang, South Korea. (Associated Press/Yonhap/Kim Jun-bum)
Task & Purpose is looking for a dynamic social media editor to join our team.
Our ideal candidate is an enthusiastic self-starter who can handle a variety of tasks without breaking a sweat. He or she will own our brand's social coverage while working full-time alongside our team of journalists and video producers, posting to Facebook, Twitter, Instagram (feed, stories, and IGTV), YouTube, and elsewhere.