The Army's next-generation rifle will be the iPhone of lethality, officials say
February 08, 2019 at 10:43 AM
Military Tech
The Army isn't on the hunt for any old rifle for it's Next Generation Squad Weapon program — it's looking to spark a "revolution in small arms" on par with what the iPhone did to consumer electronics.
At least, that's how Army officials at the Armament Research, Development and Engineering Center (ARDEC) at the Picatinny Arsenal in New Jersey described their overall goal in a conversation with Task & Purpose following the release of a formal Prototype Project Opportunity Notice calling on industry partners for a rapid prototyping and testing run of the brand-new platform.
---
"Imagine that Steve Jobs and his engineers were trying to convert the iPod Touch to the first 3G iPhone," said Army Col. Elliott Caggins, project manager for soldier weapons. "There were a thousand technologies they could have put in the first iPhone but they were looking to mature the platform before they could actually go onto the system."

Rather than slap future additions onto an outdated platform like the service's current M4A1 improvement program, the Army wants future capabilities baked into the NGSW from the get-go in a "one end-all solution" to replace both the M4 and the M249 Squad Automatic Weapon. Call it firing for effect for the acquisition process; the first PON was meant to gather critical industry data before a second PON refined the requirements for the rifle.
A concept drawing for the Next Generation Squad Weapon(U.S. Army)
This logic of the platform, Caggins said, was reflected in the unusual run-up to the January PPON. As Task & Purpose previously noted, the January notice followed an initial draft notice in November 2018. While several defense contractors previously received separate contracts under the NGSW program, those prototypes aren't for play; they're "totally intended to determine if industry could deliver from the performance and manufacturing standpoint," Caggins said.

The January notice, on the other hand, is the real "no-kidding agreement," as Caggins put it — and one of three companies selected by the Army will ultimately end up cinching the contract to actually produce the weapon in all its glory.
"We have hundreds of capabilities we can put into this weapons system, but we want to do it by holistically creating a system that that takes advantage of everything we've done in the past," he added. "This means its capabilities will only grow, just as the iPhone's did."
Those capabilities, according to Arthur Fiorellini, NGSW team leader, include:
a specially-designed fire control system engineered to boost hit probability at extended ranges
the Advanced Small Arms Ballistic System, an onboard processor hardened against cyberattacks that miniaturizes the positioning system and range finder typically used on Army artillery pieces
a sensor suite designed to accommodate for changes in pressure and density using multi-laser rangefinder system to estimate wind speed and adjust rifle positioning accordingly.
"The operator, as he lases the target, instantly gets an aim point and the system adjusts for ballistics instead of the operator trying to figure things out," Fiorellini told Task & Purpose. "A dot is displayed on the optic that the operator just puts on the target and everything else is taken care of ... the processor takes all of the information and boils it down.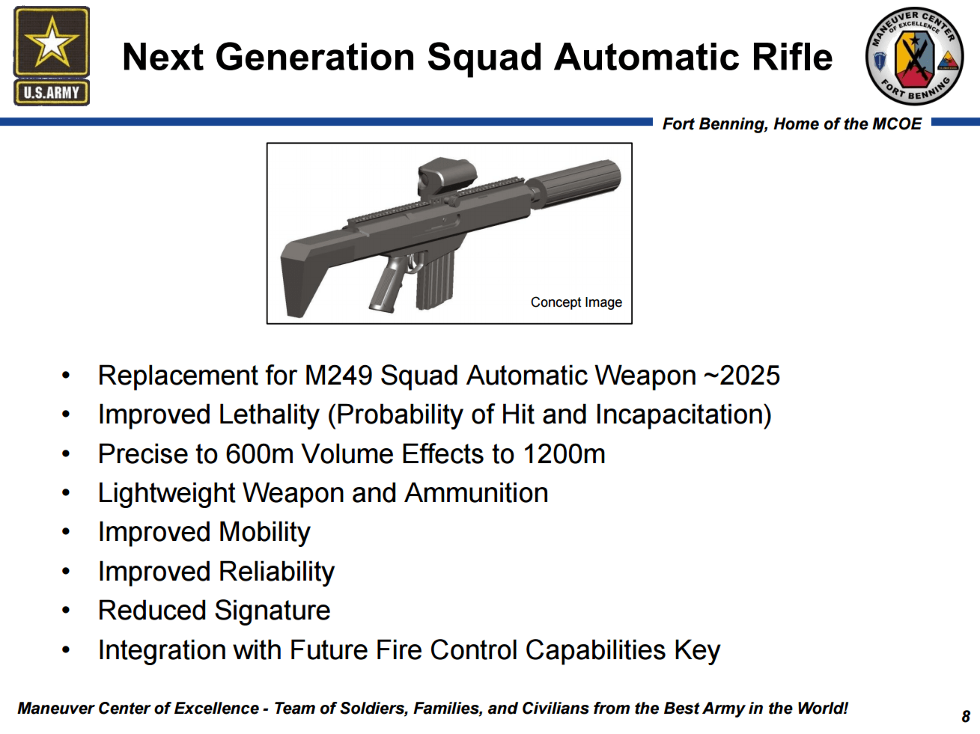 A slide from the Maneuver Center of Excellence presentation on the Next Generation Squad Weapon(U.S. Army)
The NGSW team has some fascinating capabilities in mind for the future as well, namely "aim augmentation" not unlike the auto-aim rig that ARDEC researchers showed off in May 2017.

"It could be wind sensing, stabilizing platform, interrupted trigger so it only fires when on target,' Caggins told Task & Purpose. "We're working the technology now and working to mature them and look to add in ... we're not done working once it's fielded."
This is all to say nothing of the 6.8mm round required ini the Army's PPON. According to Caggins, that rounds will integrate elements of the new 130 grain M80A1 Enhanced Performance Round developed by the Army to defeat 5.56mm-resistant body armor downrange. Indeed, the NGSW team is looking for a prototype that has a suppressor base in order to compensate for the intermediate round.
"It's a higher caliber and a louder system, so the suppressor will help operationally," Fiorellini told Task & Purpose.

With a goal of equipping its first unit with the platform by fiscal year 2022, the Army has kicked the acquisition process into high, Caggins said, with the dual PONs posted with the intent of having prototypes ready to testing by June 2019.
But despite the desire to field the NGSW as quickly as possible, there's one element that's critical to the process: soldier input. Fiorellini told Task & Purpose that the NGSW team is working with hundreds of soldiers across military occupational specialties and skill sets for feedback on everything from reliability to ergonomics.

"Our assessment of the threat we need to be prepared for is to engage multiple targets on the battlefield over extended ranges, a shift from COINI to near-peer," Caggins said. "This is for a population in the Army that engages in close combat, and with this program, we're experiencing a revolution in small arms."
WATCH NEXT: The Army Says Its Next Rifle Will Punch Like A Tank's Main Gun
Soldiers from the 1-118th Field Artillery Regiment of the 48th Infantry Brigade Combat Team fire an M777 Howitzer during a fire mission in Southern Afghanistan, June 10th, 2019. (U.S. Army photo by Sgt. Jordan Trent)
January 25, 2020 at 10:22 PM
History
Audie Murphy (U.S. Army photo)
Editor's note: a version of this post first appeared in 2018
On January 26, 1945, the most decorated U.S. service member of World War II earned his legacy in a fiery fashion.
January 26, 2020 at 10:04 AM
news
A Purple Heart (DoD photo)
Florida's two senators are pushing the Defense Department to award Purple Hearts to the U.S. service members wounded in the December shooting at Naval Air Station Pensacola.
January 26, 2020 at 11:30 AM
news
Ships from Destroyer Squadron (DESRON) 23 transit the Pacific Ocean Jan. 22, 2020. DESRON 23, part of the Theodore Roosevelt Carrier Strike Group, is on a scheduled deployment to the Indo-Pacific. (U.S. Navy/Mass Communication Specialist 3rd Class Erick A. Parsons)
Editor's Note: This article by Gina Harkins originally appeared on Military.com, a leading source of news for the military and veteran community.
The Navy and Marine Corps need to be a bit more short-sighted when assessing how many ships they need, the acting Navy secretary said this week.
The Navy Department is in the middle of a new force-structure review, which could change the number and types of ships the sea services say they'll need to fight future conflicts. But instead of trying to project what they will need three decades out, which has been the case in past assessments, acting Navy Secretary Thomas Modly said the services will take a shorter view.
"I don't know what the threat's going to be 30 years from now, but if we're building a force structure for 30 years from now, I would suggest we're probably not building the right one," he said Friday at a National Defense Industrial Association event.
The Navy completed its last force-structure assessment in 2016. That 30-year plan called for a 355-ship fleet.
January 26, 2020 at 05:05 AM
news
Newport News Police Chief Steve Drew becomes emotional while speaking about officer Katie Thyne during a press conference Friday morning Jan. 24, 2020 in Newport News, Va. Officer Thyne died Thursday night after being dragged during a traffic stop. (Daily Press/Jonathon Gruenke via Tribune News Service)
NEWPORT NEWS, Va. — The police officer killed during a traffic stop in Newport News on Thursday night was a well-liked young officer who just graduated from the police academy seven months ago, Police Chief Steve Drew said at a somber news conference Friday.