The Army's next-generation rifle will be the iPhone of lethality, officials say
February 08, 2019 at 10:43 AM
Military Tech
The Army isn't on the hunt for any old rifle for it's Next Generation Squad Weapon program — it's looking to spark a "revolution in small arms" on par with what the iPhone did to consumer electronics.
At least, that's how Army officials at the Armament Research, Development and Engineering Center (ARDEC) at the Picatinny Arsenal in New Jersey described their overall goal in a conversation with Task & Purpose following the release of a formal Prototype Project Opportunity Notice calling on industry partners for a rapid prototyping and testing run of the brand-new platform.
---
"Imagine that Steve Jobs and his engineers were trying to convert the iPod Touch to the first 3G iPhone," said Army Col. Elliott Caggins, project manager for soldier weapons. "There were a thousand technologies they could have put in the first iPhone but they were looking to mature the platform before they could actually go onto the system."

Rather than slap future additions onto an outdated platform like the service's current M4A1 improvement program, the Army wants future capabilities baked into the NGSW from the get-go in a "one end-all solution" to replace both the M4 and the M249 Squad Automatic Weapon. Call it firing for effect for the acquisition process; the first PON was meant to gather critical industry data before a second PON refined the requirements for the rifle.
A concept drawing for the Next Generation Squad Weapon(U.S. Army)
This logic of the platform, Caggins said, was reflected in the unusual run-up to the January PPON. As Task & Purpose previously noted, the January notice followed an initial draft notice in November 2018. While several defense contractors previously received separate contracts under the NGSW program, those prototypes aren't for play; they're "totally intended to determine if industry could deliver from the performance and manufacturing standpoint," Caggins said.

The January notice, on the other hand, is the real "no-kidding agreement," as Caggins put it — and one of three companies selected by the Army will ultimately end up cinching the contract to actually produce the weapon in all its glory.
"We have hundreds of capabilities we can put into this weapons system, but we want to do it by holistically creating a system that that takes advantage of everything we've done in the past," he added. "This means its capabilities will only grow, just as the iPhone's did."
Those capabilities, according to Arthur Fiorellini, NGSW team leader, include:
a specially-designed fire control system engineered to boost hit probability at extended ranges
the Advanced Small Arms Ballistic System, an onboard processor hardened against cyberattacks that miniaturizes the positioning system and range finder typically used on Army artillery pieces
a sensor suite designed to accommodate for changes in pressure and density using multi-laser rangefinder system to estimate wind speed and adjust rifle positioning accordingly.
"The operator, as he lases the target, instantly gets an aim point and the system adjusts for ballistics instead of the operator trying to figure things out," Fiorellini told Task & Purpose. "A dot is displayed on the optic that the operator just puts on the target and everything else is taken care of ... the processor takes all of the information and boils it down.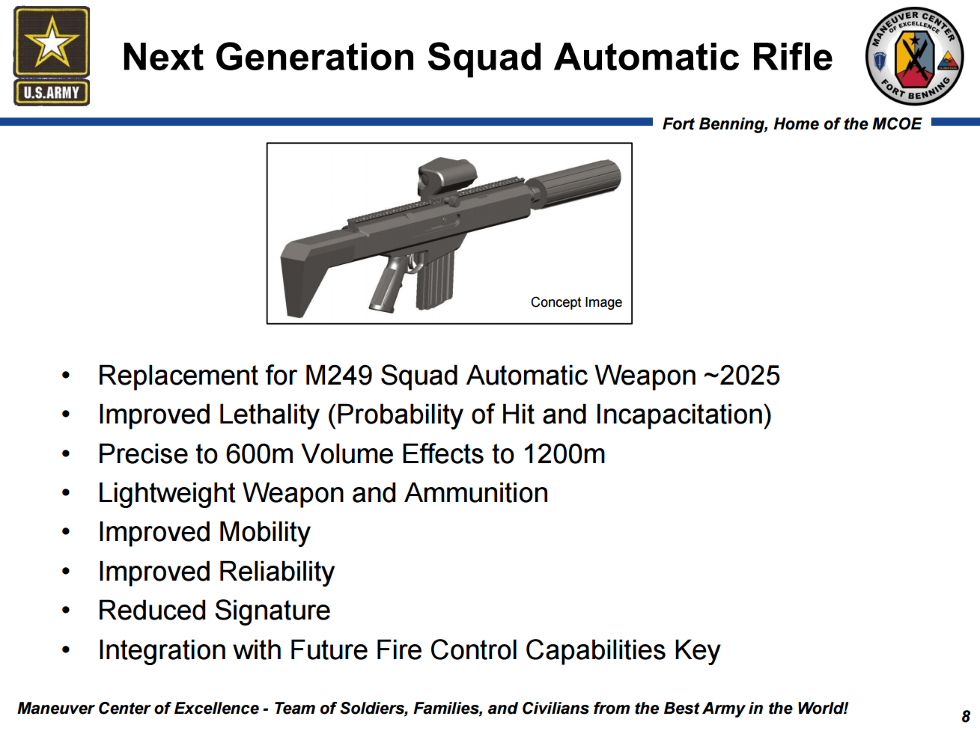 A slide from the Maneuver Center of Excellence presentation on the Next Generation Squad Weapon(U.S. Army)
The NGSW team has some fascinating capabilities in mind for the future as well, namely "aim augmentation" not unlike the auto-aim rig that ARDEC researchers showed off in May 2017.

"It could be wind sensing, stabilizing platform, interrupted trigger so it only fires when on target,' Caggins told Task & Purpose. "We're working the technology now and working to mature them and look to add in ... we're not done working once it's fielded."
This is all to say nothing of the 6.8mm round required ini the Army's PPON. According to Caggins, that rounds will integrate elements of the new 130 grain M80A1 Enhanced Performance Round developed by the Army to defeat 5.56mm-resistant body armor downrange. Indeed, the NGSW team is looking for a prototype that has a suppressor base in order to compensate for the intermediate round.
"It's a higher caliber and a louder system, so the suppressor will help operationally," Fiorellini told Task & Purpose.

With a goal of equipping its first unit with the platform by fiscal year 2022, the Army has kicked the acquisition process into high, Caggins said, with the dual PONs posted with the intent of having prototypes ready to testing by June 2019.
But despite the desire to field the NGSW as quickly as possible, there's one element that's critical to the process: soldier input. Fiorellini told Task & Purpose that the NGSW team is working with hundreds of soldiers across military occupational specialties and skill sets for feedback on everything from reliability to ergonomics.

"Our assessment of the threat we need to be prepared for is to engage multiple targets on the battlefield over extended ranges, a shift from COINI to near-peer," Caggins said. "This is for a population in the Army that engages in close combat, and with this program, we're experiencing a revolution in small arms."
WATCH NEXT: The Army Says Its Next Rifle Will Punch Like A Tank's Main Gun
(U.S. Army photo by Spc. Keion Jackson).
The U.S. military will build 'facilities' to house at least 7,500 adult migrants, the Pentagon announced on Wednesday.
Acting Defense Secretary Patrick Shanahan has approved a request from the Department of Homeland Security to construct the facilities, said Pentagon spokesman Army Maj. Chris Mitchell.
(U.S. Navy photo by Mass Communication Specialist 1st Class Brian M. Wilbur.)
Defense officials will brief President Donald Trump's national security team on a plan that involves sending 5,000 more troops to the Middle East to deter Iran, Task & Purpose has learned.
So far, no decisions have been made about whether to send the reinforcements to the region, unnamed U.S. officials told CNN's Barbara Starr.
"The military capabilities being discussed include sending additional ballistic missile defense systems, Tomahawk cruise missiles on submarines, and surface ships with land attack capabilities for striking at a long range," CNN reports. "Specific weapons systems and units have not been identified."

The thousands of sailors, Coasties and Marines who descend on New York City every year for Fleet Week are an awesome sight to behold on their own, but this year's confab of U.S. service members includes a uniquely powerful homecoming as well.
When an Air Force major called J.J. completed a solo flight in the U-2 in late August 2016 — 60 years after the high-flying aircraft was introduced — he became the 1,000th pilot to do so.

J.J., whose name was withheld by the U.S. Air Force for security reasons, earned his solo patch a few days after pilots No. 998 and No. 999. Those three pilots are in distinguished company, two fellow pilots said this month.
"We have a pretty small, elite team of folks. We're between about 60 and 70 active-duty pilots at any given time," Maj. Matt "Top" Nauman said during an Air Force event at the Intrepid Sea, Air, and Space Museum in New York City.

"We're about 1,050 [pilots] right now. So to put that in context, there are more people with Super Bowl rings than there are people with U-2 patches," Nauman added. "It's a pretty small group of people that we've hired over the last 60 to 65 years."
(DoD/Sgt. Amber I. Smith)
In what appear to be his first public remarks on U.S. national security since his resignation as Secretary of Defense, retired Marine Gen. James Mattis offered a word of caution to President Donald Trump amid escalating tensions with Iran on Tuesday.
"The United States should buy time to keep peace and stability and allow diplomats to work diplomacy on how to keep peace for one more hour, one more day, one more week, a month or a year," Mattis said during remarks in the United Arab Emirates.
"Iran's behavior must change," Mattis added, "[but] the military must work to buy time for diplomats to work their magic."