We found the Army's official pumpkin pie recipe and it's actually not bad
I should have called Robert Irvine.
Editor's note: This article was originally published in November 2020.
Let me start with a disclaimer: I am by no means a chef. I'm not a bad cook, necessarily, but I'm not a great cook either. I can follow a recipe (usually) but even still, it's not a fool-proof system.
To give you an idea of where my baking skills stand, years ago while staying with a friend and her fiancé, I offered to make my mom's homemade donuts one morning as a thank you for letting me stay there.
I wouldn't say I got moments from burning their kitchen down, but it quickly became a likely scenario. Needless to say, I haven't offered to make them since.
So when the idea came about for me to make the U.S. Army's official recipe for pumpkin pie, I felt both excited to prove myself and worried about ruining Thanksgiving. But I am nothing if not relentlessly optimistic that things will work out, and so I assured everyone it would be fine! Everything would turn out fine!
The moment I looked at the recipe I began doubting that myself.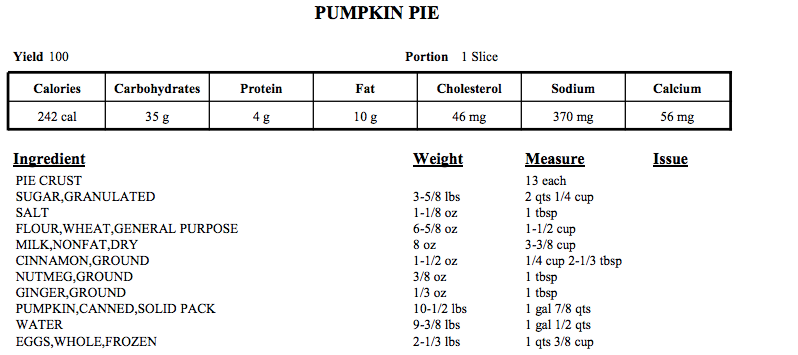 At first glance, it seemed normal enough. One tablespoon of salt, one and a half cups of flour — I haven't made a pie before but these seemed like reasonable measurements. But as I got to the bottom and saw a gallon — one whole gallon, and then some! — of pumpkin, I had questions.
Surely one pumpkin pie wouldn't take an entire gallon of canned pumpkin….right?
So I went to the place all wisdom can be found — Twitter. Sure enough, one kind Twitter user pointed out that it seemed this was the recipe for 13 pies.
I of course missed the part of the recipe that, for pie crusts, said "13 each." It makes sense given that the Army is likely making pies for a DFAC, not for just one family. Luckily, @cherylprice is much better at math than I am (no one told me there would be math in journalism!) and made the measurement conversions for one pie, instead of 13.
But then came the question of whole, frozen eggs. Again, I'm no expert baker, but frozen eggs? I don't recall The Pioneer Woman ever mentioning that.
So after much thinking, there seemed to be only one option left: I decided to f—ing wing it.
Here we go:
12 p.m.: The Army's recipe accounts for a hand-made crust, but I mean really, who has the time for that? I bought a deep pie crust from Kroger and called it a day. Why reinvent the wheel?
12:30 p.m.: I've gotten out all the ingredients. Mixing the milk, flour, sugar, cinnamon, nutmeg, ginger, salt, and sugar was easy. 
12:35 p.m.: Step #3 says to add the pumpkin "to dry ingredients." To the dry ingredients….that they just told me to add milk to?INLINEGeneric Embed (iframe)
12:35 p.m.: Whatever, dry enough I suppose.
(After publication, it was brought to my attention that I was, indeed, supposed to use dry milk. Not whole milk. I regret — and my family will likely regret — this error.)
1 p.m.: Time to add the canned pumpkin. The converted measurements come to 1 and a ½ cups. That was almost an entire 16 ounce can, so I add the rest of the can into the mix. Worst case scenario, the pumpkin pie is…really pumpkin-y. As if that's a real problem.
1:05 p.m.: I see that the mixture has to "set for one hour under refrigeration 41 F." I don't know what my refrigerator is set to, but surely it's fine. I put some press-and-seal over the top and set it on two bags of cheddar cheese waiting to be used for a Thanksgiving breakfast casserole — nice and comfy! 
1:05 p.m. – 2:05 p.m.: Wait, work, listen to Taylor Swift's "This is Me Trying" on repeat. 
2:05 p.m.: We're adding eggs and water. The converted measurements for one pie come out to 1.25 eggs. I don't care if it said they were supposed to be frozen, that's weird and I'm not doing it. Betty Crocker said to use two eggs, so to hell with it, we're using two eggs. If the Army has a problem with that, they can take it up with Betty.
2:10 p.m.: I'm realizing that the very kind person on Twitter who helped me convert all the measurements didn't convert water. Time to do math. 
2:15 p.m.: I have done the math, likely incorrectly. I came out to 1.4 cups of water for the one pie. (If that's wrong, keep it to yourself.)
2:17 p.m.: This….seems liquidy! 
2:20 p.m.: This is literally pumpkin soup!
2:21 p.m.: Should I call Robert Irvine?
2:22 p.m.: I'm losing confidence that this pumpkin soup will turn into pie, so I Google if pumpkin pie filling is supposed to be runny, and Google says it is. I'm not one to argue with Google, so on we go.
2:24 p.m.: I'm glad that the pre-bought crust I bought came with two in the package because guess what — this pie mixture is way too much for one pie but absolutely perfect for two. 
2:26 p.m.: I accidentally spill the pumpkin soup out of the crust, but manage to get both pies onto a cookie sheet and into the oven. 
2:30 p.m. – 3:20 p.m.: The recipe says to bake for 50 to 55 minutes. I set my alarm for 50 to check it, then turn on another 10 minutes because the soup has entered jell-o status. 
3:30 p.m.: I stick a fork in the center and it comes out clean, but it still looks a little too unsettled! I send a photo to the Task & Purpose team and they're all too trusting that these pies are correct.
3:33 p.m.: This cannot possibly be right.
3:35 p.m.: This was a mistake.
3:37 p.m.: I really, really should have called Robert Irvine.
3:37 p.m.: Okay we're taking these bad boys out of the oven and letting them cool!
5 p.m.: I'm staring at them very intently. I'm not sure what I expect to happen, except for them to yell at me that they're ready. They don't.
5:08 p.m.: I cut my dad a piece to try. It's still a little too liquidy in the middle but he eats it anyway. He says the flavor is good and the crust is "perfect." Nice man.
5:12 p.m.: Back into the oven they go to firm up a bit longer. I really have questions for whoever made this recipe and wanted me to add water to an already-pretty-liquidy mixture. 
5:50 p.m.: I finally take them back out, they're a bit browner but seem to be more solid. 
6:30 p.m.: Folks……this pie is good.
Update: This post was updated at 8:15 p.m. to include the author's error that she used actual milk instead of dry milk. Learn from her mistake, dear readers. 
More great stories on Task & Purpose
Want to write for Task & Purpose? Learn more here and be sure to check out more great stories on our homepage.